on June 28th, 2019 (JST) current information
From 2015, Japanese citizens visiting Indonesia for tourism or to see family no longer require a visa for stays up to 30 days in length (no extensions allowed). Eligible at Jakarta, Denpasar, and most other international airports and ports. You also need to obtain a Visa on Arrival (VOA) for 500,000 rupiah at the airport for tourist travel of 31 days or longer or business travel. The visa can be extended only one time after entering the country (additional fee required).
Your passport must be valid for at least six months from the date of entry. It must have at least three consecutive unused visa pages.

*Visa, passport, and other information is subject to change without notice. Be sure to check with the Embassy, Consulate, or travel agency.

■Note for travel to Indonesia
During the immigration inspection, you must present your ticket for return or onward travel. When traveling with an e-ticket, you must present an e-ticket itinerary receipt.
*Note that it is not acceptable to simply present an e-ticket on a computer or mobile device.
When visiting from Japan, it is prohibited to bring the following items into Indonesia.
a. Animals, fish, plants (including animal products, fish products, and vegetable products)

*Some fruit, vegetables, rice, and other such products may be brought into Indonesia after passing through an export inspection in Japan or obtaining an import permit issued by Indonesia. For details, see the Plant Protection Station website.
http://www.maff.go.jp/pps/j/search/ekuni/as/keitai2.html
Bringing in e-cigarettes: There are no special restrictions for travelers bringing it in for personal use.
For bringing and possession of tax-free cigarettes
Tobacco—200 cigarettes or 25 cigars
Liquor—1L
Perfume—an amount within the range of personal use
Time difference and Daylight Saving Time
Indonesia has three time zones: Western (Java, Sumatra, West Central Kalimantan), Central (Bali, Nusa Tenggara, Suawesi, Southeast Kalimantan), and Eastern (Papua). The capital of Jakarta is 2 hours behind Japan (GMT+7), and Bali is 1 hour behind Japan (GMT+8). Daylight saving time is not observed.
Because Indonesia is right on the equator and has a tropical climate, it has two seasons—the dry season and wet season. The dry season basically lasts from May to October, and the rainy season from January to April. The humidity is not too high in the dry season, making it a pleasant time. In the rainy season, there are squalls of heavy rain in the afternoon and high humidity.
Annual climate table for Jakarta
Currency and Exchange Rate, Tax, Currency exchange, Tip
Currency and Exchange Rate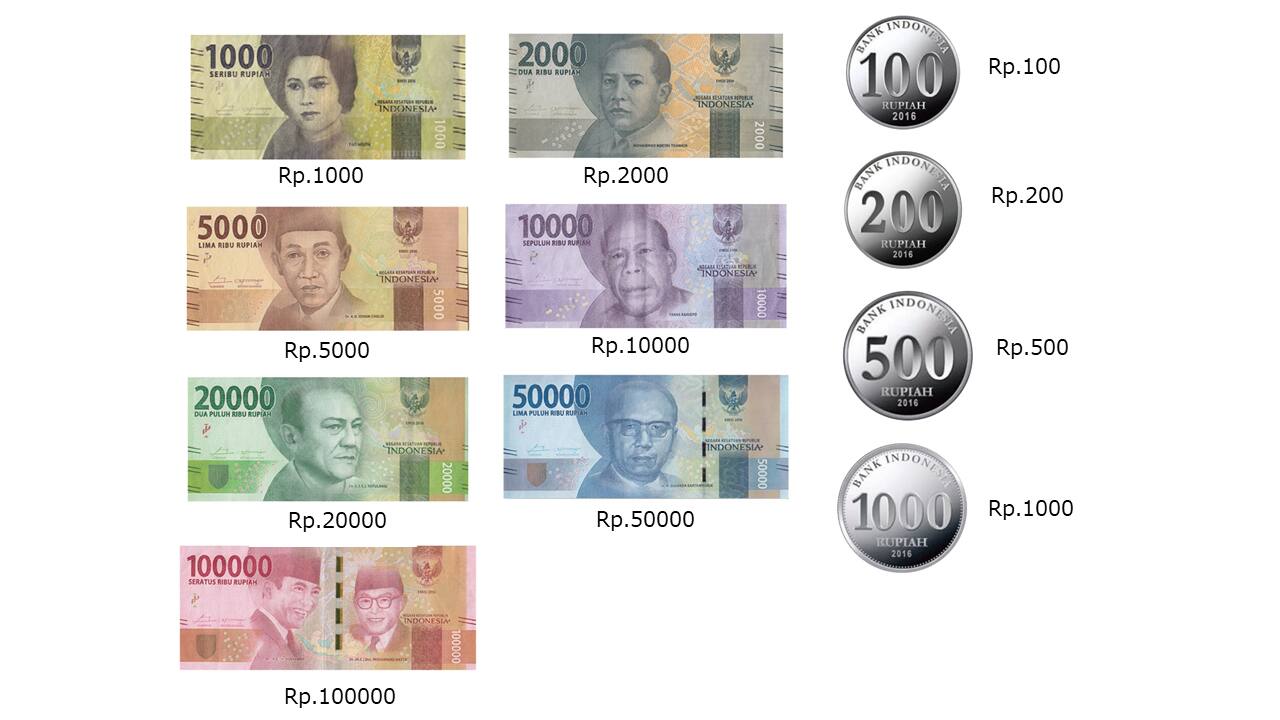 The unit of currency is the Rupiah (usually written as Rp.). JPY1 ≒ Rp.131 (as of June 10, 2019). There are eight denominations of banknotes in circulation: Rp.500, Rp.1000, Rp.2000, Rp.5000, Rp.10000, Rp.20000, Rp.50000, and Rp.100000. There are five types of coins: Rp.50, Rp.100, Rp.200, Rp.500, and Rp.1000.
At most mid-level or better hotels, a tax (5%–11%) and service charge (5%–10%) are added to the room fee. Often, travelers are charged a service fee that is added onto fees incurred at upscale restaurants and beauty treatment salons.
In 2010, a value-added tax (VAT) refund system was put into place in Jakarta and Bali. Individuals carrying foreign passports are eligible (if the period of stay is within 2 months). The refund is subject to terms, such as spending a total of more than 5 million rupiah (tax excluded) during a single instance of shopping at specified shops.
Basically, tipping is not required when a service charge is included in restaurant and hotel fees. However, it is advisable to tip when receiving good service or making a difficult request. The amount differs depending on the individual's level of satisfaction, but the following values serve as references.

[Restaurants] Though it depends on the quality of the restaurant, a tip that is 5%–10% of the meal charge that is nicely rounded off is given when paying, or change from the bill is left at the table.

[Hotels/Spas] Tip approx. Rp.20000 to hotel porters and persons providing a massage.

[Taxis] It is customary to tell the taxi driver to keep the change.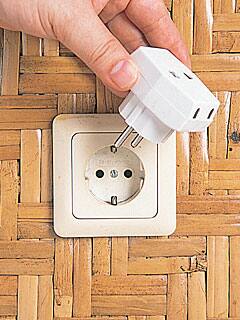 Some plugs can be used for Japanese electric products with an adapter.
Voltage is 220V with a cycle of 50Hz. Generally, plugs are the 2-prong Type C with round pins. When using electric products made for use in Japan, a transformer and adapter are necessary.
The TV and video system (PAL) in Indonesia differs from Japan (NTSC). DVDs have a different region code than Japan (Japan is 2, Indonesia is 3). Many of the pirated editions of DVDs sold in Bali, etc. are region free, but be aware that bringing them into Japan is against the law.
Post offices in Indonesia are called POS INDONESIA. Mail sent by EMS can be tracked online.

[Normal Business Hours] Mon.–Sat. 8:00–18:00 Also, stamps can be purchased at general stores. At luxury hotels, guests can ask the front desk to mail letters.

[Postal Fees] Airmail to Japan costs Rp7000 for a postcard and from Rp.35500 for a sealed letter up to 50g. Mail up to 1kg costs from Rp.482500 by EMS. Normally, mail is delivered in 5 to 10 days to Japan.
Situation
How to phone
[Telephoning Japan from Indonesia]
Dial 001, 007(International telephone identification number)
▼
81 (Country Code, Japan )
▼
X X(Remove the first 0 for area codes)
▼
1234-5678 (Other parties telephone no.)
[Telephoning Indonesia from Japan]
International Telephone Company No. 001 (KDDI)*1, 0033 (NTT Communications) *1, 0061 (SoftBank Telecom) *1, 005345 (au Mobile) *2, 009130 (NTT DoCoMo Mobile) *3, 0046 (SoftBank Mobile)*4
▼
010 (International Identification No.)
▼
62 (Country Code, Indonesia)
▼
123-4567 (Other parties telephone No.)

*1 Not required if you have an international registration with "My Line" or "My Line Plus". See URL www.myline.org for details
*2 au does not require 005345.
*3 Pre-registration to World Wing is required for NTT DoCoMo. Does not require 009130.
*4 Call are possible without dialing 0046 from SoftBank.
* For the three cell phone carriers, hold down 0 until + appears, then add the country code and the phone number your wish to dial.
Holiday / National holiday
Holiday / National holiday
The majority of national holidays follow various religious calendars. Aside from New Year's, May Day, Pancasila Day, Independence Day, and Christmas, be aware of holidays that fall on different dates each year (marked with an asterisk (*)). In addition, the Galungan holiday is only celebrated in Bali, but note that many shops are closed around then (July 24, 2019).
2019
January 1: New Year's
February 5: *Chinese Lunar New Year's Day
March 7: * Nyepi , Bali's Day of Silence and Hindu New Year
April 3: *Ascension of the Prophet Muhammad
April 19: *Good Friday
May 1: May Day
May 19: *Waisak Day (Buddha's Anniversary)
May 30: *Ascension Day of Jesus Christ
June 1: Pancasila Day (commemorates the five founding principles of the state)
June 3-4: *Extra holiday declared by the government
June 5-6: *Indul Fitri
June 7: *Extra holiday declared by the government
August 11: *Idul Adha (Muslim Day of Sacrifice)
August 17: Indonesian Independence Day
September 1: *Islamic New Year
November 9: *The Prophet Muhammad's Birthday
December 24: *Extra holiday declared by the government
December 25: Christmas Day
The official language is Indonesian. Languages unique to various areas in Indonesia are also spoken, such as Javanese and Balinese. English is often understood in places such as resort areas in Bali and Jakarta.
Below are guidelines for general business hours, which differ by shop, restaurant, and area.

[Banks] Mon.–Fri. 9:00–16:00, Sat. 9:00–12:00, closed on Sun., holidays.

[Shops] Normally, shops in cities and tourist areas are open every day from around 10:00–21:00. Many convenience stores are open 24 hours.

[Restaurants] Normally, restaurants in cities and tourist areas are open every day from around 10:00–22:00. Orders are no longer taken from 30min. to one hour before closing. In large cities, some restaurants stay open until very late at night or for 24 hours.
In some instances, there is a child's entrance fee for children 12 years old or younger at tourist locations, etc. Age restrictions on alcohol consumption and smoking are not regulated by law. Usually, many individuals who drink or smoke start around 17 years old.
During the Nyepi New Year, going out and lighting fires is prohibited in Bali. Even travelers will be arrested by police if they venture outside the hotel, unless it is an emergency. In addition, do not use the left hand, which is considered the unclean hand, to hold food or shake hands. Also, the head is considered a sacred place where the spirit resides, so people should not touch another person's head, even the head of a child. Many citizens are Muslims and do not consume alcohol or pork.
Copyright (C) Globe-Trotter Media Partners Inc. All Rights Reserved.
Copyright (C) Diamond-Big Co., Ltd. All Rights Reserved.