Airport guide [Domestic Japan Flights]
Notice

As of October 29, 2017, StarFlyer-operated flights between Tokyo (Haneda) and Fukuoka arrive at/depart from Haneda Airport Terminal 1.
Please note that boarding procedures cannot be completed at Terminal 2.
Click the airport you are using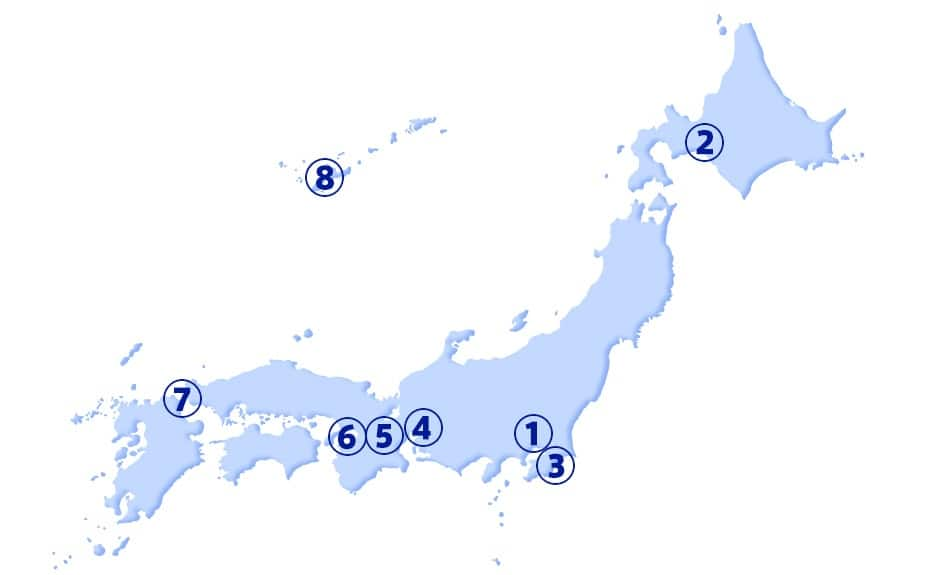 * For airports other than the above, check the website of each airport.
Sales hours for flight tickets
Airport
Sales hours for flight tickets
Haneda Airport
[Terminal 2]
5:15 AM to 9:25 PM

[Terminal 1]
5:40 AM to 10:55 PM

*




*

Flights operated by StarFlyer
・Flights between Tokyo (Haneda) and Kitakyushu
・Flights between Tokyo (Haneda) and Fukuoka
Ticket purchases for the routes above can be made at the StarFlyer counter in Terminal 1.
Narita Int'l Airport
8:00 AM to 6:45 PM
Itami Airport
6:00 AM to 8:20 PM
Kansai Int'l Airport
5:45 AM to 9:35 PM
Kobe Airport
6:00 AM to 8:50 PM
* Baggage inspection may be suspended temporarily.
New Chitose Airport
6:30 AM to 9:25 PM
Chubu Airport
6:15 AM to 7:50 PM
Fukuoka Airport
6:00AM to 9:00 PM
Naha Airport
6:05 AM to 8:55 PM
Rishiri Airport
8:30 AM to 5:00 PM
Wakkanai Airport
9:00 AM to 5:40 PM
Okhotsk Monbetsu Airport
9:00 AM to 5:00 PM
Memanbetsu Airport
9:00 AM to 8:15 PM
Asahikawa Airport
7:30 AM to 7:25 PM
Nemuro Nakashibetsu Airport
8:05 AM to 5:50 PM
Kushiro Airport
8:00 AM to 7:20 PM
Obihiro Airport
8:00 AM to 7:00 PM
Hakodate Airport
7:30 AM to 7:30 PM
Aomori Airport
7:00 AM to 6:00 PM
* Baggage inspection may be suspended temporarily.
Odate Noshiro Airport
9:00 AM to 6:05 PM
Akita Airport
6:05 AM to 7:50 PM
Shonai Airport
6:10 AM to 6:30 PM
Sendai Airport
6:30 AM to 8:25 PM
Fukushima Airport
6:50 AM to 6:15 PM
Hachijojima Airport
7:45 AM to 5:30 PM
* Baggage inspection may be suspended temporarily.

Shizuoka Airport
10:00 AM to 4:20 PM
Niigata Airport
6:40 AM to 7:30 PM
Toyama Airport
6:10 AM to 9:00 PM
Komatsu Airport
6:40 AM to 9:00 PM
Noto Airport
8:55 AM to 5:30 PM
Okayama Airport
6:00 AM to 8:00 PM
Hiroshima Airport
6:15 AM to 9:35 PM
Iwakuni Airport
6:05 AM to 8:00 PM
Yamaguchi Ube Airport
6:40 AM to 8:00 PM
Tottori Airport
6:00 AM to 7:45 PM
Yonago Airport
6:00 AM to 9:00 PM
* Baggage inspection may be suspended temporarily.
Hagi-Iwami Airport
9:00 AM to 6:35 PM
Takamatsu Airport
6:05 AM to 7:30 PM
Tokushima Airport
6:15 AM to 7:30 PM
Matsuyama Airport
6:25 AM to 8:40 PM
Kochi Airport
6:15 AM to 7:30 PM
Kitakyushu Airport
4:30 AM to 9:05 PM
Saga Airport
5:40 AM to 6:50 PM
Oita Airport
6:35 AM to 8:00 PM
Kumamoto Airport
6:30 AM to 8:30 PM
Nagasaki Airport
6:30 AM to 8:45 PM
Tsushima Airport
7:40 AM to 7:40 PM
Iki Airport
7:30 AM to 4:45 PM
Goto Fukue Airport
9:00 AM to 6:30 PM

Miyazaki Airport
6:30 AM to 8:00 PM
Kagoshima Airport
6:30 AM to 9:00 PM
Miyako Airport
9:00 AM to 7:40 PM
Ishigaki Airport
7:00 AM to 9:00 PM