Inclusion in Socially Responsible Investment (SRI) Indexes
ANA has been continuously selected for inclusion since 2006 in the FTSE4Good Index, an internationally recognized SRI index.
For inclusion, companies must meet evaluation criteria in the following areas: environmental conservation activities, positive relationships with stakeholders, and support of human rights.
In addition, ANA has been continuously included in other major indexes such as the Morningstar SRI Index "MS-SRI".

ANA Group Earns AAA Rating for Sustainability Assessment Loans
The "Sustainability Assessment Loan" is a loan product with the assessment uses a standard created by Sumitomo Mitsui Banking Corporation and the Japan Research Institute Limited. Based on the standard, a company's disclosures for ESG and efforts to achieve sustainability are assessed and loan conditions are established. The ANA Group earned high marks for its efforts in these regards and for the suitability of its information disclosure, and thereby was able to become the first air transport company to be given the highest rating of AAA.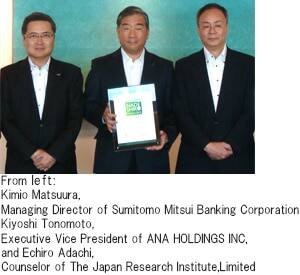 The ANA Group scored particularly high for the following:
"Environmental management"


The Group has formulated the "ANA FLY ECO 2020" medium-term environmental plan that presents specific target figures looking out long-term to 2020, and it has been comprehensively engaged in environmental conservation activities.

"Integrity towards customers"


The Group has consistently provided high service quality while undertaking various efforts to ensure a world-class level of safety. The Group is also fostering a corporate culture in support of these and providing diverse human resources with opportunities to take on active roles. In addition, the Group has formulated the ANA Group Diversity & Inclusion Declaration with the aim of cultivating a corporate culture to achieve the above and supporting each member of our diverse workforce to reach his or her full potential.

"Consideration for the local/global community"


The Group is contributing to local economic development through a variety of activities, including its Okinawa cargo hub business.
As the world's leading airline group, all of us at the ANA Group will continue to challenge ourselves to contribute to a future filled with hopes and dreams.