The Educational Home of All ANA Group Executive and Non-Executive Employees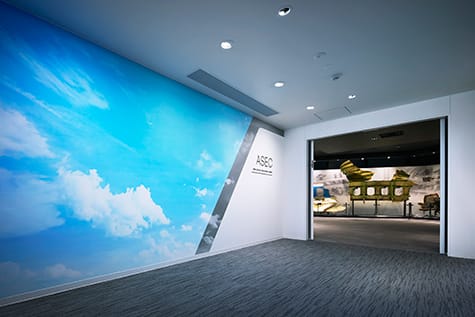 Address
144-0042
10-8 Haneda Asahi-cho, Ota-ku, Tokyo
In 2007, the ANA Group Safety Education Center (ASEC) was established in Shimomaruko, Ota-ku, Tokyo based on a proposal by a young employee who said the ANA Group needed a facility to ensure past accidents were never forgotten.
Years later, the decision was made to consolidate all of the ANA Group's HR development bases into a new training center called ANA Blue Base. With this, the ASEC was moved to ANA Blue Base in 2019 and thereby re-opened to employees in a new setting.
It delivers a safety training program which conveys the motivation behind its establishment back in 2007. The program teaches participants to embody safety through their actions at the workplace by encouraging them to proactively embrace ASEC's three concepts: 1) Facing accidents, 2) Understanding other minds, 3) Discussing with coworkers.
Safety is our promise to the public and is the foundation of our business.
The ANA Group strives to foster a culture of safety while remembering that it would not exist without the trust of all its customers and greater society.
Information about the ASEC Facility
The ASEC is comprised of two floors (2F and 3F).

ASEC 3F
This floor has a display providing information on cases we want our employees to keep in mind and recent topics.
ASEC 2F
This floor has aircraft wreckage on display to remind our employees of the impact and devastation brought about by accidents. Employees can also hear a commentary on the accidents and other such events caused by the ANA Group.
The Way Theater
Facing Accidents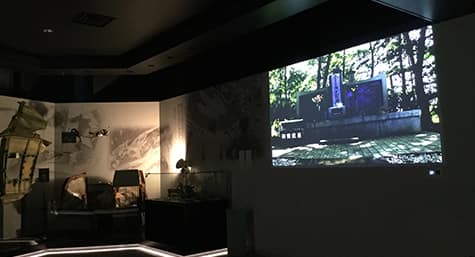 Step 1: Introduction Area
This area encourages our employees to face the serious accidents caused by the ANA Group, and has aircraft wreckage from All Nippon Airways Flight 58 which crashed near Shizukuishi on display as a visceral reminder of the impact and devastation brought about by such accidents.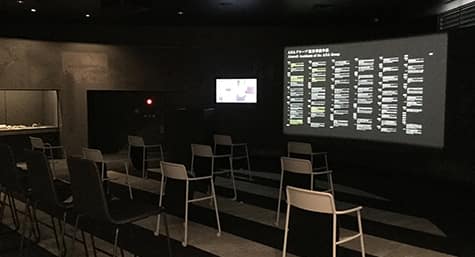 Step 2: Theater Area
The theater shows a video featuring animated reconstructions of accidents as well as footage from the time of the accidents. It is imperative that we never cause another aviation accident, and therefore this video details the facts and lessons learned from these accidents to convey their devastation and foster among our employees a sense of personal responsibility for them.
The Sky of Pledges / The Active Lounge
Understanding Other Minds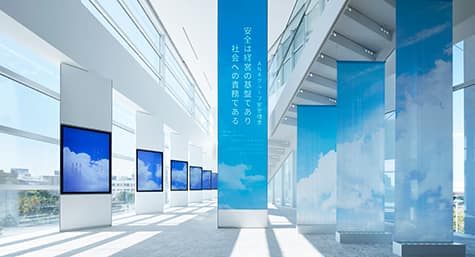 Step 3: The Sky of Pledges
Here our employees can learn about and contemplate the sentiments of their senior colleagues who experienced actual accidents.
In the very center of this room is The Pillar, which displays the ANA Group Safety Principles and the declaration each trainee makes in relation to safe actions.
Discussing with Coworkers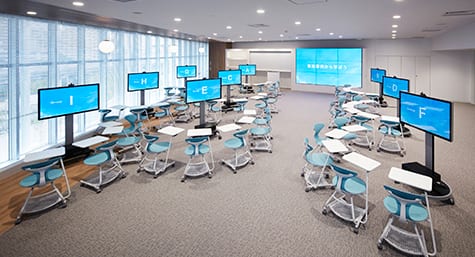 Step 4: The Active Lounge
In this lounge, employees take their first step toward embodying safety through their actions in the workplace. During their time here, employees broaden their horizons by speaking about mistakes they have made and participating in workshops with their colleagues.
Message from the Senior Vice President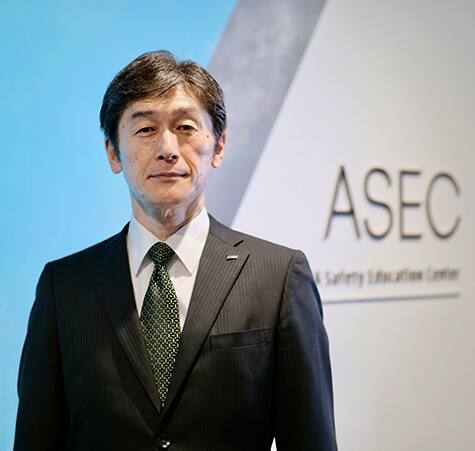 Every single member at the ANA Group are aware that they are personally responsible for safety and embodies "ANA's Safety Culture" which makes safety their first priority in every workplace.
Since the Shizukuishi collision in 1971, there were no fatal accident for over 50 years, but this record doesn't guarantee the safety for tomorrow.
Also, there is a danger of past accidents becoming a distant memory as we continue to ensure safe flight operations.
Here at Safety Education Center, we deliver safety training programs based on the following three concepts: 1) Facing accidents, 2) Understanding other minds (i.e., the minds of those who have lost family members in accidents and our senior colleagues who experienced such accidents), 3) Discussing with coworkers (in order to improve our safety together). Through these programs, we have each of our employees improve their safety awareness and declare to take action toward improving safety. Our employees then follow through on their declarations and strive to embody safety through their actions in the workplace.
Persistent efforts to ensure safety on every single flight.
Safety is always in the center of ANA Group.