Food Safety and Security Initiatives
Customers experience ANA through the food, beverages and refreshments provided in aircraft cabins and lounges, making them important elements of customer evaluation of ANA.
Currently, our in-flight meal service is evolving away from simply serving delicious meals that satisfy hunger toward a highly entertaining approach that wins customer delight with food procured and produced in a reliable process that we serve in a relaxing, hospitable space.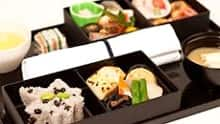 Catering Operations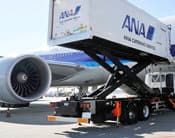 Catering operations encompass procuring, cooking and processing in-flight meals, and cleaning, safely storing, loading and unloading utensils, beverages and other service items used in the aircraft cabin. At airports, catering companies provide day-to-day catering operations to airlines.
ANA's in-flight meals are produced and loaded onto aircrafts at every airport ANA is serving by catering companies in contract with ANA.
ANA Catering Quality Program (ACQP): ANA's Quality Control System
In order to ensure food safety and meal quality and thereby create satisfied passengers, ANA considers it necessary to manage our in-flight meals under our own organizations. To meet this principle, ANA's certified auditors and chefs visit all of the contracted catering companies in Japan and overseas every year to provide them with directions based on ANA's unified health and safety standards for in-flight meals and in line with ANA's unique concept and standards. In addition, we have dedicated staff in charge of food safety at ANA service airports. Moreover, regular audits are conducted by external specialists for a more objective assessment of catering companies.
With regard to lounges managed by ANA, certified auditors inspect and supervise on regular basis. Lastly but not least, we liaise with dedicated agencies in performing regular water quality inspections to ensure quality management is in place in providing safe in-flight water to our customers.
We share the results of these activities internally to formulate and implement specific measures to maintain and improve the quality of our in-flight meals. In addition, periodic reports on food safety are submitted to the Board of Directors.
ACQP uses the following three perspectives in a quality control system that employs a PDCA cycle:
In-flight and Lounge Food Safety;
Quality of Taste ensuring deliciousness;
Safe, quick and punctual aircraft loading and unloading and control of service items.

Focused on Food Safety and Quality of Taste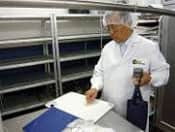 ANA's food safety standards for catering companies are more rigorous than those generally employed in the in-flight catering industry. In collaboration with our catering contractors, we implement detailed standards not only for handling and cooking food products in a hygienic manner but also for food safety prerequisites based on the so-called "5S" initiative (named for five Japanese S-words-seiri, seiton, seisou, seiketsu and shitsuke-corresponding to "organization," "tidiness," "cleaning," "hygiene" and "discipline").
ANA also has an uncompromising commitment to the quality of taste of in-flight meals. In order to maintain and improve the quality of in-flight meals for flights departing from airports outside Japan, ANA assigns dedicated chefs in charge of Japanese and western-style meals to provide directions to all contracted catering companies outside Japan.
Customers may feel food taste and texture different when enjoying meals on board from those on the ground because of environmental factors such as pressure and humidity difference. In-flight meals are provided, furthermore, in the unusual circumstance of being offered after cabin attendants have reheated those mostly cooked on ground using the special equipment in aircraft cabins. Therefore, chefs require special expertise in order to maintain the quality of in-flight meals. Moreover, hygienically temperature control is also extremely important for in-flight meals because no food additives are used, in principle.
ANA chefs who are in charge of directions prepare menus with these issues on mind. They visualize good taste by breaking it down into dozens of categories, then give directions of the preparation methods to the chefs of catering companies.
We also adopt catering companies' proposals for menus that utilize local ingredients in an effort to provide a wide variety of in-flight meals for our passengers.
In particular, in order to provide enjoyable Japanese meals during flights originating from outside Japan, ANA chefs who are in charge of giving directions work continuously together with chefs from catering firms to offer authentic Japanese flavors using the limited ingredients available overseas. These processes are perfected through a system of trial and error.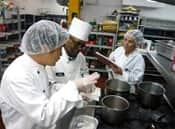 Partnership with Catering Companies to Support World-Leading Quality
ANA is operating its unique evaluation system based on the three perspectives of food safety, quality of taste, and aircraft loading and unloading and control of service items and customer feedback to each year rank overseas catering companies that focus on providing in-flight meals to ensure the needs of our passengers are met. We select and award the best catering company in each of the short-haul, medium-haul and long-haul categories.
Members of the ANA director board directly express appreciation to the factory-floor employees of catering companies who produce and control ANA in-flight meals, confirm our partnerships in further raising quality, and make catering companies aware that they are partners with ANA, a five-star airline with world-leading quality. These initiatives are part of a commendation system that is extremely meaningful for catering companies.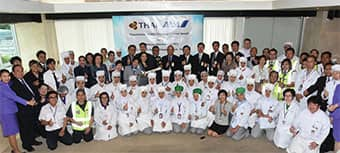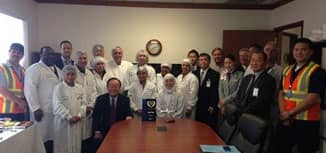 ANA is committed to providing high quality in-flight meals focusing on food safety and security first.