The ANA Group Safety Promotion Plan
The ANA Group Mid-Term Safety Promotion Plan
In response to the impact of the COVID-19 pandemic, the ANA Group reinforced its proactive and predictive risk management practices in FY 2020 in an effort to accommodate the drastic changes it has experienced in its operating environment. From FY 2021 onward and in accordance with its new 2021-2025 ANA Group Mid-Term Safety Promotion Plan, it will steadily push forward with the following safety initiatives in order to realize its vision of becoming a leading airline with a world-class safety system and culture and giving customers peace of mind.
1. Creating a System that Is Resilient to Change and Allows Us to Effectively Maintain Safety and Implement Reforms
Safety is the foundation of our business, and for the purpose of maintaining it, we will reinforce our Safety Management System (SMS) while performing the appropriate risk and change management for the changes in our operating environment and any resulting business reforms. (Please refer to the Supplementary Information.) Moreover, with our Safety Management System, we strive to manage risks in a proactive and predictive manner by identifying hazards (i.e., conditions or things that could cause or contribute to an unsafe event).
2. Safety Promotion Based on International Standards
We will ensure that we are in compliance with the international standards set out in the IOSA (IATA Operational Safety Audit) while also sharing information on global safety matters through the IATA (International Air Transport Association), Star Alliance and other organizations.
Moreover, ANA will implement safety promotion activities as a leading Japanese airline, and cooperate with various parties within the ANA Group and the relevant airlines to this end.
3. Embodying Safety through Our Actions and Fostering a Safety Culture
To ensure that each of our employees embodies safety through their actions, we will improve our training provision by creating on-demand versions of our various safety training programs. At the same time, we will foster a safety culture by implementing awareness-raising activities including the holding of forums and roving talks.
In addition, we will implement activities to encourage employees to recognize and praise safe actions, and push forward with our efforts to share safety-related information across the entire Group through the usage of our portal site and other mediums.
4. Training Our Human Resources to Promote Safety
We will improve our training on the Safety Management System and deliver it across the entire Group, and deploy effective safety activities and expertise horizontally across our divisions.
Furthermore, managers and safety supervisors at workplaces will join forces to improve the level of safety, and for this purpose, will encourage individual employees to better embody safety through their own actions.
5. Peace of Mind Concerning Customer and Public Safety
From the standpoint of ESG management, we will strengthen the relationship of trust we have with our customers and boost the ANA Group's corporate value. To do this, we will share our safety-related value with both our customers and the greater public, and cherish the peace of mind experienced by our customers.
Moreover, we will endeavor to provide the public with a better understanding of the Group's safety initiatives by sharing such information on our website and other mediums, offering tours of our safety facilities, and more besides.
The Four Risk Management Areas for Maintaining Safety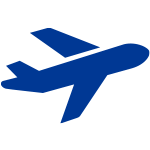 Flight Operations
Preventing accidents / serious incidents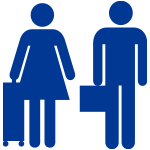 Customers
Protecting our customers from physical and life-threatening danger from departure until arrival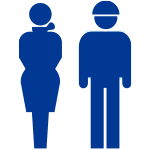 Employees (Workers)
Protecting ANA Group employees from danger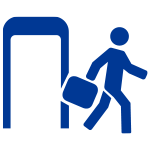 Security (Workers)
Detecting the risk of illegal acts such as terrorist attacks and hijacking, and then taking countermeasures to prevent its manifestation
Here at the ANA Group, we conduct risk management in four different areas. On top of flight safety for operating aircraft, we also manage risks in the areas of customer safety, employees (workers) safety, and security.
We establish numerical targets for unsafe events occurring in these four areas and report high-risk events and issues at our monthly Group Safety Promotion Committee, which serves as our safety promotion system and supreme decision-making body. At the same time, we deliberate on countermeasures and risk-reduction tactics as well as review our progress with our numerical targets.
Supplementary Information
Maintaining Safety while Managing Changes in Our Environment and Reforming Our Business
In response to the impact of the COVID-19 pandemic, the ANA Group's operating environment has undergone drastic changes, and these changes include revisions to its business plan. Although the ANA Group was forced to suspend or reduce flights on a substantial number of routes in FY 2020, it will push forward with business restructuring in FY 2021 and work toward reinstating flights in a flexible manner to capture demand as it recovers.
While the current environment requires the airline industry to implement major business reforms, the ANA Group has built systems that will allow it to continue maintaining safety even upon introducing new system and procedures.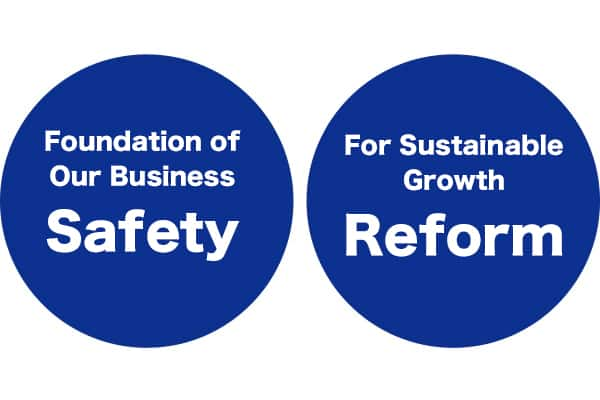 Change management: A safety management technique for organizations to proactively prevent errors
This safety technique is used to mitigate risks before introducing a change to a work system or procedure. It involves identifying in advance the hazards that could be brought about by the change, examining the events (e.g. accidents, errors) that the hazards could cause, and then taking appropriate countermeasures as necessary.
3Hs management: For individual employees to maintain safety
The 3Hs refer to the kind of changes that employees may encounter in their working environments, and consists of the following Japanese words: Hajimete (New), Henko (Changed), Hisashiburi (Old). On the frontline at the Flight Operations Division, employees always predict the risks for such changes, and fully perform 3Hs management as follows in order to take proactive measures to prevent unsafe events.

Each employee uses their imagination to predict the risks for their work.
They hold thorough briefings to share their observations, and develop and implement measures to counter the risks.
Even after commencing their duties, they proactively make assertions (i.e., express their opinions and point out issues in a constructive and cooperative fashion) to their colleagues.
If they notice something unusual or consider something to be dangerous, they proactively submit a voluntary report (e.g., a close call report).
By taking the systematic approach described above, individual employees are striving to balance safety with reform.