Responsible Dialogue with Stakeholders
Basic Approach
The ANA Group conducts business activities through relationships with our stakeholders.
We engage in ongoing dialogue with stakeholders to build trust and offer peace of mind. As we do so, we increase the effectiveness of our strategies by incorporating the opinions and requests of stakeholders into our businesses.
Relationships With Stakeholders
ANA Group Responsibilities
Major Means of Dialogue
Customers

We raise the level of security and trust with safety as our unequivocal mission in all our businesses.
We aim to be the world's leading airline group in customer satisfaction by creating new value while taking our customers' viewpoints at all times.

ANA Customer Service Desk
ANA Disability Desk for Passengers Who Require Assistance
Customer Satisfaction Survey
In-flight Comment Card
Group Interview

Shareholders and Investors

To increase shareholder value, we are constructing a strong enterprise that is able to generate stable earnings and provide a continuous return on investment.
We conduct timely and appropriate disclosure of corporate information.

General Meeting of Shareholders and Investor Presentations
Investor Relations Activities
Questionnaires About Socially Responsible Investment
Publication of the ANA VISION Booklet for Shareholders

Business Partners

We conduct fair trading while maintaining legal and regulatory compliance based on the ANA Group Purchasing Guidelines.
We value partnerships with our trading partners, cooperative partners, alliance companies, and other organizations. We aim to grow with these partners while working together to realize a sustainable society.

Partner Briefings, Training, Meetings for Opinion Exchange
Questionnaires for Business Partners
Partner Worksite Tours
Projects With Airline Alliance Partners

Employees

By respecting human rights and supporting independent growth and diverse working styles, we aim to be a corporate group where our employees can display their capabilities through motivated work irrespective of age, gender or nationality.

Internal Newsletter
Employee Satisfaction Survey
Education, Seminars, E-Learning Courses
Internal Reporting System
Labor and Management Conferences

Public Authorities

We fulfill all obligations, such as legal and regulatory compliance and tax obligations.
We actively collaborate with and support solutions aimed at sustainable development of Japan and global society.

Activities Through Industry Organizations and the IATA
Providing opinions in government councils
Joint Public-Private Sector Projects

Communities

We work toward regional revitalization through expanding the number of people involved in community interactions and vitalization of regional economies.
We contribute to resolving social issues through social contribution activities in areas served by our domestic and international routes.

Communication and Partnership With NGOs, NPOs, and Local Governments
Participation in Reconstruction and Volunteer Activities
Educational Support for the Next Generation

Environment

We engage in the reduction of our environmental impact through anti-climate change activities , biodiversity conservation, and other environmental initiatives.

Reducing Environmental Impact
Disclosure of Information Through Our Annual Report, Website, Etc.
Major Activities in FY2018
Dialogue with Shareholders and Investors
Toward improving shareholder value, we strive for timely, appropriate information disclosure and shareholder engagement.
The 74th Ordinary General Meeting of Shareholders:
Number of attendees: 1,972 people / Voting rights exercise ratio: 64.0%
IR large meetings / small meetings (for institutional investors / analysts):
6 times
Dialogue with institutional investors / analysts:
225 times (Japan: 123 times; overseas: 102 times)
Presentations for private investors:
16 times / Total: 2,543 people (including IR fairs)
Aircraft maintenance center tours for private shareholders:
12 times / 714 attendees total
Communication with Our Employees
Through direct dialogue between managers and employees, we are actively sharing management strategies and the intentions of managers and thereby deepening mutual understanding.
FY2019 ANA Group Corporate Strategy Action Plan:
(February 15 to March 20, 2019) 22 times/1,163 attendees total
Safety Caravan:
864 participants across 23 ANA Group workplaces
Dialogue with International Society
In regard to material issues in our Corporate Strategy, by actively conducting dialogue with industry groups as well as NGOs / NPOs, we are fostering understanding of the ANA Group's approaches and initiatives. In addition, we are working to rapidly identify changes in the environment and to reflect them on a global level in our business activities.
Participation in international conferences on the environment:
14 times (Canada, Switzerland, Germany, Singapore, Malaysia)
Overseas dialogue with human rights organizations:
1 time (Thailand)
Participation in international conferences on human rights:
8 times (Thailand, Switzerland, United States, Belgium, Japan)
Dialogue with Overseas ESG investors:
4 times (UK, Switzerland)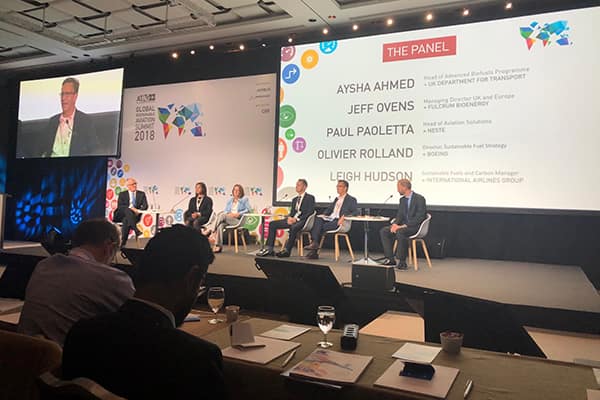 Dialogue with Business Partners
The ANA Group offers tours of hangars and facilities to help customers and business partners understand more about safety and security.
ANA aircraft hangar tours:
Approximately 59,000 people
ANA in-flight meal factory tours:
53 times/1,300people
ANA Group Safety Education Center (ASEC) Tours:
Visited by 10,485 ANA employees and others
Dialogue With Overseas ESG Investors
In July 2019, we exchanged views with ESG investors (Hermes EOS, etc.) in London about the latest status on ESG investments, responses required of corporations, and expectations for the ANA Group.
Comments on the ANA Group (Excerpt)
We gained an understanding of the ideas and mechanisms for creating social and economic value simultaneously. While executing its corporate strategy, the ANA Group should continue activities as a leading company in setting ESG-related KGIs and KPIs.
We hope the Group sets long-term goals and draws a future roadmap for a strategic story and the achievement thereof. We also expect the group to improve in terms of corporate governance.
To build mutual trust, we would like to see more efforts in regular disclosure and opportunities for direct dialogue.
Engagement With Experts on the Environment
In June 2019, we exchanged opinions on the ANA Group's environmental initiatives with experts who commented on their expectations of the ANA Group.
Comments on the ANA Group (Excerpt)
We would like to see information disclosure that depicts an overall story of efforts to reduce environmental impact.
In addition to the introduction of fuel-efficient aircraft as a measure to control CO

2

emissions, we also expect to see biofuels and emission credits used effectively in coordination with your business models.
We hope that the ANA Group will step up efforts to prevent illegal trade in wildlife, engaging in stronger industry cooperation, passenger edification, and systems for reporting to customs, police, and other authorities.