Responsibility to and Engagement with Stakeholders
The ANA Group conducts business activities through our relationships with stakeholders. We engage in ongoing dialogue with stakeholders to build trust and offer peace of mind. As we do so, we increase the effectiveness of our strategies by incorporating the opinions and requests of stakeholders into our businesses.
During fiscal 2017, we created several opportunities to hold dialogues with stakeholders, including our general meeting of shareholders, analyst presentations, and facility tours.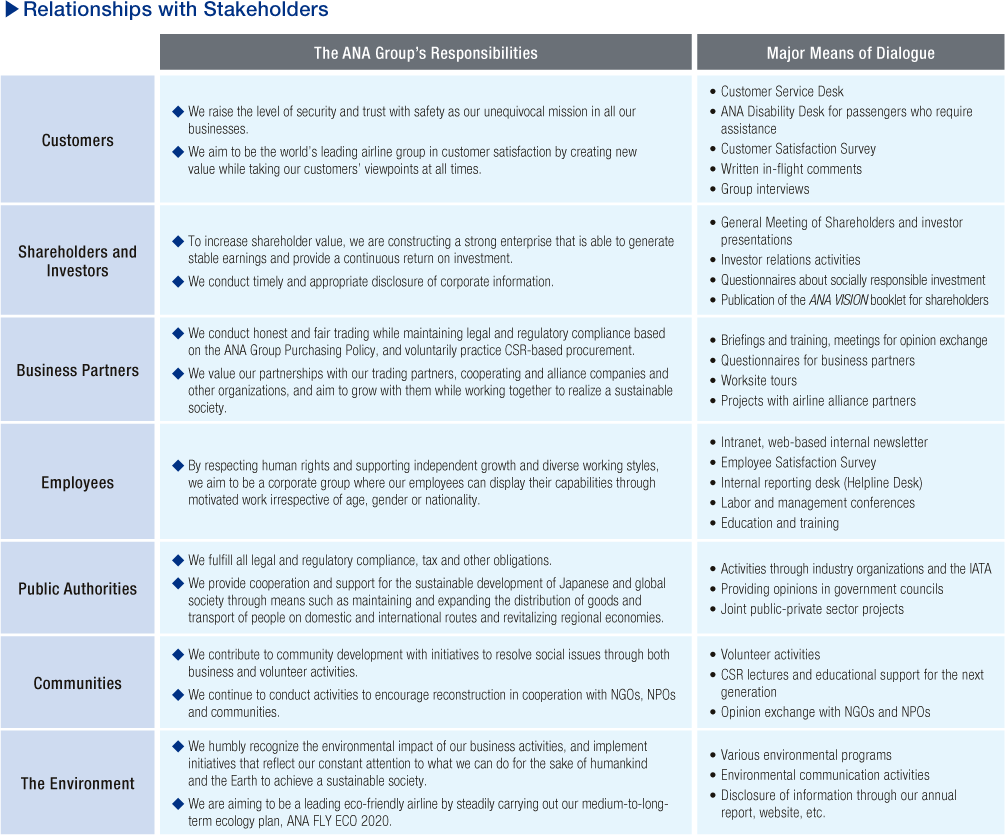 Major activities of FY 2017
Dialogue with Shareholders and Investors
Toward improving shareholder value, we endeavor to create a stronger business foundation to generate steady, continued profits and provide shareholder returns, striving for timely, appropriate information disclosure and shareholder engagement.
Dialogue with Employees
Through direct dialogue between managers and employees, we are actively sharing management strategies and the intentions of managers and thereby deepening mutual understanding.
Dialogue with International Society
In regard to material issues in management strategies, by actively conducting dialogue with industry groups as well as NGOs / NPOs, we are fostering understanding of the ANA Group's approaches and initiatives. In addition, we are working to rapidly identify changes in the environment and to reflect them on a global level in our business activities.
Dialogue with Business Partners
We share our CSR Guidelines with our business partners and seek their understanding and cooperation in encouraging CSR practices throughout the entire supply chain.
We demonstrate the importance we attach to ANA Group food safety and hygiene to customers and business partners by offering tours of the ANA in-flight meal processing factory. This is a helpful way to promote an understanding of the ANA Group commitment to safety and security.