The ANA Group launched the ANA Carbon Offset Program on all domestic routes from October 1, 2009 as part of its customer-related environmental contribution initiatives. This program enables customers to voluntarily donate money toward the planting of trees which will help absorb the CO2 emitted by the aircraft that they are traveling on. The donations are directed to moreTrees (a general incorporated association), which uses them to cultivate forests in Japan to help alleviate global warming.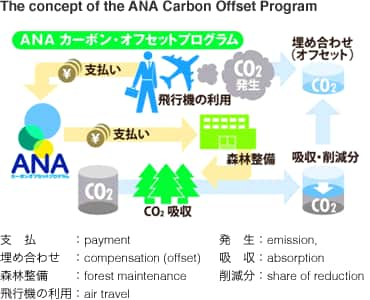 Customers can calculate the amount of CO2 emissions that they generate on each domestic flight and donations can be made via credit card. Customers can participate in the program at any time, including retroactively offsetting the emissions of previous trips and making donations toward offsetting future trips.

Using J-Credit to Promote Biodiversity
The ANA Carbon Offset Program is contributing to the realization of a low-carbon society by using J-Credits* to promote forest management, which leads to greater CO2 absorption. Trees will not grow healthily if they are not well tended. The ANA Group hopes to create a bountiful forest by ensuring appropriate spacing for the cedar, cypress, and red pine trees that have been planted. Forests not only absorb carbon dioxide, they also absorb rainwater and help sustain human lives. The water that is absorbed by this forest will flow into Shizukawa Bay and contribute to a bountiful ocean ecosystem as well. Perhaps the golden eagle, the official bird of Minamisanriku, will also return to the region someday as a result.
The ANA Group will continue contributing to the sustainable coexistence of humans and nature and work to pass on a rich forest to the next generation. Hopefully even more people will contribute to the ANA Carbon Offset Program's activities and help create a vibrant forest in Minamisanriku.
*The J-Credit Scheme is a carbon offsetting scheme that is administered by the Japanese government. The ANA Group is aiming to obtain credits via this scheme through its forestation efforts in Minamisanriki, Miyagi Prefecture.