Basic Approach
With the conclusion of the Paris Agreement in 2015 at the 21st session of the Conference of the Parties (COP21) during the United Nations Framework Convention on Climate Change, the Japanese government set its own target related to the reduction of greenhouse gas emissions. In addition, following decisions at the International Civil Aviation Organization (ICAO) General Assembly in 2016, beginning in 2021, carbon neutral growth with no increase in CO2 emissions from the international aviation sector has become an international commitment. Accordingly, airlines are increasingly aware of CO2 emission reductions.
In 1998, we reevaluated our basic approach, established the ANA Group Environmental Principles and have worked towards reducing environmental impact in accordance with ANA FLY ECO 2020, a medium- to long-term environmental plan from 2012 to 2020.
To demonstrate in Japan and overseas our quest to become the leading eco-friendly airline group, we formulated the ANA Group Environmental Policies in June 2017.
ANA Group Environmental Principles
The mindset to value the environment starts with recognition of the burden we place on the Earth.
We will use natural resources and energy with care, and contribute to attaining a prosperous and sustainable society.
We will take initiative in environment conservation activities and share our care for the Earth with people around the world.

ANA Group Environmental Policies
ANA Group recognizes environmental initiatives such as measures against global warming and biodiversity conservation as critical business issues and aims to be a Leading Environmental Airline Group through all corporate activities.
We will precisely identify and analyze the impact of our business activities on the environment and publicly disclose them.
We will promote environmental protection in line with social needs and go beyond relevant laws and regulations, through a wide range of dialogue with stakeholders.
We will promote measures to reduce the environmental impact in all businesses operations, and actively pursue possibilities of new technologies and services for this purpose.
We will continuously pay close attention to the environmental consideration of our supply chains and promote environmentally conscious procurement.
We will enhance our 3R (Reduce, Reuse, Recycle) practices and waste management to contribute toward the creation of a recycling-based society.
We will encourage our workforce to engage in environmental preservation activities, raising each employee's awareness.
* The ANA Group will also continuously encourage its business partners and suppliers not only to support the Policy but also to adopt a similar policy. All corporate activities stated above include due diligence on investment and M&A.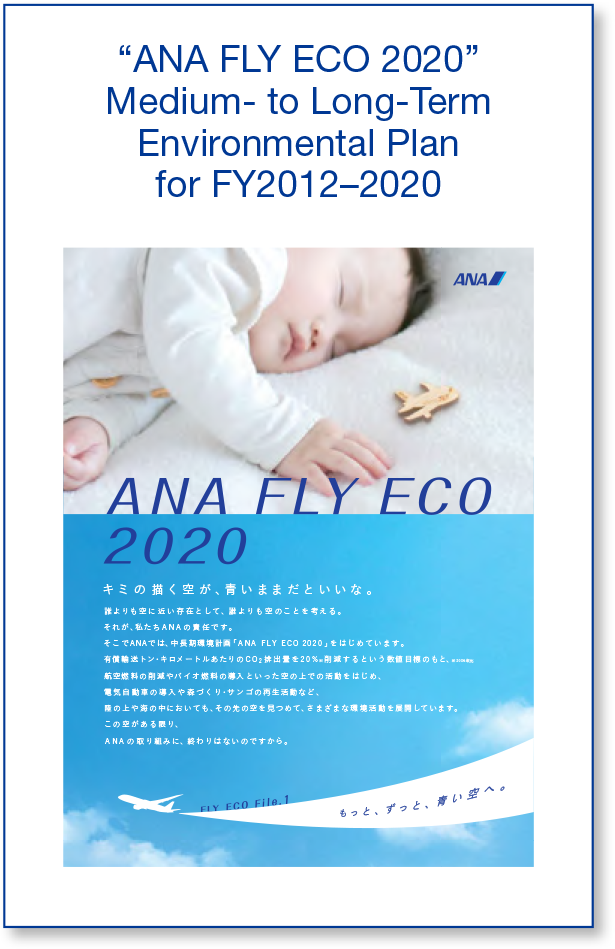 Promotion System
Under the CSR, Risk and Compliance Promotion Committee, ANA Group has established the Eco-First Subcommittee for initiatives dealing with aircraft flight operations and the Ground Energy Subcommittee for initiatives dealing with ground operations. These subcommittees are implementing specific measures to reduce the burden on our environment. Controlling CO2 emissions from flight operations is our most critical issue, and in parallel, we will pursue the creation of economic value through controlling fuel expenses and social value through reducing its environmental impact.
ANA FLY ECO 2020 Targets and Performance
To become the leading environmental airline, ANA Group launched the 21st Century Action Plan in 1999, raising specific target values at every medium-term period and promoting comprehensive environmental conservation activities centered around CO2 reduction. In fiscal year 2012 ANA Group started the 2012-2020 medium- to long-term environmental plan, ANA FLY ECO 2020, to engage in environmental issues from a more global perspective. 2020 is set as the next target when a new international framework for global warming measures will be determined.
In setting our target values, we are taking the global standard set by the International Air Transport Association (IATA) into consideration as the airline industry's global target. The ANA Group will focus particularly on CO2 reduction to further strengthen measures against global warming. In addition, we have set various targets such as starting full-scale biofuel use, promoting conservation of resources, and promoting local environmental activities.
Steady and dedicated efforts will be imperative in achieving the goals, and we will continue to build a corporate culture where each employee is conscientious of environmental protection in their day-to-day work and to work together as one.
Climate change measures
Reduce CO2 emissions from aviation fuel
Target
Results in the fiscal year 2018
Unit Target
For the fiscal year ending March 2021, achieve a 20% reduction in CO2 emissions per revenue ton-kilometer (total of domestic and international routes) compared with the fiscal year ended March 2006.
Progressed to 23% reduction (compared with the fiscal year ended March 2006)

Reference:
Total emissions of 11.43 million tons (decrease of 0.4% year on year)
CO2 emissions per revenue ton-kilometer reduced to 0.97kg-CO2

Total Target
Starting from the fiscal year ended March 2013 through March 2021, keep averageannual CO2 emissions on domestic routes below 4.4 million tons.
Emissions of 4.09 million tons (below target annual average)
Reduce ground energy

| Target | Results in the fiscal year 2018 |
| --- | --- |
| Reduce energy use at all worksites by 1% each year (in accordance with the revised Law Concerning the Rational Use of Energy). | Ground energy consumption down 3.9% year on year on a crude oil equivalent basis (Preliminary) |
Introduce alternative aviation fuel

| Target | Results in the fiscal year 2018 |
| --- | --- |
| Conduct a study toward the start of full-scale use of alternative aviation fuel by the fiscal year ending March 2021. | Purchased 70 thousand US Gallon (approsimately 265KL) of sustainable aviation fuel in January 7th, 2019. This bio jet fuel will be mixed to the current fuel ANA is using on the San Fransicso flights and lead to the recudtion of roughly 150 tons of carbon dioxide. |
Air pollution measures
Conform with aircraft emission standards

| Target | Results in the fiscal year 2018 |
| --- | --- |
| All aircraft, including leased aircraft, to conform to Chapter 4 of the International Civil Aviation Organization (ICAO) emission standards. | All aircraft in comformance |
Introduce lowpollution vehicles
Target
Results in the fiscal year 2018
Actively introduce low-pollution vehicles, and study the use of biofuel.
Out of the 4,690 vehicles introduced this year by the ANA Group, 1,801 (approx. 38.45%) were low-pollution vehicles*1.

*1.

Fuel cell, electric, hybrid or emission constraint vehicles
Noise measures
| Target | Results in the fiscal year 2018 |
| --- | --- |
| All aircraft, including leased aircraft, to conform to Chapter 4 of the ICAO noise standards. | All aircraft in conformance |
Resource savings
Target
Results in the fiscal year 2018
Reduce waste and promote paperless operations, Including sales.

Total volume of overall waste 34,300 tons (8.5% reduction)
Total volume of industrial waste 3,200 tons (6% reduction)

Promote 3R activities, including closed recycling of in-flight magazines and other items.

Total paper usage (various types): 3,200 tons (down 800 tons year on year).
Rreduced amount of the number of group in-flight magazines and sales brochuressales. Continual efforts will be made to reduce waste emissions through resource conservation and recycling initiatives.
Environmental contribution activities for local communities
Target
Results in the fiscal year 2018
Conduct sustainable forestation that provides new value to communities and society.

Continued afforestation activities four times a year in May*2 and October, as "ANA Forest of the Heart" project in Minami-sanriku, Miyagi Prefecture.

*2.

Collaborated with The Boeing company in May.

Continued support for the OISCA's Coastal Forest 10-year Restoration Project in the Tohoku region, damaged by the tsunami arising from the Great East Japan Earthquake, through the dispatch of company volunteers to the affected area in July.
Donations also made through Environmental Support Miles from ANA Mileage Club members. (0.7million yen)

Enhance environmental education activities through the Team Tyura Sango coral regeneration project.

"Team Tyura Sango" coral conservation project is conducted four times a year (May, June, October, November), and 288 volunteer divers and helpers attended the events this year. A total of 3,482 volunteers have planted 10,992 coral seeds and seedlings to date.
Coral seeds and seedlings have been continuously donated through Environmental Support Miles.
from: ANA Mileage Club (equivalent to 260 coral seedlings)
from: ANA Diamond Club members. (equivalent to 880 coral seedlings)
Certified Eco-First Company
In 2008, ANA became the first company in the airline and transport industries to be certified an Eco-First Company by Japan's Ministry of Environment. This accomplishment reflected the Ministry's high regard for the company's environmental initiatives and our commitment to social responsibility.
In addition, we endorse the principles of the COOL CHOICE national movement spearheaded by the Ministry of Environment to encourage smart choices (cool choices) to fight global warming, and we are building awareness through ANA's in-flight magazine and videos.
On 23 October 2017, we renewed our Eco-First Promise.
Toward Achieving the COP21 (Paris Agreement) Reduction Targets
We officially adopted the Paris Agreement, an international framework to tackle global warming from 2020 at COP21 (the 21st session of the Conference of Parties to the United Nations Framework Convention on Climate Change) held in Paris, France, in December 2016.
The target is to reduce greenhouse emissions from various activities substantively down to zero by the latter half of this century, to achieve the agreement's main goal to keep the global temperature rise of this century well below 2 degrees Celsius.
To accomplish this, all countries are obligated to set and submit emission reduction goals and implement relevant domestic measures, and for a framework to be in place to continue to improve by reviewing the targets every five years.
The total CO2 emission reduction target in Japan is 26%. ANA Group, as a leading global airline group, is engaged in various activities to reach this target.
1. Promoting Visualization of ANA Group's Environment and Energy Data
Our new energy data control system, ANA Eiims, was installed group-wide in October 2017.
We are enhancing our system to accurately enter, monitor and analyze environmental data to implement further energy-saving measures.
Disclosure of Environment-Related Information
Since fiscal year 2016 we have categorized our greenhouse gas emissions into scope 1, 2, and 3 according to standards set by the Energy Conservation Act, and obtain third party authentication on the data's accuracy before its disclosure. We have responded to CDP (the Carbon Disclosure Project ), to disclose information related to greenhouse gas emissions and climate change as requested by investors, and received a B rating in 2018 (industry average is C).