Initiatives in Aircraft Flight Operations
Global Stance on the Environment
ICAO Movements
The ICAO has set a global target for improving international aviation fuel efficiency by an average 2% per year between 2021 and 2050. To achieve this goal, the ICAO adopted CNG2020 at its 2010 assembly as a mechanism to become greenhouse gas (CO2) neutral beginning in the year 2020.
Global CO2 Reduction Targets
Improve Fuel Efficiency by 2% Annually
Achieve CO2 Neutrality beginning with the year 2020 (CNG2020: Carbon Neutral Growth 2020)
Achieving the four Targets of the ICAO (Basket of Measures)
Adopt new technologies (new aircraft, etc.)
Improve flight operations
Use alternative aircraft fuel (SAF:Sustainable Aviation Fuel)
Utilizing market mechanisms (emissions trading system)

CORSIA Adoption
The 2016 ICAO Assembly adopted an international aviation growth scheme for 2021 and beyond that does not increase CO2 emissions. This plan is called the Carbon Offsetting and Reduction Scheme for International Aviation, or CORSIA.
IATA Movements
The International Air Transport Association (IATA) established the following three specific action plans to response to the ICAO initiatives:
Carbon-neutral growth beginning with the year 2020
Generate an average 1.5% fuel efficiency improvement between 2009 and 2020
Reduce CO2 emissions by 50% by the year 2050 compared to 2005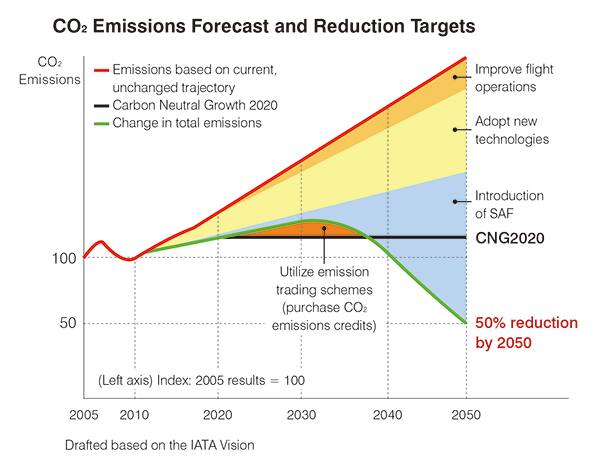 ANA Group's Initiatives for Reducing CO2 Emissions from Aircraft
The ANA Group has set environmental targets to be achieved by fiscal 2050 and implemented CORSIA, and we are continuing our four initiatives to reduce CO2 emissions: improve operations, innovate aircraft technologies, implement use of SAF, and utilize emissions trading systems.
Operations Improvements
Efforts are being made to reduce environmental impact at each stage of aircraft operations.

1.During Maintenance
Water Cleaning Engines / Test Operations
The ANA Group has developed a unique vehicle for cleaning engine compressor parts. Engine compressor parts become dirty with each use, reducing fuel efficiency. Regular cleaning restores full engine function.
We have also revised test operations and introduced other efficiencies, saving 1% on annual fuel usage in test operations.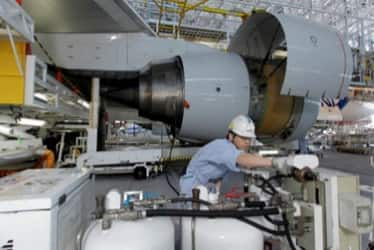 Reduction of Aircraft Weight
A lighter aircraft can fly on less fuel and reduce CO2 emissions. The ANA Group is working to optimize the amount of water supplied to aircraft and reduce the weight of onboard equipment.
For example, we are digitizing "Wing Kingdom" and (in-flight magazine), changing the paper quality of "Sky Shop" and (shopping catalog) and reducing the number of pages, reviewing the amount of tableware and drinks installed, and removing equipment that is not used as much. In addition, by changing the manuals for pilots and cabin attendants from paper to the iPad, we were able to reduce the weight by 70%.

2.Creation of Flight Plans
Selection of Optimum Altitudes, Speed and Routes
In general, the lower the air density at high altitude, the lower the fuel consumption. Excessive speed increases fuel consumption. The weather conditions, routes that optimize fuel may vary from day to day. Pilots and dispatchers make flight plans for each flight, checking all types of information for each flight by selecting the optimum altitude, speed and route. Also, if a pilot operates multiple flights per day such as domestic routes, the next flight's information is sent to the pilot's iPad between flights and recreate the flight plan using the latest information.

3.While parking Aircraft
Reducing the Time of Auxiliary Power Unit (APU) Usage
In addition to the main engine on the wing, the aircraft is equipped with another jet engine called APU (auxiliary power unit) at the tail end. APU is responsible for the "compressed air" used for the operation of the main engine and air conditioning equipment at the time of departure, as well as the "Electric" required on the ground before the main engine starts. APU operation requires fuel and emits CO2. Instead of using an APU while parked on the ground, we connect GPUs (Ground Power Unit), which can supply power and air conditioning from the ground, to the aircraft, and we are working to shorten APU use time, thereby contributing to CO2 emissions reduction.
4.Takeoff
Reduced Flaps at Takeoff
The flap is called a high-lift device, and it is used to increase the area of the wing during takeoff. Increased flap angles and wing area has the advantage of being able to take off from shorter runways, but it also increases air resistance, requiring more power and fuel for the airplane to climb or accelerate.
Reduced flaps Takeoff such as from long runways, enables to reduce air resistance, fuel consumption and CO2 emissions.
5.During Climb
Climb with early acceleration
Climbing with acceleration at lower altitude after takeoff, retracting the flaps and reaching cruise altitude as soon as possible, enables to reduce fuel consumption. In fiscal 2019, we reduced CO2 emissions by 2500 metric tons.

6.During Cruise
Reviewing flight paths during flight using the latest weather information
In addition to creating a flight plan, the ANA Group checks weather information again after takeoff, and changes flight routes depending on the situation. This is called DARP (Dynamic Airborne Reroute Procedure).
This allows for more optimal fuel planning and flight routes, thereby reducing CO2 emissions.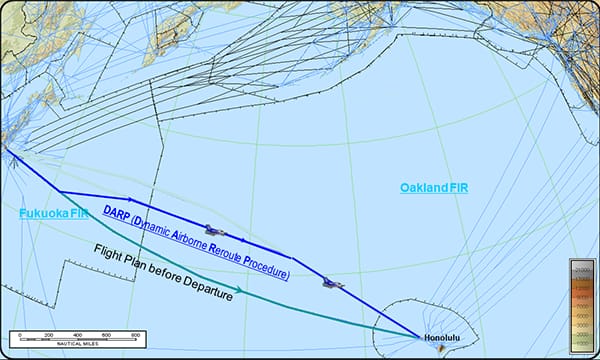 7.During Descend
Promoting an Energy-Efficient Descent Method
Continuous Descent Operations is a method in which an aircraft descends continuously from the start of descent until the final approach point.
Relative to the operation descending in stages with periods of level flight, this method enables to shorten the flight distance and suppress excessive power during descent and reduce the fuel consumption, CO2 emission and noise. The ANA Group began implementing this method for late-night and early-morning flights at Kansai International Airport and is expanding its use to other applicable airports while cooperating with the relevant organizations.

Timing of Deploying Flaps
The airplane land with flaps, slowing down during the descent for landing.
Since the air resistance increases when the flaps are put out, the timing of putting out the flaps is delayed as much as possible, which leads to reduction of fuel consumption and CO2.
Timing of Lowering Landing Gear
The landing gear is used for landing and is lowered during the descent. Lowering the landing gear creates greater air resistance and increases fuel consumption. During the descent, the timing of lowering the landing gear is delayed as much as possible within the range where there are no safety issues, which reduces fuel consumption and reduces CO2 emissions.
8.Landing
Reducing Thrust Reverser Usage
The landed airplane uses a thrust reverser and brakes to decelerate. By using the reverser attached to the engine, it allows a temporarily increase in the power of the engine and can slow down the airplane's landing speed more quickly.
If the landing runway is long enough and there are no safety issues, lowering engine power while using the reverser will reduce fuel consumption, and CO2 emissions , and can also suppress noise. In fiscal 2019, we contributed to reducing CO2 emissions by approximately 12,200 metric tons.
Single-Engine Taxiing
After landing, even one engine can adequately taxi the airplane on the ground. The pilot will check the weather and the surrounding environment of the airplane and decide whether or not it can do so safely. By shutting down one engine and taxiing on the ground using the power of the other engine, it reduces fuel consumption and CO2 emissions. In fiscal 2019, we contributed to a reduction of approximately 2100 metric tons of CO2 emissions.
9.Postflight
As a postflight procedure, the ground staff reviews and analyzes the flight data, and utilizes it for daily operations as well as for reducing environmental impact.
Aircraft innovation
Introduction of Fuel-Efficient Aircraft and Engines
As of fiscal 2019 70.3% of the ANA group fleet consists of fuel-efficient Boeing B787 or AirbusA320/A321 aircraft.
Our state-of-the-art aircraft with upgraded engines meet the standards of ICAO Convention Annex 16.
Equipping Aircraft with Winglets
Winglets are a type of wingtip devices fitted to the end of the main wings. Attaching winglets reduces air resistance that occurs during flight. The use of winglets on the Boeing 767-300ER, which is operated on long-haul flights, can improve fuel efficiency by around 5% and reduce per-aircraft CO2 emissions by 2,100 tons per year. In 2010, the ANA Group became the first domestic airline to attach winglets to a Boeing 767-300ER and has since then consecutively added wingtips to its Boeing B767-300ER fleet.
Introduction of Next-generation Paint System
We are employing a next-generation paint system that offers superior weather resistance in contrast with traditional coating, contains few volatile organic compounds, and which results in lighter aircraft.
Reducing the Weight of Cabin Seats
The ANA Group developed new standard seats for domestic routes in partnership with Toyota Boshoku Corporation.
By combining the ANA Group's know-how as an airline with Toyota Boshoku's manufacturing technologies cultivated over many years through the development of automobile seats, we developed comfortable seating that meets our technical specifications as well as our desire to provide a relaxing environment for all based on our policy of assuring our passengers a "memorable journey."In developing these seats, we managed to reduce the overall cabin weight by 195 kilograms per aircraft compared to conventional seating without compromising comfort. This weight reduction has, in turn, allowed us to cut our annual fuel consumption by approximately 15 kiloliters per aircraft.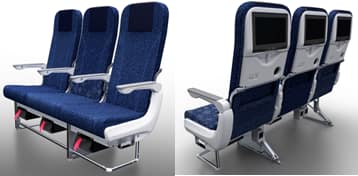 ICAO Landing and Take-Off Cycle
The ICAO landing and take-off cycle is the cycle from take-off to 3,000 feet in elevation and from 3,000 feet in elevation to landing. Engine emissions are measured for engines within this cycle. Engine test criteria consist of the following output and operation hour criteria.
Output
Conditions
Rated
Output (%)
Operating
Time
(Minutes)
Take-Off
100
0.7
Ascending
85
2.2
Descending
30
4.0
Ground
Taxiing
7
26.0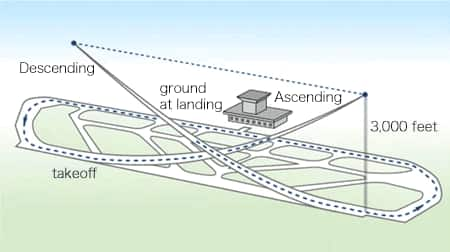 Utilization of Sustainable Aviation Fuel (SAF)
Research and development on the use of SAF is underway around the world. The ANA Group is working with the Ministry of Economy, Trade and Industry, the Ministry of Land, Infrastructure, Transport and Tourism, The Scheduled Airlines Association, the Petroleum Association of Japan, NEDO, and airport refueling companies, to resolve issues for domestic SAF manufacturing. We are also supporting Euglena Co., Ltd. for the development and commercialization of SAF refined from raw materials such as the Euglena microalgae.
ANA signed an offtake agreement with U.S. company LanzaTech in June 2019, and in October we used SAF made from exhaust gas manufactured by LanzaTech. In October 2020, we signed a memorandum of understanding with NESTE, one of the world's leading SAF manufacturers headquartered in Finland, on a medium- to long-term strategic alliance for procurement. We procured commercial-scale SAF that was used on a regularly scheduled flight from Japan for the first time as a Japanese airline company. As a partner of NESTE in Asia, ANA will procure SAF produced by NESTE in Singapore after 2023.
As new technologies, Toshiba Energy Systems & Solutions Corporation ,Toshiba Corporation, Toyo Engineering Corporation, Idemitsu Kosan Co.,Ltd., All Nippon Airways Co., Ltd. and Japan CCS Co., Ltd. have reached an agreement to begin reviewing recycling business models for reuse of CO2 from sources such as exhaust gases into Sustainable Aviation Fuel (SAF).
Click here to learn more about the detail
ANA Signs Offtake Agreement for Sustainable Aviation Fuel Opens in a new window.In the case of an external site,it may or may not meet accessibility guidelines.
ANA's Latest Jet Delivered from Final Assembly in Washington Using Sustainable Aviation Fuel Opens in a new window.In the case of an external site,it may or may not meet accessibility guidelines.
ANA and NESTE Solidify Mid-to-Long Term Sustainable Aviation Fuel Procurement Agreement Opens in a new window.In the case of an external site,it may or may not meet accessibility guidelines.
Six Companies to Start Studying Carbon Recycling Business Models Opens in a new window.In the case of an external site,it may or may not meet accessibility guidelines.
Utilizing Emissions Trading System
Emissions trading system (purchase of CO2 emission credits) is expected to expand in the future in response to the expected growth of aviation demand in the future and to simultaneously achieve the ICAO agreement to curb CO2 emissions.
Specifically, since CO2 emissions cannot be increased after 2020, this purchase includes increased CO2 emissions in our businesses other than international aviation. Rather than thinking about reducing CO2 emissions only in the limited field of aviation, we believe that we can efficiently reduce overall CO2 emissions in the global environment. The ANA Group will also utilize this market mechanism to efficiently reduce CO2 emissions.
Initiatives Outside the Company
Initiatives for the Environment with External Organizations
CARATS(Collaborative Actions for Renovation of Air Traffic Systems)
CARATS is a conference body that was started in 2010 under the leadership of the Japan Civil Aviation Bureau to meet the increasing demand for aviation, as well as to meet the international policies of ICAO, and is an industry-academia-government collaboration to consider new flight operation methods in the future. ANA is participating in the Ministry of Land, Infrastructure, Transport and Tourism's activities to innovate air traffic systems.
ICAO has set targets for 2025 based on air traffic management guidelines, to improve safety and operational efficiency as well as referencing environmentally friendly CO2 emission reduction targets.
CARATS holds discussions on the future of efficient air traffic control systems and actively reflects ANA's opinions on the systems.
Globally, NextGen in the U.S. and SESAR in Europe are making similar efforts, who are working in cooperation with CARATS' activities, with the aim of promoting efficient operations in the future.
We believe that a seamless air traffic control network can be constructed efficiently if various operational relationships share information in a timely manner.
「CARATS Opens in a new window.In the case of an external site,it may or may not meet accessibility guidelines.」
ICAO(International Civil Aviation Organization)
ANA has sent employees to the Delegation of Japan to ICAO in the past and has sent one employee since 2020.
ANA is an advisor to Japan and the Ministry of Land, Infrastructure, Transport and Tourism who are members of the ICAO Committee on Aviation Environmental Protection (CAEP), in which governments, industry groups, and academia participate. ANA also participates in CORSIA and SAF working groups which are suborganizations of CAEP and provides advice and recommendations on the industry to the Ministry of Land, Infrastructure, Transport and Tourism.
ICAO CAEP HP Opens in a new window.In the case of an external site,it may or may not meet accessibility guidelines.
IATA(International Air Transport Association)
ANA's president is currently selected as a member of the Board of Governors (BOG) and its suborganization advisory committees for the environment and cargo.
ANA has been elected as a member of the Sustainability and Environment Advisory Council (SEAC), an environmental advisory committee, for five consecutive years. We discuss environmental problems and issues at regular meetings held twice a year and at regularly held teleconferences. We also provide advice to the Board of Directors and other organizations to resolve issues that will likely arise in the airline industry.
AAPA(Association of Asia Pacific Airlines)
As a member of the AAPA, an industry group consisting of 16 Asian airlines, ANA participates in the Environment Working Group (EWG), which is a suborganization committee, and holds regular meetings and teleconferences twice a year to discuss various issues that have an impact on the environment and works to resolve these issues.
Star Alliance
We are a board member of the Star Alliance and a member of the Star Alliance Sustainability VEC where we discuss environmental issues and consult on matters that need addressing as a member of the Alliance.
Initiatives to Utilize Alternative Aviation Fuel
ANA has been a member of the Sustainable Aviation Fuel Users Group (SAFUG) since its inception in September 2008. With the support of Boeing and Airbus and the cooperation of NGOs such as the Natural Resources Defense Council, ANA holds regular meetings twice a year to discuss and exchange information on alternative aviation fuels in order to promote the development and use of sustainable aviation fuels.
Through its activities, SAFUG has become an associate member of the NGO, Roundtable on Sustainable Biomaterials (RSB).