Flight Operations Initiatives
The 2016 International Civil Aviation Organization (ICAO) Assembly adopted an international aviation growth scheme for 2021 and beyond that does not increase CO2 emissions. This plan is called the Carbon Offsetting and Reduction Scheme for International Aviation, or CORSIA.
The ANA Group engages in several measures to control CO2 emissions from our aircraft. These measures include aircraft technology innovations, improved operations, use of biojet fuel, and the use of emissions credits.
Global Stance on the Environment
ICAO Movements
The ICAO has set a global target for improving international aviation fuel efficiency by an average 2% per year between 2021 and 2050. To achieve this goal, the ICAO adopted CNG2020 at its 2010 assembly as a mechanism to become greenhouse gas (CO2) neutral beginning in the year 2020.
Global CO2 Reduction Targets
Improve Fuel Efficiency by 2% Annually
Achieve CO2 Neutrality beginning with the year 2020 (CNG2020: Carbon Neutral Growth 2020)
Achieving the four Targets of the ICAO (Basket of Measures)
Adopt new technologies (new aircraft, etc.)
Improve flight operations
Use alternative aircraft fuel (SAF:Sustainable Aviation Fuel)
Use market mechanisms (purchase CO2 emissions credits)

CORSIA Adoption
The 2016 ICAO Assembly adopted an international aviation growth scheme for 2021 and beyond that does not increase CO2 emissions. This plan is called the Carbon Offsetting and Reduction Scheme for International Aviation, or CORSIA.
IATA Movements
The International Air Transport Association (IATA) established the following three specific action plans to response to the ICAO initiatives:
Carbon-neutral growth beginning with the year 2020
Generate an average 1.5% fuel efficiency improvement between 2009 and 2020
Reduce CO2 emissions by 50% by the year 2050 compared to 2005
ANA Group Long-Term Goals and Results in Controlling Aircraft CO2 Emissions
Aiming to be the leading environmental airline group, the ANA Group continues to pursue initiatives toward controlling CO2 emissions.
Targets
Reduce per-RTK CO2 emissions 20% by 2020 compared to 2005 levels (annual average improvement of 1.5%)
Reduce overall per-unit CO2 emissions by an annual average of 1.5%
Specific Initiatives
Introduction of Fuel-Efficient Aircraft and Engines
The ANA Group is making aircraft operations-related improvements to control CO2 emissions. As of fiscal 2018, 75.9% of the ANA group fleet consists of fuel-efficient Boeing B787 or AirbusA320/A321 aircraft.
Our state-of-the-art aircraft with upgraded engines meet the standards of ICAO Convention Annex 16.
Engine Gas Emissions (FY2018)

| Aircraft Gas Emissions | ANA Group (10k tons) | ANA Group YoY (%) |
| --- | --- | --- |
| NOx (Nitrogen Oxides) | 0.72 | ±0% |
| HC (Hydrocarbons) | 0.04 | -20% |
| CO (Carbon Monoxide) | 0.42 | -4.5% |
Operations Improvements
The ANA Group is making improvements in operations to control CO2 emissions.
Water Cleaning Engines / Test Operations
The ANA Group has developed a unique vehicle for cleaning engine compressor parts. Engine compressor parts become dirty with each use, reducing fuel efficiency. Regular cleaning restores full engine function.
We have also revised test operations and introduced other efficiencies, saving 1% on annual fuel usage in test operations.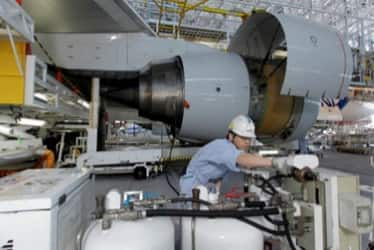 ICAO Landing and Take-Off Cycle
The ICAO landing and take-off cycle is the cycle from take-off to 3,000 feet in elevation and from 3,000 feet in elevation to landing. Engine emissions are measured for engines within this cycle. Engine test criteria consist of the following output and operation hour criteria.
ICAO Landing and Take-Off Cycle
Output
Conditions
Rated
Output (%)
Operating
Time
(Minutes)
Take-Off
100
0.7
Ascending
85
2.2
Descending
30
4.0
Ground
Taxiing
7
26.0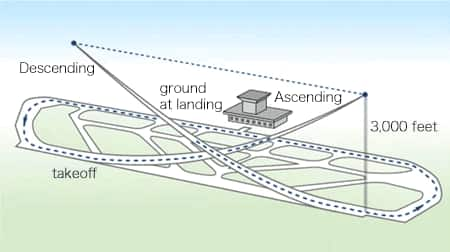 Introduction of Sustainable Aviation Fuel (SAF)
Entities around the world are conducting research and development and making preparations for the adoption of SAF. Japan has established the Committee for the study of a Process Leading to introduction of SAF for the Tokyo 2020 Olympics and Paralympics. The ANA Group is working with the Ministry of Economy, Trade and Industry, the Ministry of Land, Infrastructure, Transport and Tourism, the Scheduled Airlines Association of Japan, the Petroleum Association of Japan, NEDO*1, and airport fuel suppliers to address issues. We also support the development and practical implementation of SAF derived from sources such as euglena, a microscopic protozoan.
*1.

New Energy and Industrial Technology Development Organization
Measures Toward Emissions Control Under CORSIA (Purchase of Emissions Credits)
We expect to purchase an increasing amount of CO2 emissions credits to accomplish the ICAO agreements for responding to growing demand for air travel and controlling CO2 emissions.
More specifically, we intend to purchase CO2 emissions credits for businesses other than international air operations, since we will be CO2 neutral in 2020 and beyond. Rather than approach CO2 emissions limited solely to air travel, we believe we can do more by contributing to CO2 emissions control efficiently on a global environmental basis. The ANA Group intends to take advantage of these market mechanisms to control CO2 emissions efficiently.
Results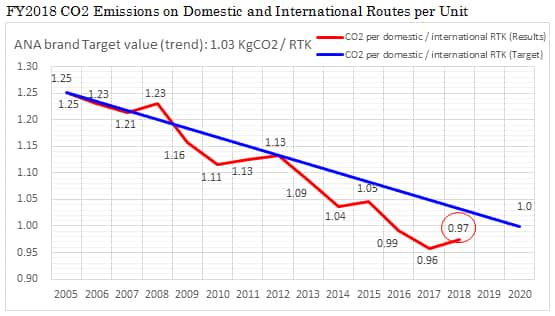 FY2018 CO2 Emissions on Domestic and International Routes per Unit
Achieved 0.97KgCO2 / RTK against the target value of 1.03KgCO2 / RTK for the ANA brand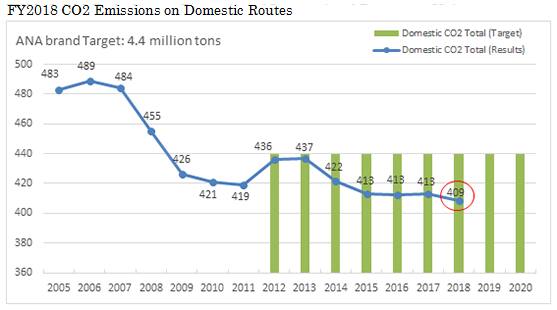 FY2018 CO2 Emissions on Domestic Routes
Achieved 4.09 million tons against the target of 4.4 million tons under the ANA brand
ANA Carbon Offset Program
The ANA Group offers the ANA Carbon Offset Program as an option for passengers to offset an equivalent amount to the CO2 emissions of their air travel. We created this program in response to customers who voiced interest in preserving the environment and preventing global warming.
We have selected global warming prevention projects that meet the most stringent certification standards (J-VER, Gold Standard CDM/VER) to be beneficiaries of our offset program.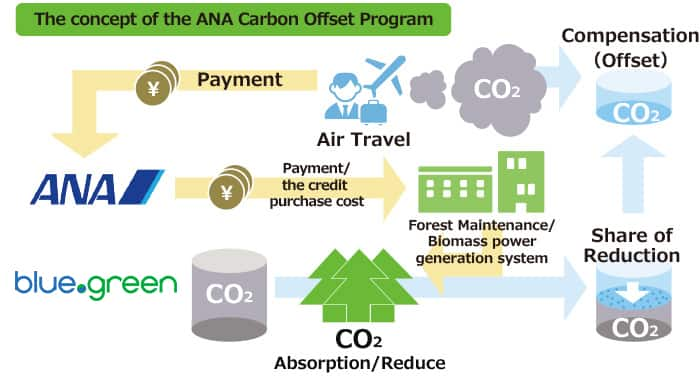 Under this program, customers can calculate their carbon emissions by flight, purchasing offsets via credit card. Purchases can be made retroactively, prior to flights, or at any time the customer desires.
Click here for more about the ANA Carbon Offset Program.