Promoting ANA Group's Guidelines for Action - ANA's Way
What is ANA's Way?
ANA's Way represents the core values and conduct necessary for our Group to achieve the goals set forth in our mission statement and management vision. Our employees' day-to-day actions that are based on ANA's Way enhance the ANA Brand, our core asset, and drive the cycle of value creation for the Group.
We continue to instill across the Group the understanding of ANA's Way-the Group's management principles, vision, and guidelines for action, to hand down the corporate DNA that has been nurtured for more than 60 years, and to reinforce communications to activate our organization.
There are both Group-wide initiatives and initiatives by each member company to nurture employees to understand, support and act in accordance with ANA's Way.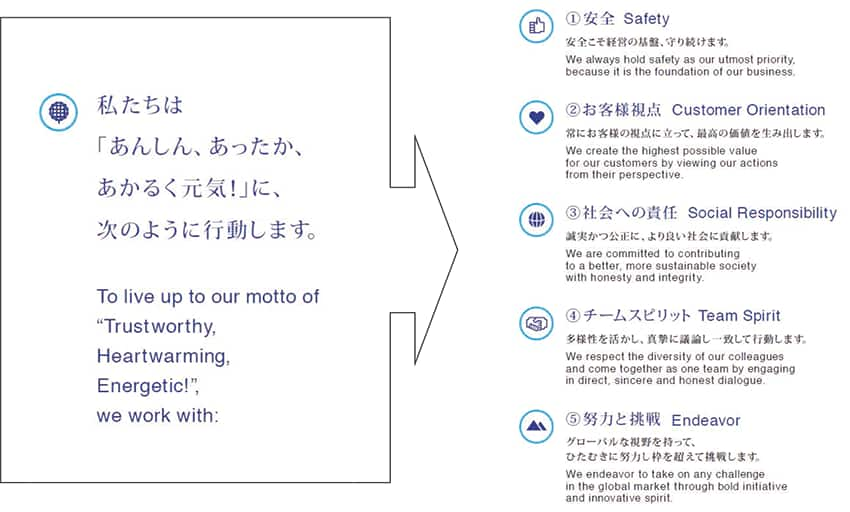 To Live up to our motto of "Trustworthy, Heartwarming, Energetic!", we work with:
Safety
We value safety, which is the foundation of our business.
Case 1: Assertion and Safety Training
We promote assertion, which means that employees work with each other across roles and responsibilities to confirm actions and identify issues to avert human error that cannot be prevented by technology and systems.
In addition, we focus on human and organizational development by offering a variety of safety training so that each Group employee approaches safety with a sense of ownership.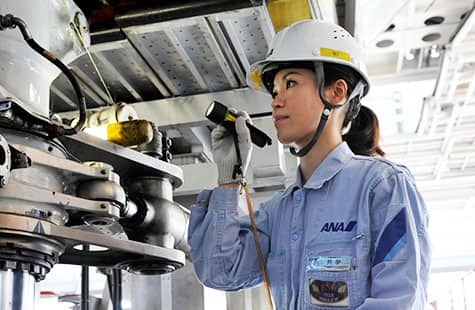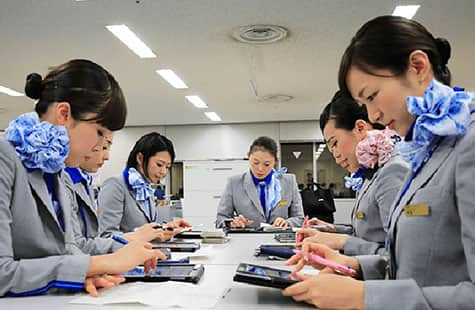 The Customer's Perspective
We are committed to creating the highest value from the customer's perspective.
Case 2: Sharing Information to Improve Service Quality
Flight attendants participate in numerous meetings with local staff at destinations around the world to enhance their understanding of the culture and customers' needs of each country and region. The knowledge and understanding gained through such meetings are shared among the Group's approximately 8,000 flight attendants. We have created a system to address diverse needs in service development and make improvements to provide better service.
Social Responsibility
We contribute towards a better world with fairness and sincerity.
Case 3: Improving Fuel Efficiency to Reduce CO2 Emissions
Reducing our flight operations' CO2 emissions is a key business challenge for our Group. Our flight attendants, maintenance crew and other staff work together daily to optimize flight methods and the amount of fuel carried on board while focusing on safety as our number one concern.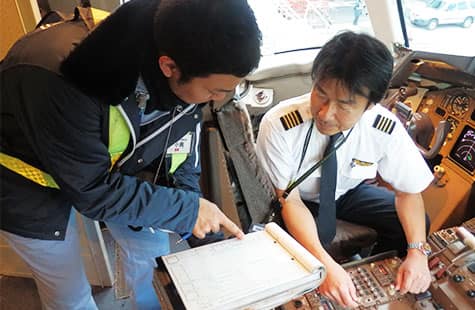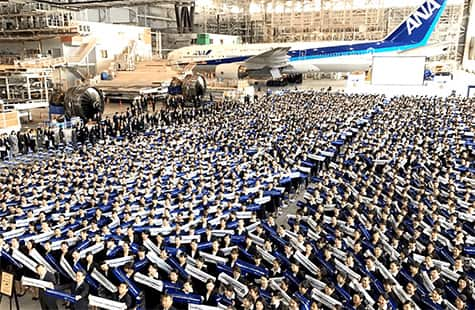 Team Spirit
We act as one based on sincere discussions that value diversity.
Case 4: United Through Collaboration Across Boundaries
In April 2017, the 36 companies in the ANA Group welcomed 2,799 new hires (2,082 female, 717 male). The Group's approximately 40,000 employees engage in thorough discussions across occupations, industries and divisions, and work in unity towards a future as the world's leading airline group, and to create a world with infinite possibilities.
Diligence and Challenge
We will work diligently and take on opportunities with a global perspective.
Case 5: Handing Down Our DNA Globally
As our network of international flights expands, it is critical that our global employees who have different cultures and environments understand and live by ANA's Way. We are helping nurture the talent who can work together to create the ANA Group's new history, by appointing ANA's Way Ambassadors in various regions around the world, and training employees to learn the DNA of diligence and challenge through seminars and discussions.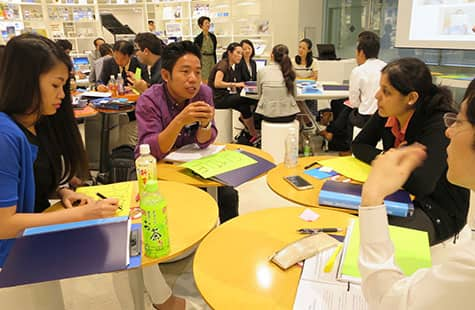 ANA's Day Training
We established the ANA Discovery Center, which houses historical exhibitions that illustrate ANA Group's corporate DNA of diligence and challenge. In addition, we hold the ANA's Day training for Group employees to reaffirm the actions expected of them.
In addition to focusing the importance of safety, the foundation of our business, employees proactively think about the future of the Group to enhance their creativity and independence, and establish trust beyond the confines of the organization by interacting with participants from various backgrounds.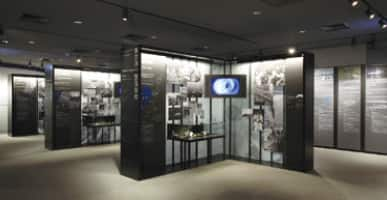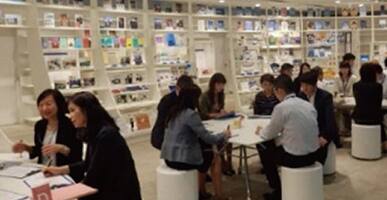 Promoting ANA's Way Globally
Programs to promote ANA's Way have been implemented globally by ANA's Way Ambassadors since 2015. The Overseas Editions of ANA's Day are being held at overseas offices to communicate important values that transcend national borders.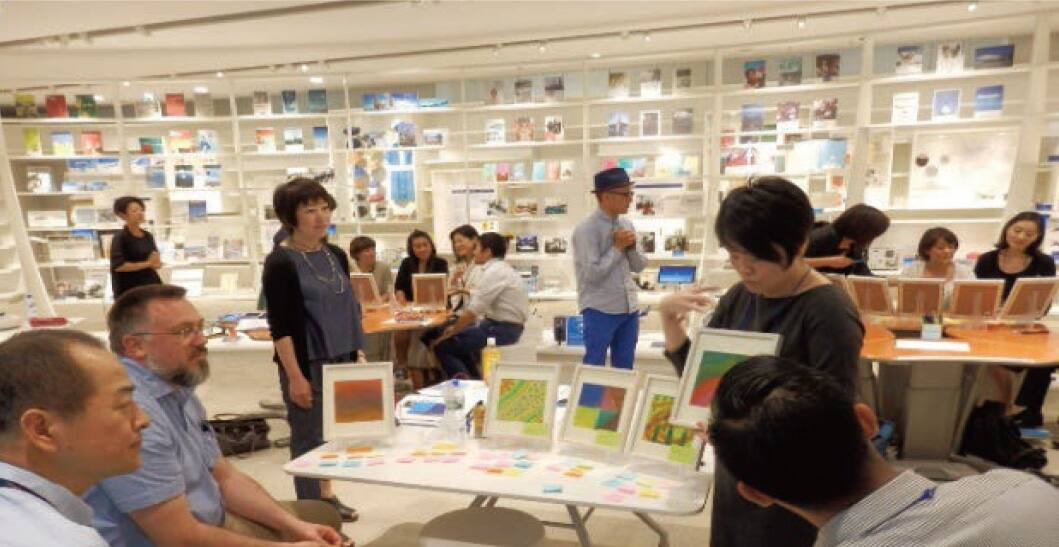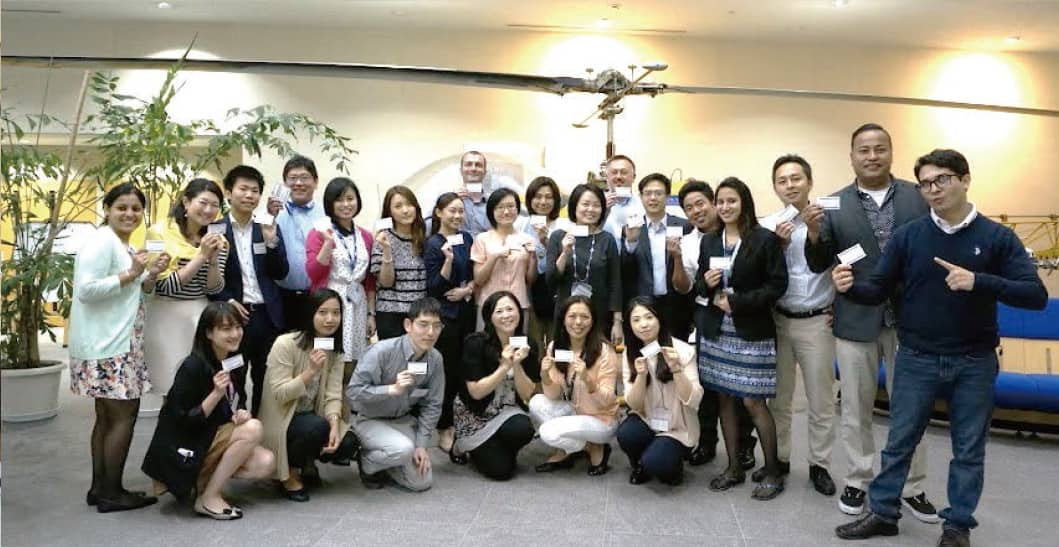 ANA's Way AWARDS
The ANA's Way AWARDS was established to recognize and appreciate employees around the world with the purpose of promoting our culture of praise.
Employees are encouraged to enter their stories of putting ANA's Way into practice, as candidates for departmental awards and the president's award. The awards are also a means of sharing the exemplary practices across the Group.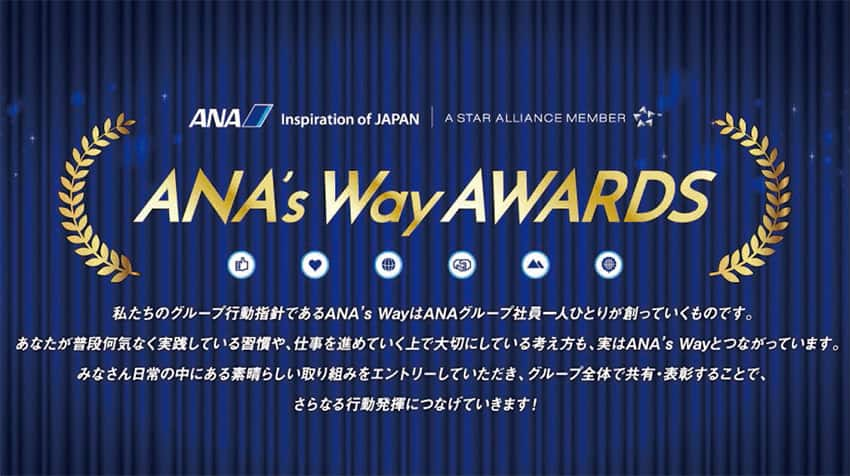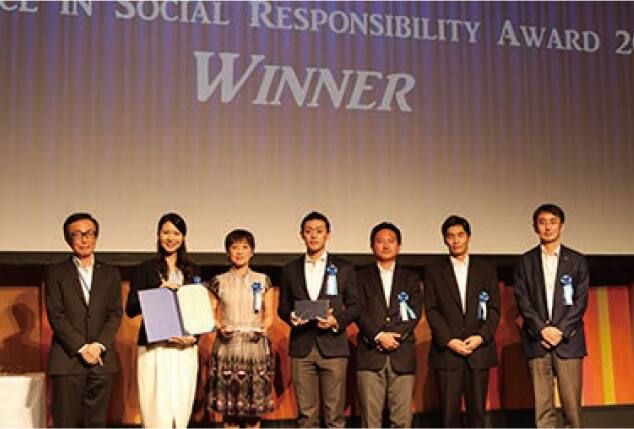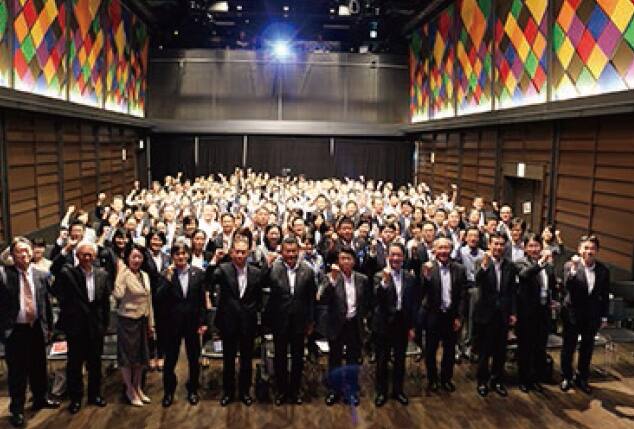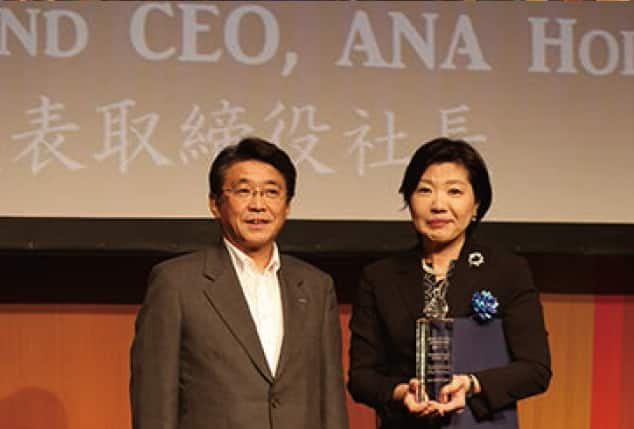 Handing Down a Culture of Praise
The ANA Group places great emphasis on widely sharing words of appreciation by customers and recognizing the work and actions of fellow employees. We believe that expressions of appreciation enhance employees' motivation and independence, and enables each employee to further embody ANA's Way through their work with the following initiatives.
Good Job Cards
"Good Job" Cards are used to promote our culture of praise where employees can give recognition to colleagues by writing down their noteworthy actions on cards and giving it to them. The program was implemented in 2001 and the system was renewed in 2014.
Employees earn a point when they give or receive a card, and are recognized through a grading system that awards a badge when a certain number of points are accumulated. In addition, one yen per Good Job message is contributed to a company-supported cause, which ties into creating a brighter future that is in the Group's management principles.
In 2014, the funds from the Good Job Card points were donated to Japan Red Cross' activities related to children's foster homes. Converting thoughts into words of appreciation helps ANA employees respect each other and creates a climate where employees feel pride and respect for their own as well as others' work.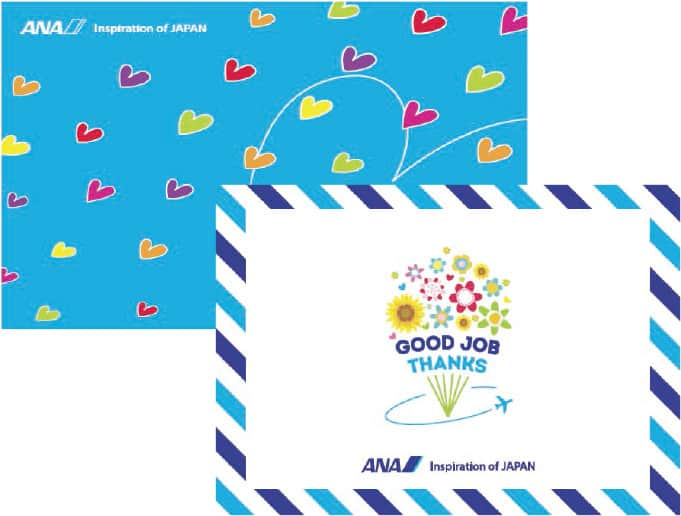 ANA's Way Survey
By monitoring employees' thoughts, attitudes, and workplace satisfaction with regular surveys to improve employee satisfaction (ES) and engagement, and with the additional purpose of improving customer satisfaction and corporate value, we have been conducting the ANA's Way Survey with Group employees. The 18th annual survey was conducted in fiscal 2020 where 42,680 employees from 46 ANA Group companies responded, including overseas employees (96.9% response rate).
After conducting the survey, we distribute results to each company and department, where they analyze the root causes, formulate various action plans, and utilize them as opportunities for increasing communication in each workplace.
We believe that the positive activities by our employees will lead to corporate growth and customer satisfaction, and we will continue our efforts to make the ANA Group a rewarding place to work.
FY2020 ANA's Way Survey Score (ANA Group as a whole)

| | |
| --- | --- |
| SURVEY composite score | 78.0% |
SURVEY composite score by gender

| | |
| --- | --- |
| Male | 77.6% |
| Female | 77.8% |
| Not specified | 82.8% |
Evaluation of ANA's Way Implementation
The actions of each employee are the driving force for achieving the company's management vision. Therefore we instituted changes to our HR system to enhance our competitiveness in hiring, so that we can better attain our desired talent and management vision.
We evaluate the implementation of the five action guidelines in ANA's Way in our daily operations, and reconfirm the expectations from every job position in the organization.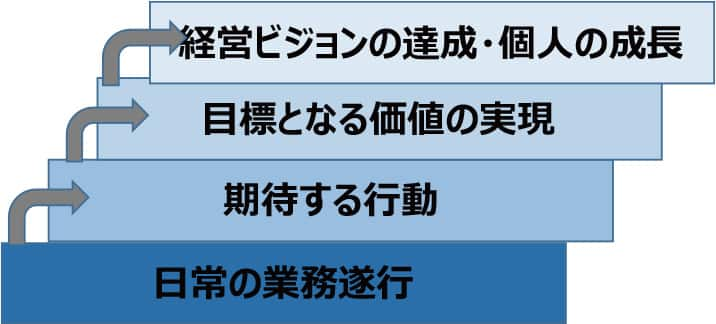 ANA Virtual Hollywood
ANA Virtual Hollywood*1 is a program with activities proposed by ANA Group employees which are designed to move people's hearts, just as Hollywood movies do. The program involves a network of other Japanese companies, where employees with shared passions create virtual teams to develop projects through research and experiments, which are then proposed to their own executives. The program was implemented in 2004, with approximately 1,200 ANA participants who made a wide range of proposals to date.
These activities allow employees to take their own initiative in implementing the five action guidelines in ANA's Way. From creating new value from the customer's perspective, to developing our people from their rich diversity, to forming a positive and cohesive work environment, this program helps achieve the Group's management vision.
*1.

Virtual Hollywood(R) is a registered trademark of Fuji Xerox Co., Ltd. The program was initiated in 1999 at Fuji Xerox, and implemented by ANA in 2004. There are currently 14 companies and organizations that participate in the Virtual Hollywood Council.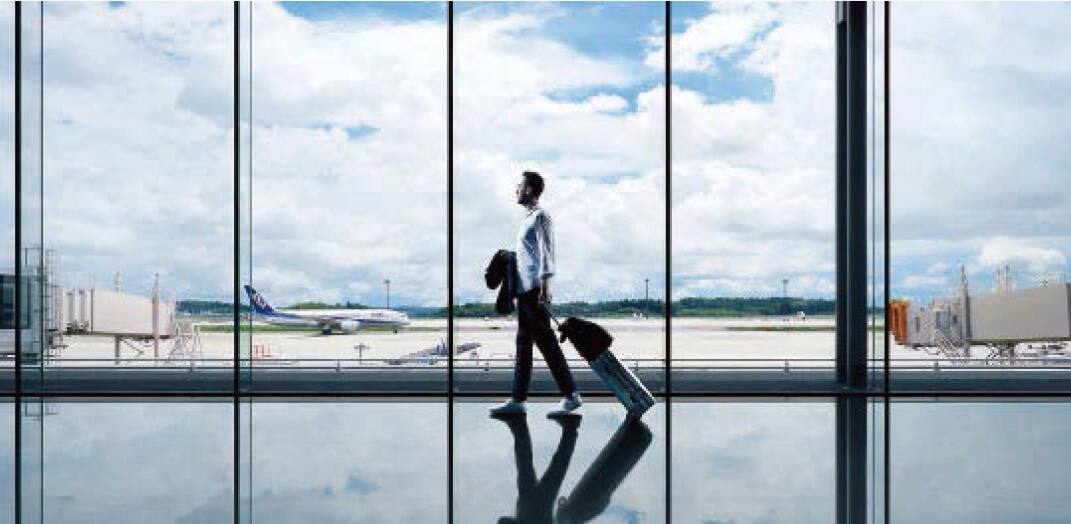 In 2013, ANA and the world's leading network of social entrepreneurs, Ashoka, created the Blue Wing Program to support social entrepreneurs. This program allows our customers to learn about, sympathize with, and support a variety of social issues and solutions involving the international community. It was started by the wish of one employee.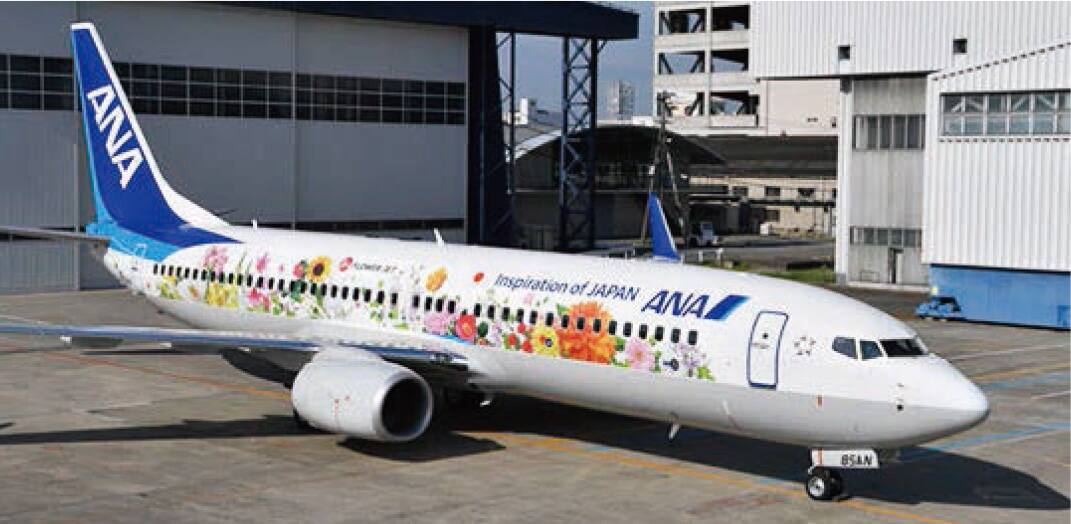 ANA inaugurated Tohoku FLOWER JET as a new initiative in fiscal year 2016 to support the Tohoku Region that was stricken by a massive earthquake and tsunami in 2011.
This special aircraft livery was proposed by ANA employees at Fukushima Airport with two thoughts in mind: "Never forget the disaster," and "Delivering Tohoku's vitality and appreciation to the whole country." The Tohoku FLOWER JET is a Boeing 737-800 aircraft decorated with flowers from the Tohoku Region that grow "strong, beautiful and upright." With the support of Tohoku residents, including a photographer from Fukushima Prefecture, it will continue flying the skies of Japan for five years through 2020.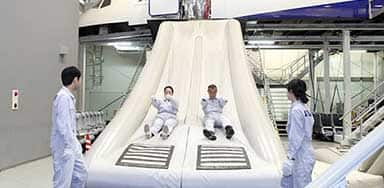 ANA Group Safety Education Center(ASEC)
In 2005, a young ground staff member suggested that ANA needed an educational facility to foster a strong corporate culture rooted in safety.
ANA's top executive (Mr. Mineo Yamamoto, who was president at the time) firmly agreed with the voice from a younger generation, that tragedies must never be forgotten and to prevent them from ever happening again. So a learning center or "schoolhouse" was created to take a step further into education about safety.