The ANA Group's Human Resources
The ANA Group's combined strength is enhanced by respecting diversity and drawing on the potential and unique strengths of each employee.
What Human Resources Means to the ANA Group
Human resources are the greatest asset of the ANA Group. Our people are what allow us to respond to a rapidly changing social environment and pursue Business Structure Reform, while continuing to take on the challenge to achieve sustainable growth.
We enhance corporate value through human resources development, as well as systems and frameworks that encourage every employee to demonstrate their individuality and contribute actively, from the day they join the group to the day they retire.

ANA Group Human Resources Development
We strive to instill an understanding of our Mission Statement and Management Vision, as well as developing and evolving ANA's Way as an ingrained part of our corporate culture. We also encourage organizational and human development on an ongoing basis to promote the ANA Group identity.
In 2019, we reorganized the ANA's Day Training for all group employees, returning to our founding philosophy of hardship now, yet hope for the future and "Wakyo" (close cooperation). In addition, we also hold discussions regarding sustainable growth of the ANA Group.
In addition to existing training programs for each job level, we provide not only business skills training, but also leadership development programs through liberal arts and field work outside the company, as well as an in-house open recruitment system. As we aim to become the leading airline group in the global market, we offer global human resources development programs to develop human resources who can both understand various cultures, customs, and values and take action based on acquired knowledge.
Education and training program
Example: ANA Global Staff (clerical work)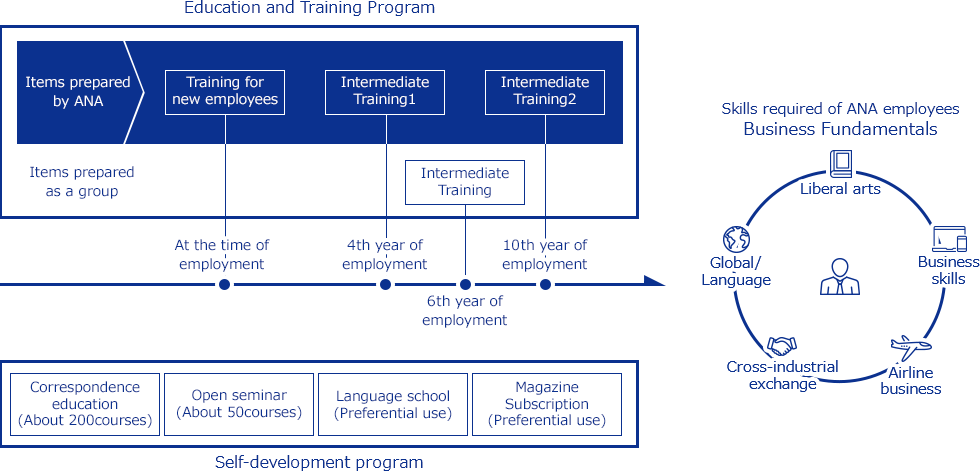 Various training modules and systems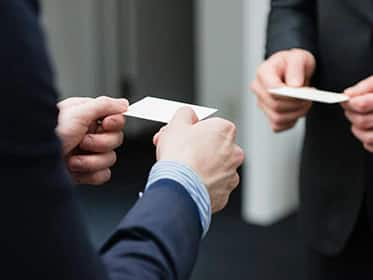 ANA Group Business School
In addition to group training for different levels in the organization, the ANA Group offers ANA Group Business School for future leaders of the organization.
The Business School focuses not only on the development of business skills, but also helps participants develop their strengths and sensitivities through liberal arts education and offsite field work so they can expand their views and enhance their capabilities as next-generation leaders.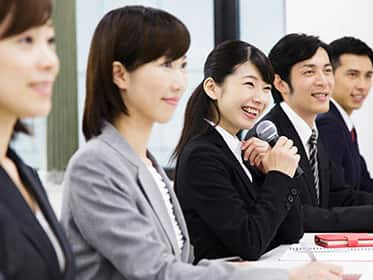 Career Development Training / New Managers Training
ANA Group employees join the organization under different circumstances, and have various thoughts about their future when they reach a certain management level. Employees are given the opportunity to share their views with colleagues from different backgrounds, acquire the skills necessary for their new positions, and build networks across the Group.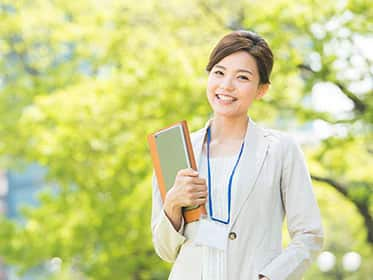 Internal Job Postings within the ANA Group
There are a variety of domestic and international job postings within the Group that help enhance career development and applications throughout the organization, which help boost the capabilities of the Group as a whole.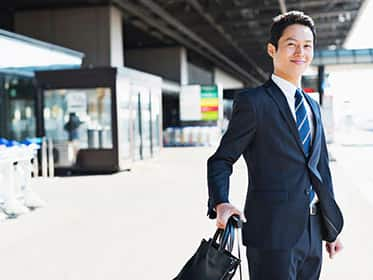 Internal Job Postings for Overseas On-the-Job Training
We have a system for employees to apply for overseas on-the-job training as a stage for personal growth and for developing talent that will contribute to the Group's growth.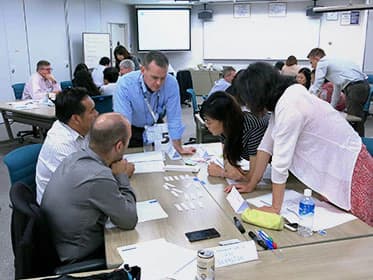 Global Skills Improvement Training
To develop people who can execute operations on behalf of the Group on the global stage, we offer a program to help with cross-cultural understanding, which is a skill that is crucial in global business.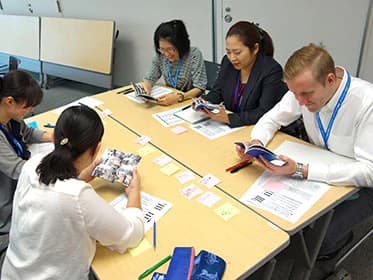 Global Stretch Training
We are expanding training and job opportunities for employees hired abroad so that they can contribute to the development of leaders at overseas offices and help globalize our domestic offices.
The ANA Group's Human Resource Initiatives