Human Rights Due Diligence
The ANA Group has established a mechanism for human rights due diligence, in accordance with the processes detailed in the United Nations Guiding Principles on Business and Human Rights. Human rights due diligence is an ongoing process of conducting preventive surveys and investigations, implementing appropriate measures to address adverse impact, and disclosing progress and results of such measures, in order to prevent and mitigate a company's adverse human rights impacts in society.
Human Rights Impact Assessment
In 2016, the ANA Group assessed the impact of potential human rights risks that our business activities may have in each of our business segments and destination countries (human rights impact assessment), and identified specific priority human rights themes for reducing such risks. The assessment was carried out with the support of Verisk Maplecroft*1 and Caux Round Table Japan (CRT Japan)*2 and in accordance with the processes described below.
Since 2017, we have been working on risk prevention / mitigation associated with the human rights themes identified through the above process. The situation surrounding human rights, however, is constantly changing. Therefore, in addition to ongoing efforts to obtain the latest information and changes in human rights standards, we have been conducting, since 2017, annual reviews with experts on procedures or priority human rights themes as appropriate.
The above set of processes for human rights impact assessment is repeated periodically, the most recent one being in 2019 which identified "AI and human rights" and "human rights of children" as new issues.
Business activities
Air Transportation, Airline Related (Airport Ground Support, Aircraft Maintenance, Cargo and Logistics, Vehicle Maintenance, Catering etc), Trade and Retail, Travel Services
Countries and areas
Japan, UK, France, Germany, Belgium, China, India, Vietnam, Thailand, Myanmar, Malaysia, Singapore, Indonesia, Philippines, Taiwan, Korea, Australia, Canada, USA
Issues assessed
(using Verisk Maplecroft data)
Child Labour, Decent Wages, Decent Working Time, Discrimination in the Workplace, Forced Labour, Freedom of Association, Collective Bargaining, Migrant Workers, Occupational Health and Safety, Trafficking in Persons, Total GHG Emissions, Air / Water Quality, Corruption
*1.

Verisk Maplecroft
Verisk Maplecroft is a leading global risk analytics, research and strategic forecasting company. It provides databased solutions and advice on political, human rights, economic and environmental risks to organizational resilience and sustainable procurement.

*2.

Caux Round Table Japan (CRT Japan)
Caux Round Table is a global network of business leaders aimed at ensuring business contributes to a more free, fair and transparent society. Caux Round Table Japan assists companies to promote their human rights activities.
Priority Human Rights Themes
The human rights impact assessment of 2016 and subsequent reviews have identified, in light of existing response level in the ANA Group, priority human rights themes as shown below. While promoting collaboration with our business partners, including service providers and suppliers, we will work on preventing potential risks from materializing into incidents.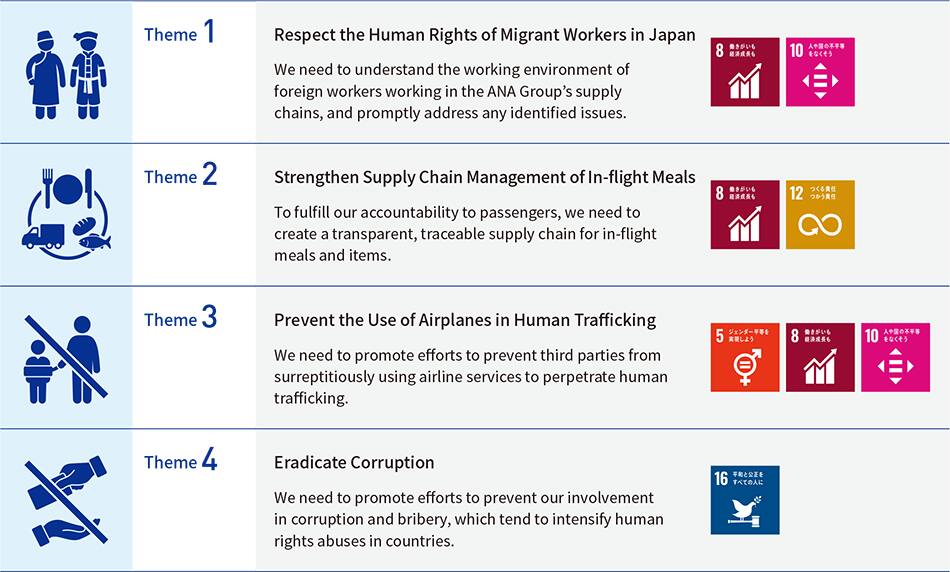 Please see the Human Rights Report 2020 for more details. PDF Opens in a new window.In the case of an external site,it may or may not meet accessibility guidelines.
The destination countries shown below will require particular attention to prevent potential risks from materializing into incidents.
Japan
Malaysia
Thailand
Myanmar
China