ANA has a Safety Management System (SMS) in place, and each of the different aspects of this system are stipulated in its Safety Management Manual. An SMS involves taking a systematic approach toward safety management, and compromises the requisite organizational structures, accountabilities, implementation responsibilities, policies and procedures. In order to perform safety management, we have established a risk management process which we implement continuously. First, we gather and share safety-related information, identify hazards, and analyze the risks posed by these hazards. Then, we execute corrective measures as necessary and assess their effectiveness. On top of this, all the staff at ANA, from top-level management to those on the frontline, work together as a team to manage safety. To this end, each of the organizations at ANA (including flight operations, engineering and maintenance, in-flight services, airports, and cargo) take steps to make sure that our business management policy to guarantee safety is both understood and implemented by all staff. At the same time, they have clear lines of responsibility and means of communication in order to facilitate smooth communication between management and the frontline/divisions.
Overview of ANA's Safety Functions and Roles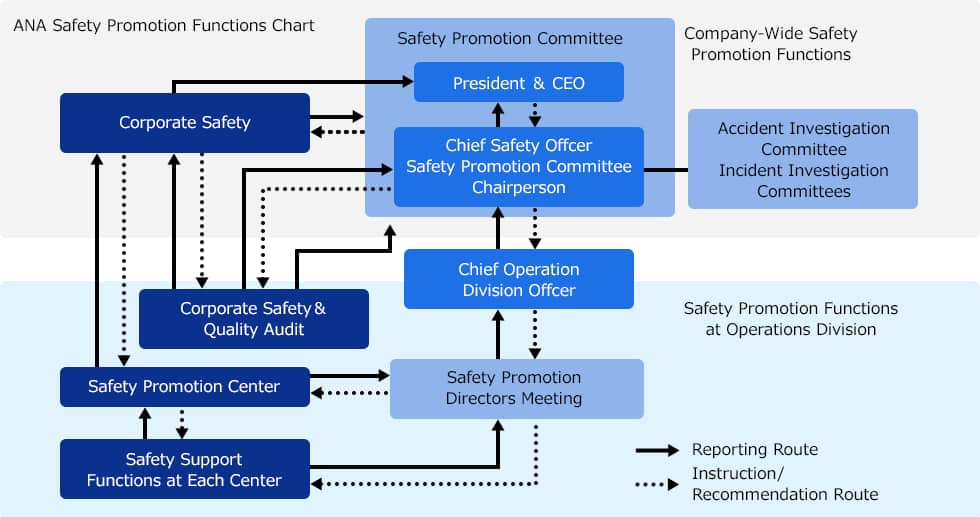 Our Corporate Safety office (which belongs to our Headquarters Division) serves as the secretariat for the Safety Promotion Committee and formulates company-wide policies and plans for all aspects of safety. It also ascertains the overall situation with safety at ANA and the rest of the Group and oversees all safety promotion and safety management initiatives across the Group.
The Safety Promotion Center serves as the secretariat for the Safety Promotion Directors Meeting and develops and implements policies and plans for all safety promotion activities at our Operations Division. Furthermore, in an effort to proactively prevent the occurrence and recurrence of unsafe events primarily within the same division, it plans and implements risk management activities as well as training programs and awareness-raising activities thereon.
Corporate Safety & Quality Audit carries out audits to objectively assess: 1) Whether each ANA Group organization's individual safety management system functions effectively and in compliance with government and company safety standards and international safety standards; and 2) Whether each organization is continuously taking steps to further improve their safety management efforts, including the safety management system itself. Corporate Safety & Quality Audit then requests each department to take corrective actions based on their audit findings. Moreover, it supports Group airlines with their internal audits.