Diversity & Inclusion (D&I)
ANA Group is contributing to the achievement of an inclusive world in which diversity is respected, focusing on the diversity of our customers.
Contributions to SDGs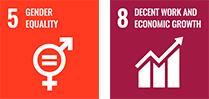 Basic Approach
ANA Group positions its international business as a major pillar for growth going forward. Therefore, it is essential that we are chosen and trusted by customers in the global market. Furthermore, contributing toward creating an inclusive world through our business is an important obligation of ANA Group as a provider of public transportation.
We contribute towards a sustainable world that respects diversity, and by sharing the Group's unified focus on customer diversity throughout the company, we can enhance our universal services.
Promotion System
ANA Group is actively working to ensure that all customers can enjoy comfortable flights without anxiety or stress. Specific efforts include researching domestic and overseas universal services and analyzing feedback from customers. In addition, employees of ANA WING FELLOWS VIE OJI Co., Ltd., a company that promotes the hiring of disabled individuals within the Group, make service proposals based on their own experiences, which are incorporated into our services.
Also, the Group has been expanding the scope of employees that undergo barrier-free access training, which was previously limited to airport ground staff, flight attendants, and other front-line employees. At the same time, an e-learning program that promotes understanding and awareness of universal services is provided to all Group employees.
eLearning for ANA Group Universal Services, taken by all Group employees (screenshot)
Major Initiatives
Looking forward to 2020 and the serious state of our aging population in our future, the Group is implementing initiatives to remove both tangible and intangible barriers. This objective is being pursued by coordinating with third party companies who have specialized insight, and actively developing new products and services that incorporate the latest technologies. Adhering to the Tokyo 2020 Accessibility Guidelines issued by the Tokyo Organizing Committee of the Olympic and Paralympic Games, we will continue to improve customer safety, security and convenience related to all flight-related activities.
Pursuing safety and convenience at every step from pre-boarding to deplaning (image)
Creating a Tangible Legacy
Facility-related initiatives for responding to the needs of diverse customers include the use of resin wheelchairs called "morph" that help passengers move seamlessly from check-in, security, and into the aircraft. ANA Group has also introduced passenger boarding bridge adaptors for turbo-prop aircraft to allow for comfortable boarding and deplaning by all customers, even on rainy, windy, or snowy days. Furthermore, electronic communications support boards that are compatible in 17 languages are used to facilitate communication in airports and on board aircraft. In addition, certain narrow-body aircraft (Airbus A320neo and A321) feature restrooms that are easy to use by customers in wheelchairs. These ongoing efforts to remove access barriers in airports, inside the aircraft, and during boarding resulted in ANA and ANA WINGS Co., Ltd., receiving the 10th Minister of Land, Infrastructure, Transport and Tourism Award for Barrier-Free Design Contributor, as well as being the first air transport company to receive the Prime Minister's Award in the Promotion of Barrier-Free and Universal Design Awards in December 2017. In addition, the departure counter at Haneda Airport Terminal 2 was recognized in the Good Design Award 2016 program after adopting universal design concepts.
The first resin wheelchair in Japan, morph, uses no metal. That means smooth, seated transport through security clearance and all the way to your seat.
Morph was developed to give our customers a stress-free boarding experience.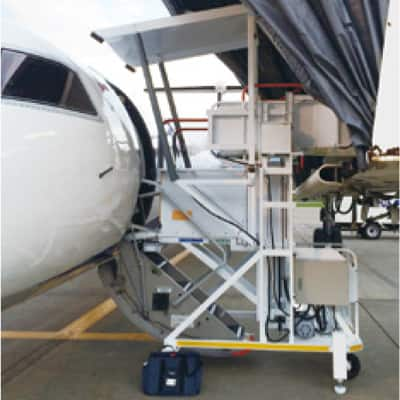 PBB Adaptor for Propeller Planes
PBB Adaptor was developed so that a passenger boarding bridge (PBB) could be attached even to propeller planes with a lower door position. It is now possible for customers to stay dry in wet weather, and even for wheelchair bound customers to board and deplane smoothly.
Communications Support Boards
To meet the demands of our diversifying customer base, we have implemented the use of Communications Support Boards using tablet devices. The tool supports 17 languages and uses many pictogram expressions to help advance effortless communication.
Recipient of the Good Design Award
The Haneda Airport Domestic Terminal departure counter has been refurbished to be easy and accessible to all customers. There are four zones for various purposes, and a counter layout that is simple and clear.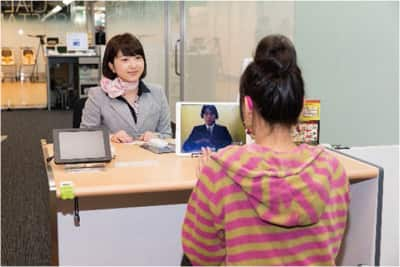 Introduction of Remote Sign Language Interpreting
We have introduced a remote sign language interpreting service at Haneda Airport for customers with hearing or speech impairments.
There are plans to expand the service to other major domestic route airports.
Audio and Braille Versions of In-Flight Magazine Wingspan
We are creating audio and braille versions of our in-flight magazine Wingspan for our sight- and hearing-impaired customers.
The audio is recorded by our flight attendants.
Creating an Intangible Legacy
ANA Group is striving to enhance intangible services, so our employees become more receptive to different values and our customers can enjoy travel in their own unique ways.
To this end, we have developed various seminars for employees to gain deeper understanding of their own implicit barriers towards disabilities, so that they can recognize these as personal issues to resolve. We are educating our employees to become leaders in Japan in the movement to remove barriers that exist within the minds of people. These include roundtable discussions by frontline staff with training personnel and outside instructors, and ongoing Barrier-Free Hearts seminars where nonprofits, universities and Paralympians are invited to speak.
Sign Language Seminar at Fukuoka Airport
Ground staff at Fukuoka Airport participated in a sign language seminar to create an environment where customers can be welcomed with sign language and have peace of mind as they embark on their travels.
Barrier-Free Hearts Seminars
We invite external instructors to hold seminars for deepening our understanding of the barriers that people with disabilities feel in their hearts.
We held a seminar to deepen our understanding of assistance dogs which are valuable partners of individuals with disabilities.
Social Bonds
ANA HOLDINGS became the world's first airline to issue social bonds*1. The proceeds will be used to simplify air travel while increasing accessibility and sustainability.
In February 2018, ANA Group announced its FY2018-2022 Mid-Term Corporate Strategy, which describes how it will achieve sustainable growth and value creation focusing on ESG management.
The group defined Environment, Human Rights, Diversity and Inclusion and Regional Revitalization as its four main pillars and incorporated them into its strategy.
Through this strategy, ANA Group will create both social and economic value to enhance its corporate value.
*1.

Social bonds are any type of bond instrument where the proceeds will be exclusively applied to eligible social projects.
ANA HOLDINGS has established a social bond framework based on the "The Social Bond Principles 2018" set by the International Capital Market Association (ICMA) to issue social bonds.
As a third-party evaluation of the bonds, ANA HOLDINGS has obtained "Social1" evaluation from Japan Credit Rating Agency, Ltd. PDF Opens in a new window.In the case of an external site,it may or may not meet accessibility guidelines.(Hereinafter referred to as "JCR"), which is the highest evaluation of "JCR Social Finance Assessment".
Becoming an LGBT-Friendly Airline Group
Since adoption of the ANA Group Diversity & Inclusion Declaration in April 2015, we are addressing issues faced by the LGBT (Lesbian, Gay, Bisexual and Transsexual) community.
In fiscal year 2016 we proceeded to make our products and services more LGBT-inclusive, as we made changes to restroom signage in ANA lounges in Haneda, Narita and other airports and began same-sex partner registration for family members and award users of ANA Card Family Miles, a part of the ANA Mileage Service.
Changes to ANA Lounge Restroom Signage
Restrooms in ANA lounges are being renovated to offer a universal environment that is friendly to all people, including LGBT customers.
Symbol of LGBT-Friendliness
This symbol with a striking rainbow design carries the meaning of respecting diversity in sexual orientation. The rainbow is comprised of six colors, as with the rainbow flag commonly used around the world.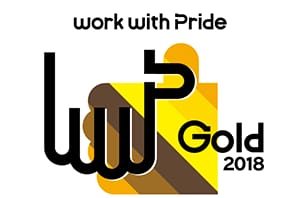 Achieved Gold Status on the Pride Index
ANA has achieved Gold status, the highest rating in Japan's first LGBT index, the Pride Index. Same-sex partners can be registered in ANA Mileage Club-related services, and is now expanded to a worldwide service.