Accommodating the Diversity of Our Customers
The ANA Group will improve its inclusive and universal services so that all customers can enjoy a comfortable flight with peace of mind.
Basic Approach
The ANA Group is promoting diversity and inclusion throughout the Group.
As customer values diversify and the social environments changes, continuing to be chosen and trusted by all customers is crucial for the future growth of the ANA Group. We will continue to accelerate initiatives aimed at providing world-class inclusive and universal services in an effort to fulfil our responsibility as a public transportation entity and build a sustainable inclusive society in which everyone can live together.
Promotion System
To ensure that all customers can use the ANA Group's services in comfort and with peace of mind, we will work to improve our services and facilities. At the same time, we will push forward with the development of human resources who can develop and provide services that fulfil the needs and respect the diversity of each customer.
Based on feedback from customers and employees with disabilities at ANA WING FELLOWS VIE OJI Co., Ltd, we are striving to create an environment in which all customers can use aircraft without experiencing anxiety or stress.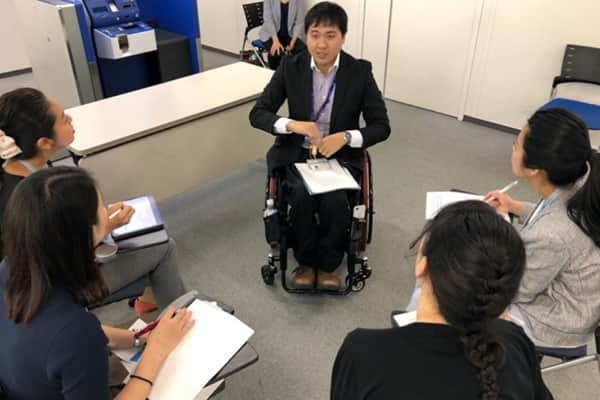 Photo from inclusive and universal services seminar
(round-table discussion with an employee who uses a wheelchair)
Major Initiatives
The ANA Group is enhancing its inclusive and universal services, including both tangible and intangible ones, to ensure all customers can enjoy a comfortable flight with peace of mind.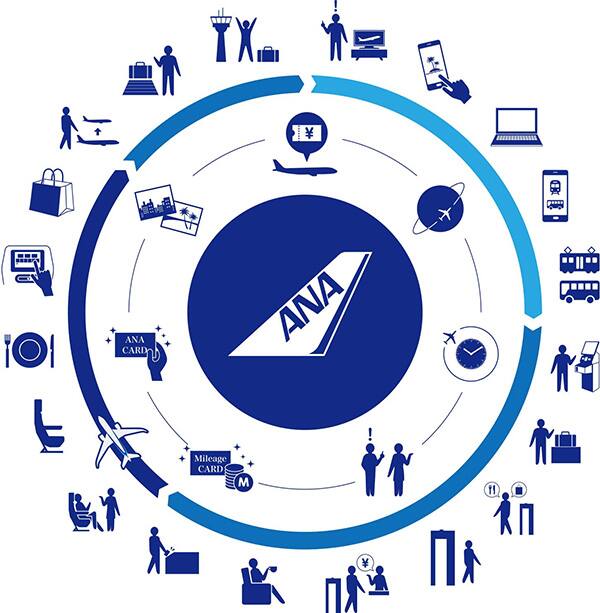 This map shows the scenes with interactions between customers and the ANA Group. It includes the scenes during daily life and from the time before travel up to the time after it.
Creating a Tangible Legacy
For each scene from departure up to arrival, we will gradually improve our services, facilities, and equipment so that they provide customers with a high level of comfort and convenience.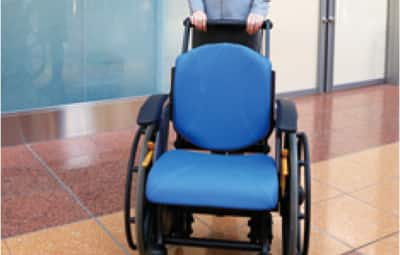 The first resin wheelchair in Japan, morph, uses no metal. That means smooth, seated transport through security clearance and all the way to your seat.
Morph was developed to give our customers a stress-free boarding experience.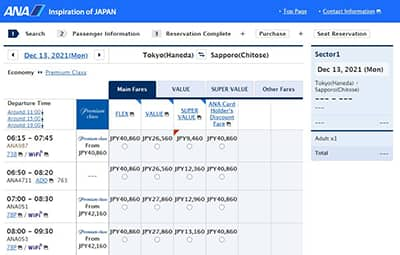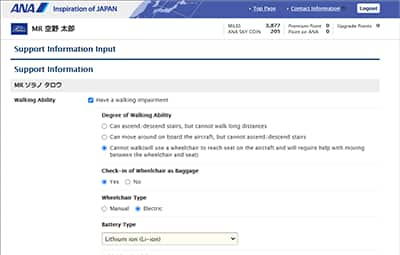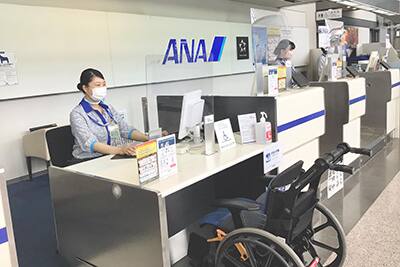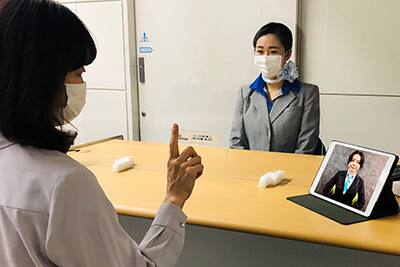 Audio and Braille Versions of In-Flight Magazine Wingspan
We are creating audio and braille versions of our in-flight magazine Wingspan for our sight- and hearing-impaired customers.
The audio is recorded by our flight attendants.
Creating an Intangible Legacy
To instill a barrier-free mindset within each ANA Group employee, we are reinforcing our educational efforts and this includes offering training to frontline staff and inviting employees with disabilities and external lecturers to hold seminars on inclusive and universal services.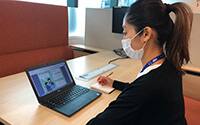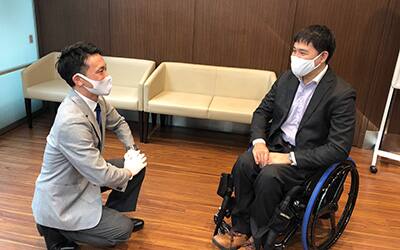 Social Bonds
ANA HOLDINGS became the world's first airline to issue social bonds*3. The proceeds will be used to simplify air travel while increasing accessibility and sustainability.
In February 2018, ANA Group announced its FY2018-2022 Mid-Term Corporate Strategy, which describes how it will achieve sustainable growth and value creation focusing on ESG management.
The group defined Environment, Human Rights, Diversity and Inclusion and Regional Revitalization as its four main pillars and incorporated them into its strategy.
Through this strategy, ANA Group will create both social and economic value to enhance its corporate value.
*3.

Social bonds are any type of bond instrument where the proceeds will be exclusively applied to eligible social projects.
ANA HOLDINGS has established a social bond framework based on the "The Social Bond Principles 2018" set by the International Capital Market Association (ICMA) to issue social bonds.
As a third-party evaluation of the bonds, ANA HOLDINGS has obtained "Social1" evaluation from Japan Credit Rating Agency, Ltd. PDF Opens in a new window.In the case of an external site,it may or may not meet accessibility guidelines.(Hereinafter referred to as "JCR"), which is the highest evaluation of "JCR Social Finance Assessment".
Becoming an LGBT-Friendly Airline Group
Here at the ANA Group, we are pushing forward with our efforts to promote a better understanding of LGBT*4 issues among our employees and to make the Group a more inclusive workplace in accordance with our Diversity and Inclusion Declaration. At the same time, we are enhancing our services to appropriately fulfil the needs of our LGBT customers.
We are working to fulfil LGBT needs in our various services, and this includes making same-sex partners eligible for family card membership and award user registration (both of which are ANA Mileage Service offerings).
For the ANA Group employees, we are implementing initiatives to achieve an inclusive society, and these include distributing the ANA Group LGBT Awareness Handbook and conducting training programs.
*4.

LGBT: An initialism that stands for lesbian, gay, bisexual, and transgender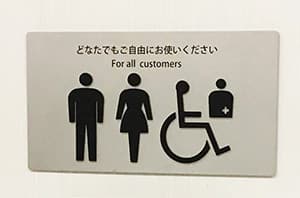 Changes to ANA Lounge Restroom Signage
Restrooms in ANA lounges are being renovated to offer a universal environment that is friendly to all people, including LGBT customers.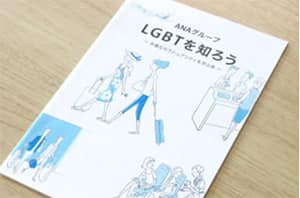 Promoting Understanding of LGBT Issues among Employees
By providing Group employees with the ANA Group LGBT Awareness Handbook and e-learning that is designed to give them an accurate understanding of LGBT issues, we are striving to create an environment in which LGBT and other diverse values are respected.
The ANA Group will continue to promote inclusive and universal services in order to achieve delightful, kind-hearted & comfortable skies for everybody.