Mount Moriyoshi Ani Ski Resort

"Ice Monsters", the hoarfrost trees of Mount Moriyoshi
The hoarfrost-covered trees of Mount Moriyoshi, one of the three largest hoarfrost-covered trees in Japan, spreads all over the summit of 1,100 meters in height and called as, "Ice Monster".
In addition, from February to March, "Yoru-no-Juhyo Kanshokai" (hoarfrost-covered trees view experience in the night) by climbing the mountain with a snow-compacting vehicle at night is also performed, and if the weather is good, you can enjoy the contrast between the hoarfrost-covered trees and the starry sky that appears in the dark.
To the mountain summit where the hoarfrost-covered Aomori-Todomatsu (Abies mariesii) trees spreads, it takes about 20 minute from Summit Station by the gondola of Ani Ski and continue by 5 minutes' walk. At the mountain summit there is a course of about 30 minutes per lap that allows you to appreciate the group of hoarfrost-covered trees and the snow have been compacted, so you can easily enjoy the area. Snowshoes and ski sticks rental also available for free.
At Mount Moriyoshi, that also known as Hana-no-Hyakumeizan (100 most famous flower mountains), there are broadleaf trees such as beech and maple spread on the middle of the mountain along with numerous alpine plants. When gondola move amongst the beech trees, you can enjoy the autumn foliage up close, and from the summit you can enjoy Mount Moriyoshi, as well as the vibrant autumn foliage of the surrounding mountains.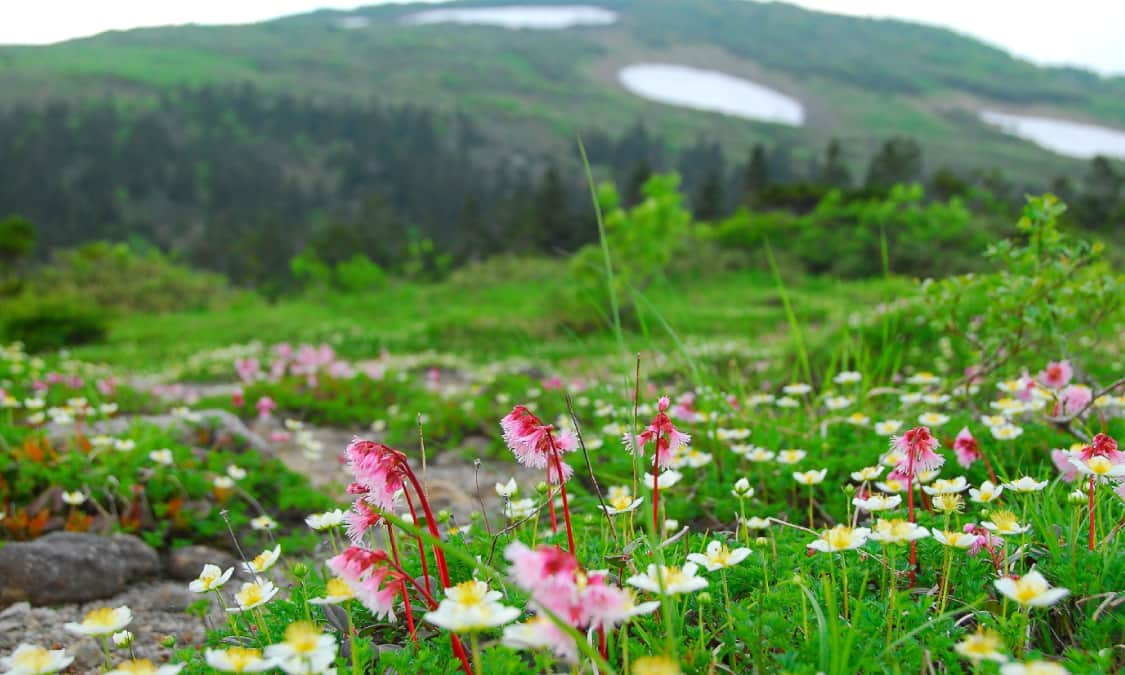 100 Most Famous Flower Mountains
From the beech forest at mountain-side to the mountain summit area, the primeval Aomori-Todomatsu trees and the pretty flowers of 300 alpine plants are in full bloom, and it is popular as "100 most famous flower mountains".
Location
| | |
| --- | --- |
| Name | Mount Moriyoshi Ani Ski Resort |
| Web Sites | (In Japanese) http://www.aniski.jp/ |
| Address | 79-5 Kaginodaki Ani-Kaginodaki, Kita-Akita-shi, Akita |
| Access | 25 minutes' drive from Aniai Station on Akita Inland Line |
| Business Hours | 8:45 to 16:00 |
| Inquiries | TEL:0186-82-3311 |
| Admission | Adults: 2,800 yen; Seniors (60 years old and older): 2,000 yen; Elementary School Students 1,000 yen |