Main Attractions of Dazaifu Tenmangu, Fukuoka's Spiritual Spot
Dazaifu Tenmangu is a popular spiritual spot and a tourist destination in Fukuoka. There you can purchase rice cake sweets called "Umegae mochi" on the path leading up to the shrine and enjoy events such as "Kyokusui no utage." Dazaifu Tenmangu is a shrine with a pavilion built over the grave of Michizane Sugawara—an eternal dedication to his spirit. It is worshipped as the god of academic achievement, integrity, and protection against bad luck, attracting around eight million visitors per year, not only from around the country but all over the world.
The path leading up to the Dazaifu Tenmangu is lined by many shops, many of which sell "Umegae mochi." The name suggests the flavor of ume, or plums; however, it does not taste of plums at all. The name in fact comes from the imprint on the top in the shape of a plum, which is seen on the seal of the Dazaifu Tenmangu.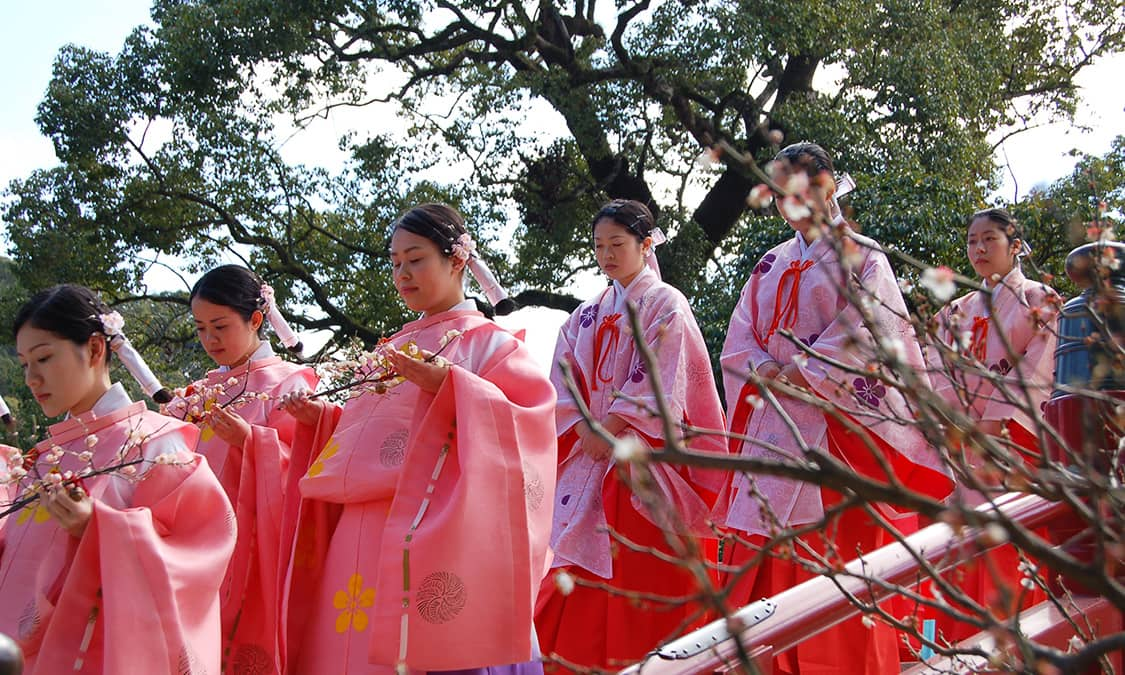 Many festivals and events take place at the Dazaifu Tenmangu. "Kyokusui no utage" is a ritual of ablution and purification that re-enacts events held at the emperor's court in the Heian period. It is an elegant event for which attendees don Heian costumes, including the princess, who wears a twelve-layered ceremonial kimono. Before the sake cup that floats downstream from the Garden of Kyokusui passes before their eyes, they must compose a waka, or a Japanese poem, and drink from the cup.