Sakurai Futamigaura, Itoshima
The beautiful view of the sun setting between the two rocks in Sakurai Futamigaura in Itoshima
Selected one of the 100 most beautiful sunset views and one of the 100 best beaches in Japan, Sakurai Futamigaura in Itoshima is famous for the two giant "married couple rocks" that are joined by a "Shimenawa" rope and the torii gate standing on the beach. Also known as Chikuzen-Futamigaura, it is recognized as a great sunset viewing spot as opposed to the pair of rocks in Futamigaura in Mie Prefecture that are famous for the sunrise. The two rocks standing together in the middle of the sea 150 meters away from the beach have become the symbol of marital happiness and matchmaking.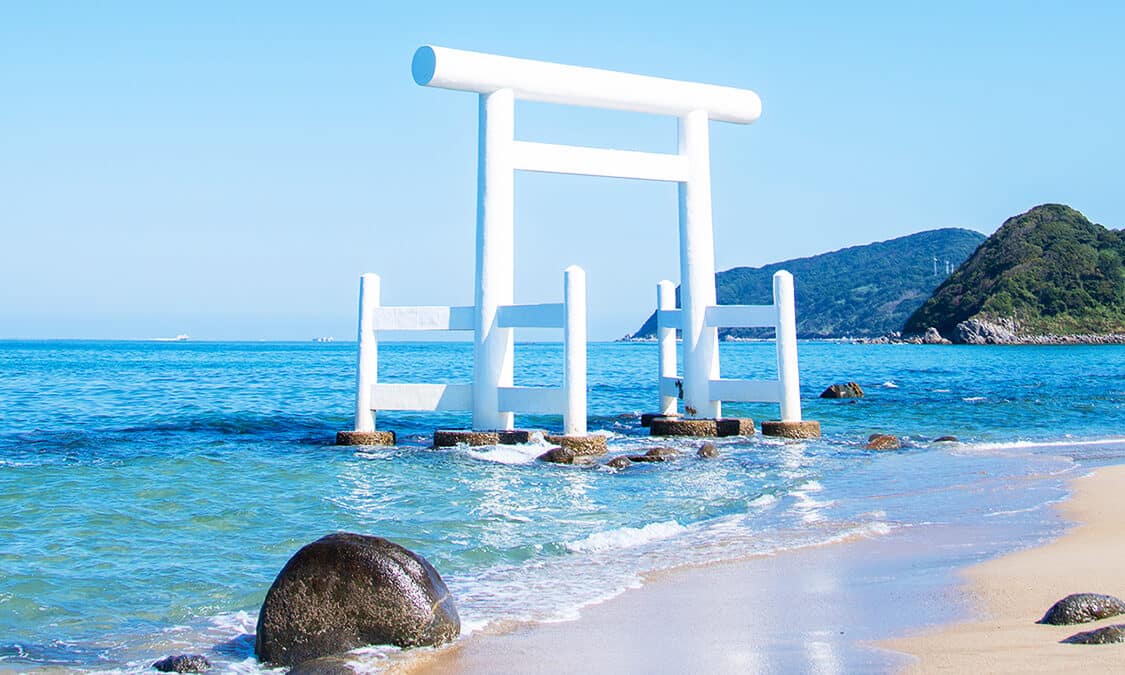 The white torii gate of Sakurai Futamigaura
Sakurai Futamigaura belongs to Sakurai Shrine, a designated prefectural cultural property revered as a sacred place dedicated to Izanagi and Izanami, who are deities depicted in the Japanese creation myth. The stunning contrast between the white torii gate standing near the two rocks and the blue hues of the sky and the ocean creates a stunning, sacred atmosphere. Located about three minutes by car from the Futamigaura Beach, Sakurai Shrine has the main hall decorated with gorgeous and colorful carvings.
Location
Name
Sakurai Futamigaura, Itoshima
Website
http://www.city.itoshima.lg.jp/s026/s040/010/080/30/1P.pdf
Address
1-1-18 Maebarachuo, Itoshima-shi, Fukuoka
Access
Approximately 20 minutes by taxi from JR Kyudai-Gakkentoshi Station
Approximately 30 minutes by Showa Bus from JR Kyudai-Gakkentoshi Station; get off at Futamigaura (Meoto-iwa mae) bus stop
Inquiries
TEL: 092-322-2098 (Itoshima City Tourist Association)