How can they participate in a Matsuri (Japanese cultural festivals)?
Travelers must read! Let's discover Japan and enjoy Japan more!

The Matsuri is closely related to Japanese life and contains the old unique culture intensely. Many of the festivals allow tourists to take part and share the same experience with the people in the area. This article introduces you to the first time to participate in the festival, the fun you can experience in the stalls, how to participate in the parade, and how to enjoy the festival comfortably.
There are many festivals that welcome the participation of tourists, and you can also learn about Japanese culture and history. Sharing special opportunities for people living in the area should be a special experience for you who traveled.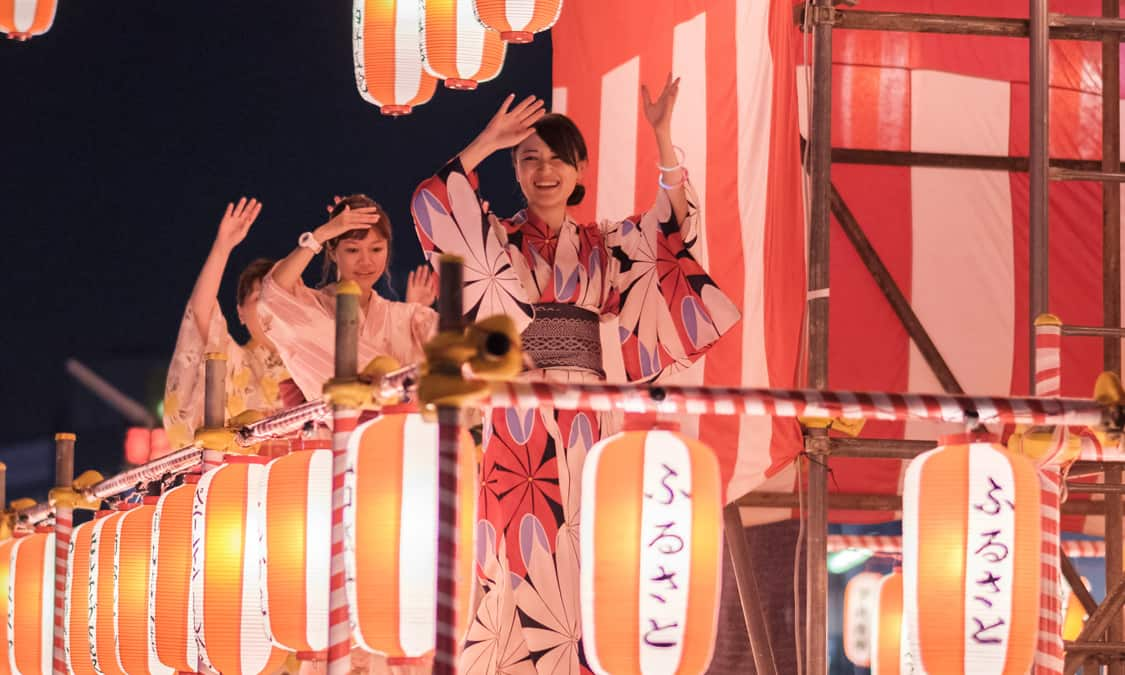 1. How to enjoy the Matsuri
There are many Matsuris in Japan and most of them are open to visitors and tourists, and you can participate in casual clothes. Watch the parade and take a picture. That is fun, of course, but if you go a little further, you can enjoy the matsuri more deeply. What is the best way?
1. Cheer together
The way cheer can easily join without being prepared for anything. The Mikoshi has a certain cheer for each festival, such as "Washoi," "Oisa," in the Nebuta Matsuri, "Rassera Rassera," in the Awa Odori, "Yattosa Yatto Yatto," and so on. Cheer can also be seen from the brochure, but please ask the people around you. If you put out a voice together, the performers are also overjoyed. You can feel the sense of unity.
2. Borrow your traditional Japanese costumes
If you join in wearing kimono, you will have more special memories. Because the summer festival wears a simple kimono called "yukata", you can try it relatively comfortably. Yukata robes are available on your own, and you can rent them in tourist areas. There are also festivals that have specific costumes for each festival. There is also a costume shaped like a short gown called "Happi" or " Hanten ", and if you apply in advance, you can take part in a costume or make a commemorative photo. When you wear a yukata, you wear clogs and sandals so that your feet become sore. Don't forget to take care of plasters and taping.
3. Let's Dance together
When the mood rises, let's dance together! The traditional folkloric dances of Japan are many things that loop the same movement, and anyone can join and dance by watching. The Awa dance which is well-known dance festival has a funny old phrase: "Odori ahoni miru aho, onaji ahonara odoraniya sonn sonn (Fool is watching fool's dancing if you both are the same fool then dance and enjoy together). This can be said for any festival. Keep your head empty and enjoy.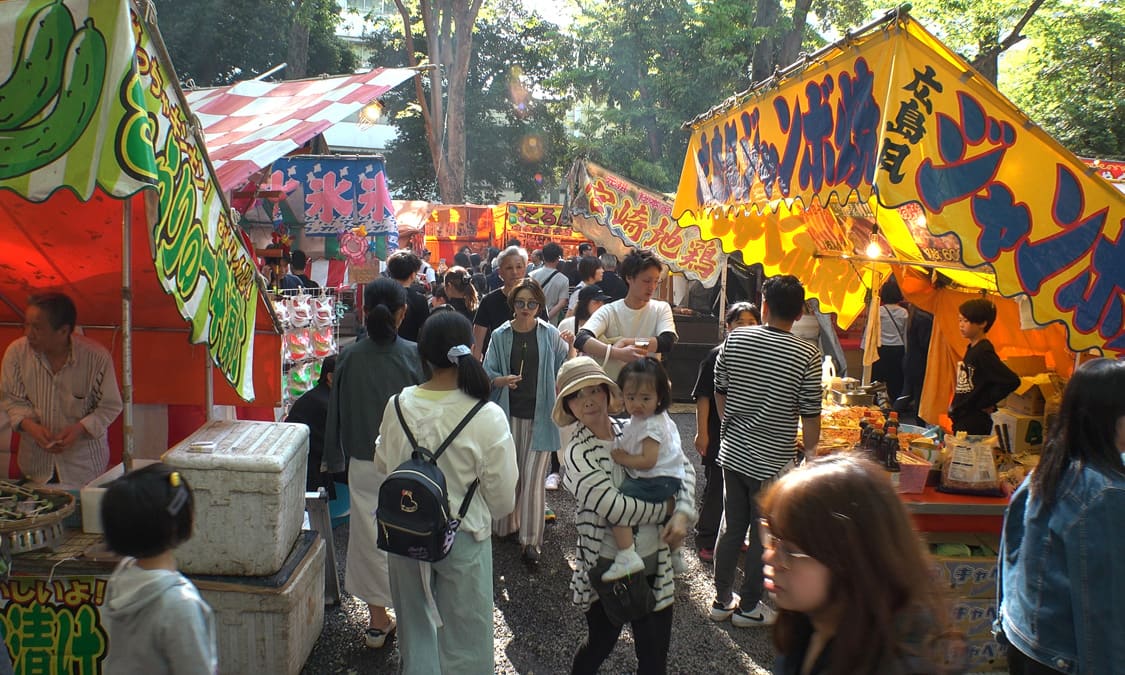 2. How to enjoy the stall of local food
Another fun thing about the festival is the stalls. You can buy food and toys and enjoy the game in a movable shop with a single roof. In the stalls, you can buy simple snacks to eat while walking. In addition to the unique Japan of takoyaki, grilled noodles, and baked goods, some of them are eaten all over the world, including French fries, kebabs and Frankfurt sausages. Also, there is a characteristic of the one eaten by the provinces, and there is the case that the food stalls such as seafood and local cuisine are lined up.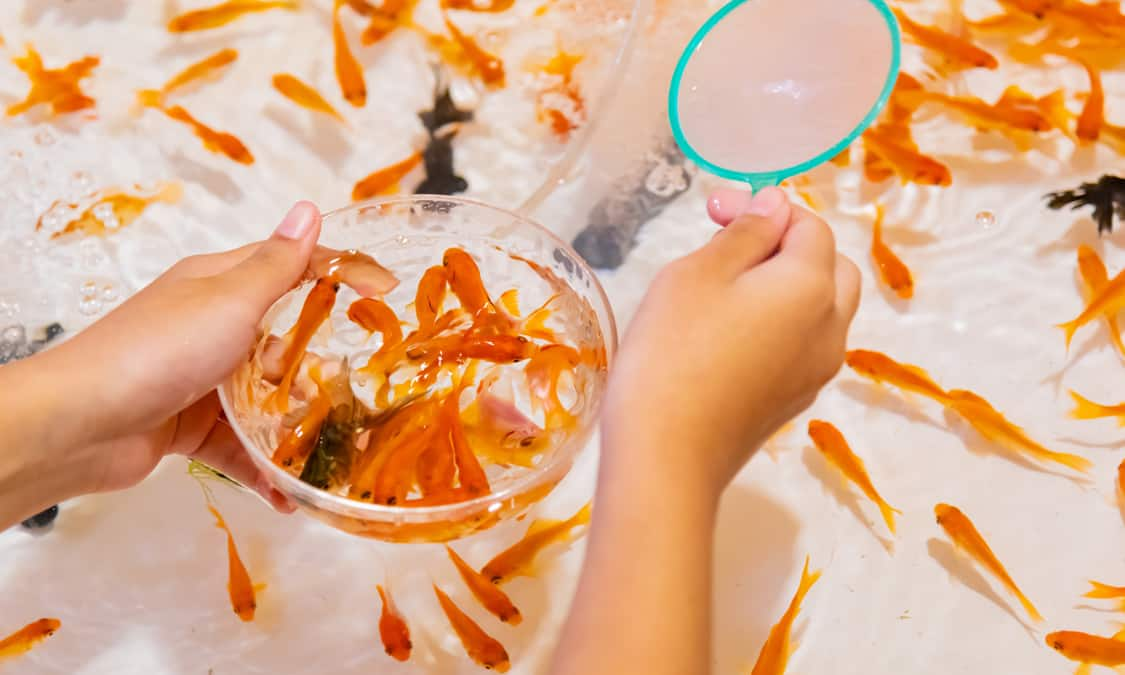 For children, games in the stalls are a great enjoyment of the festival. You can experience the children's play of old Japan, such as scooping goldfish, shooting, yoyo fishing, and ring throwing. There are also stalls where you can feel the tradition of Japan, such as Amezaiku (traditional Japanese candy fashioned in animal forms), Kumanote (bamboo rakes), Daruma (Japanese traditional doll modeled after Bodhidharma), and Hagoita (traditional Japanese battledore).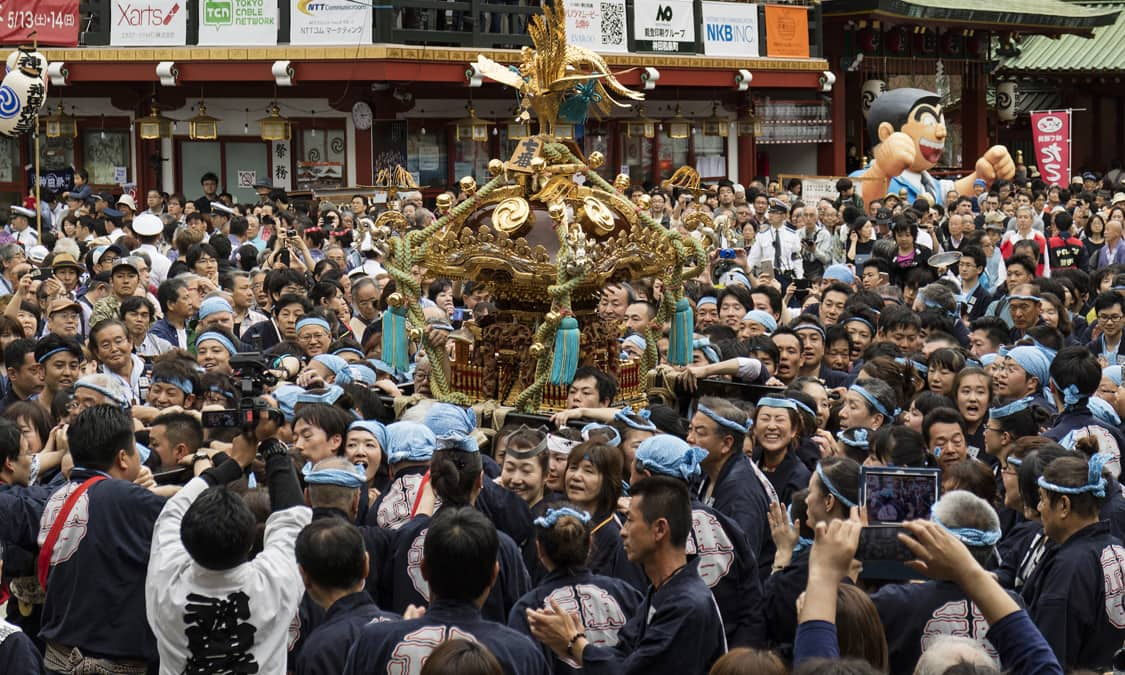 3. How to carry Mikoshi (portable miniature shrine)
If we are speaking about Japanese cultural festivals, Mikoshi is one of the well-known leading objects. Many people carry the Mikoshi which is the vehicle of God, in a roar. Passionate, cheerful, happiness of the participants make you want to participate. But unfortunately, it's not as simple as just anyone can jump and participate it. The reason for this is that the Mikoshi is not only exciting but also very sacred.
The Mikoshi belongs to the shrine, and the Shrines have an organization called "Ujiko," which consists of residents. The parishioners wear a Hanten or Happi of Shrine (matching lowered costume). Because the festival is also a place of exchange and cooperation with the surrounding area, it is possible to come from other regions and groups will carry the Mikoshi together. Because Hanten is also intended to clarify the affiliation of the person, then the person who not known by the association, and the person who does not wear the Hanten or Happi, is not able to participate in any Matsuri.
Then can foreigners participate? Don't be disappointed. There are ways to engage such as follows.Live in the town, Join the Mikoshi Club or Association, To be introduced through a person belonging to one of the above. However, in the case of foreign travelers, it is still challenging to participate. The best way is to ask locals, festival clubs, tour company, or an experienced event expert to obtain special permission from the Mikoshi or Matsuri Associations.
If you wish to carry a mikoshi or participate in a matsuri, you need to be taught in advance, manners, roots and so on. Manners are very important because carrying a mikoshi is a very sacred act. It is polite to join the Mikoshi or matsuri after learning the rules of each festival properly.
It sounds exclusive, but when you enter the community, many festivals welcome participants regardless of nationality. A member of a respectable community when it comes to holding a shrine. Let's blend in with the local through the Mikoshi.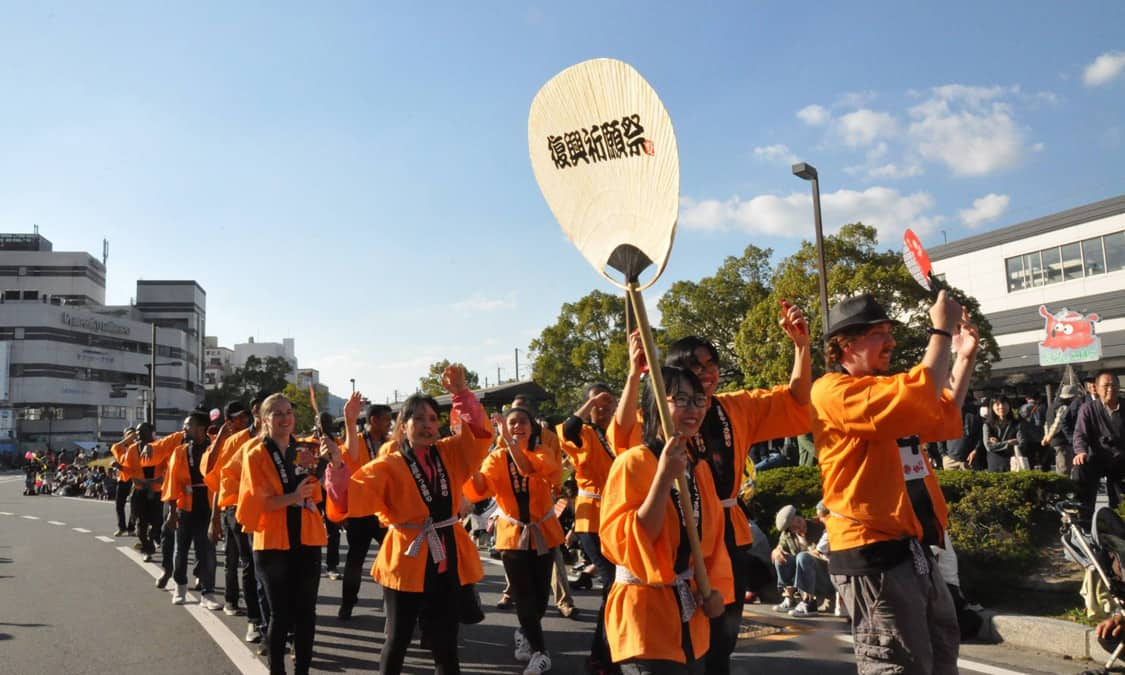 4. How to enjoy Bon Odori (Japanese traditional folk dance)
Many Japanese festival dances repeat the same movement, so anyone can try it easily. We will introduce how to enjoy it.
Bon Odori: Japanese traditional folkloric dance in the summer season of Japan. Dancing in a circle around the tower. It is open to everyone and you can dance whenever you like, so you can feel free to join.
Parade-style Dance: In addition to watching the parade of the performers, there are also festivals where the audience can dance together. There are two ways to participate: (1) anytime when anyone can jump-in to participate and (2) wait to gather at a certain time and learn how to dance. Some festivals do not allow you to participate unless you wear a costume.
If you dance together, the fun doubles! If you move your body together, you can feel the Japan culture and make friends. Let's join the dance circle together.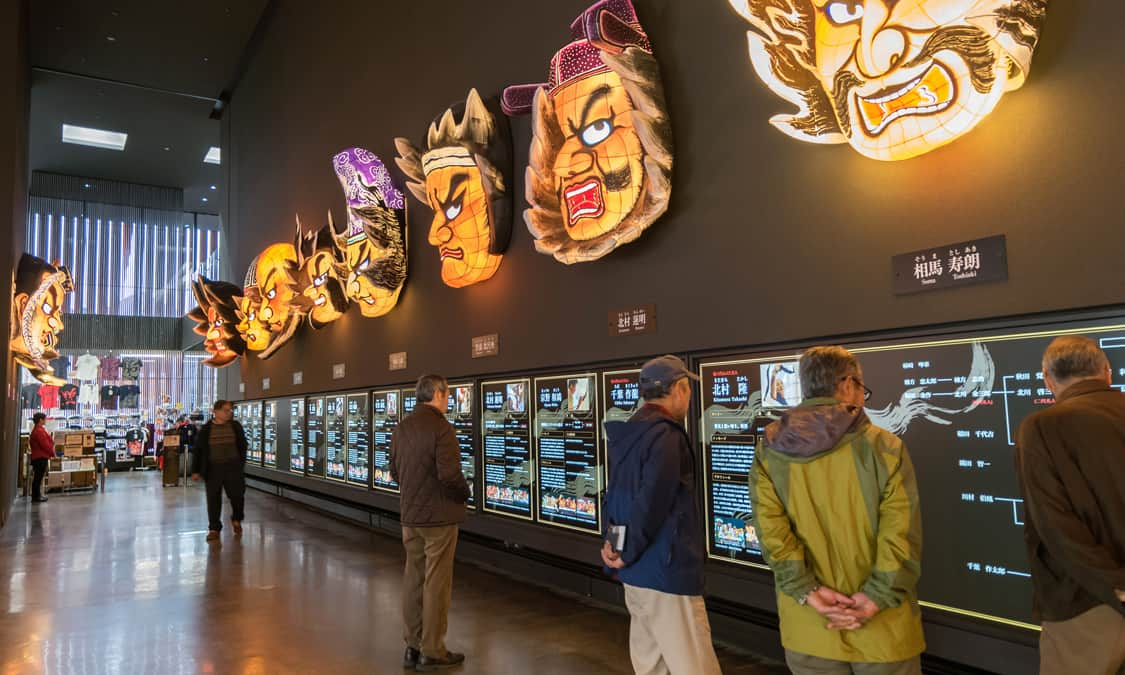 5. Festival related facilities
If you go to a festival, you should visit the Festival Hall and the Festival Memorial Museum. Where there is a big festival, most of them have such facilities and are multilingual.
There are exhibits related to the tools and history that can be used to learn more. Also, there are many facilities which are the storage place, such as floats and mikoshi. It is a chance to see the real thing thoroughly in the crowd and the one not seen well at a distance in the festival production. You can also listen to the craftsmen and have a costume experience or a commemorative photo. You can also get local information such as gourmet and sightseeing, so it's a great place to visit before and after the festival.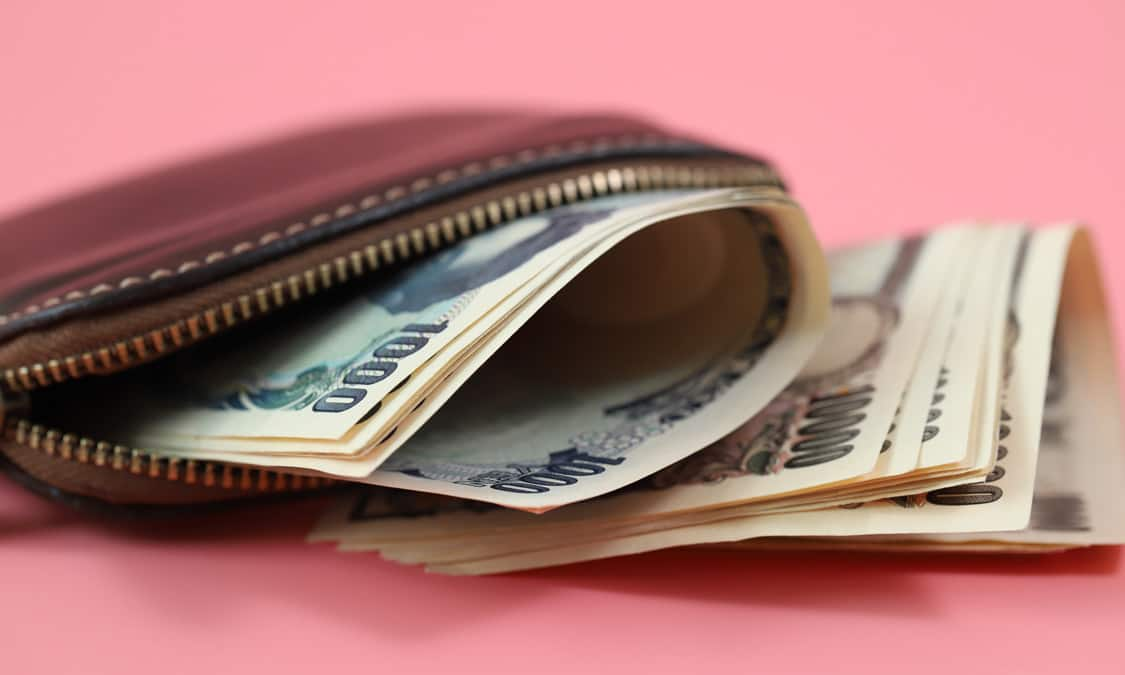 When you go to the festival, be careful to keep your luggage as small as possible. Be sure to leave your large bags at the hotel. There are many crowds, and there are few places where you can leave your luggage at the Festival Hall. Also, it is recommended to reduce luggage, especially if you want to dance.
The next important thing is to prepare cash. The festival stalls do not use credit cards or electronic money. Because the one sold is usually cheap, let's prepare the change and 1000 yen bill.
Moreover, do not forget the heat measures. It is very hot in the summer when Japan is celebrating the festive season. Towels, drinks, and sun-repellent are required. Please bring your ID in case of injury or illness.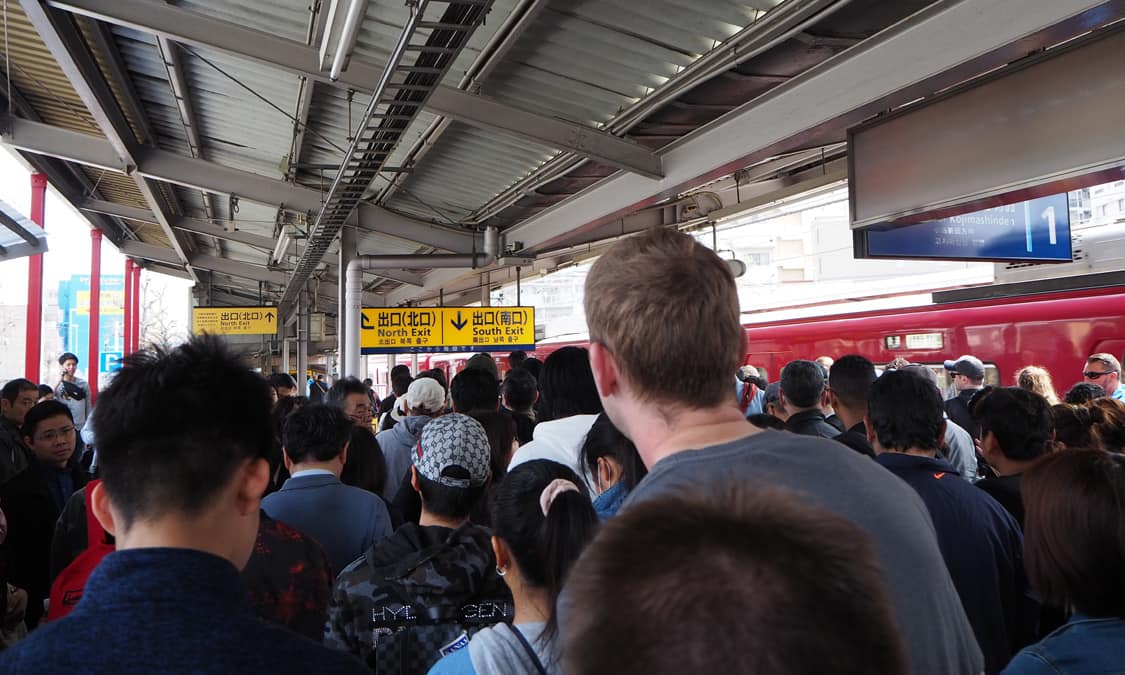 7. Access and Accommodation
To go to the festival, it is advisable to use public transportation such as trains and buses. In addition to traffic jams and parking lots, some roads are not passable by traffic regulations. When it is a festival, the train and the bus may get occasional, but it is very crowded. Let's move ahead and enjoy sightseeing slowly. Also, about the accommodation sometimes there are few facilities where you can stay in the neighborhood during the Matsuri, so reservations must be made in advance from several months before the Matsuri.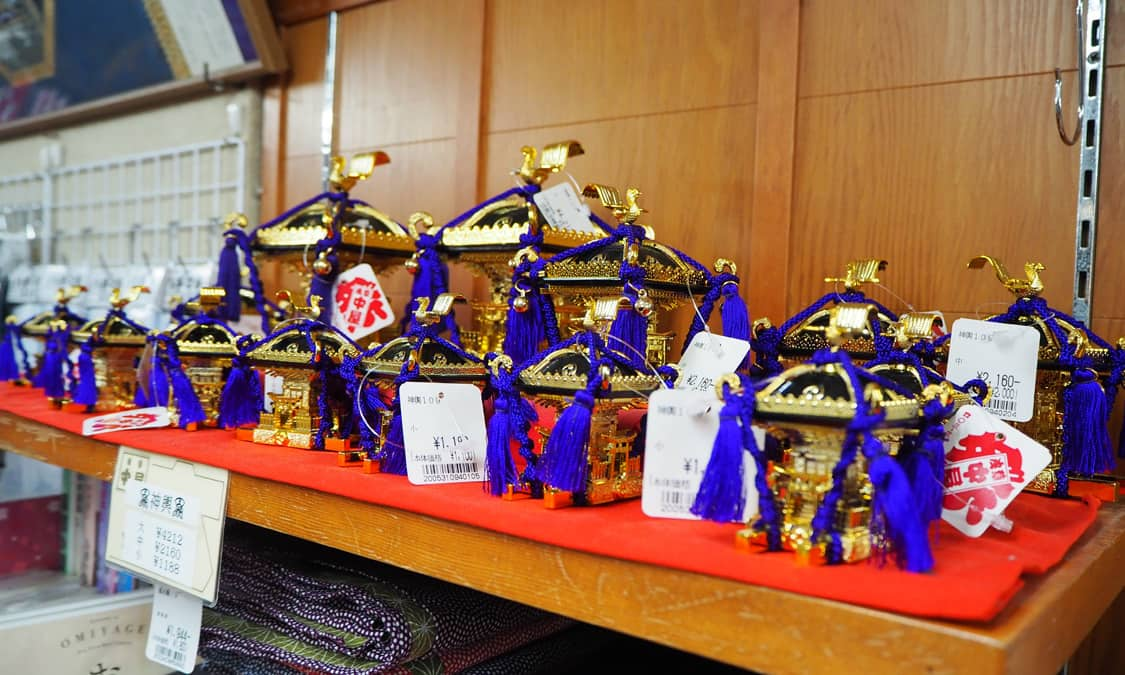 The end of the trip, please buy a souvenir. In addition to local specialty products, you can also buy festival related goods such as washcloths, towels, Hanten (traditional short coat), T-shirts and more. Recommended is washcloth! It's a small fold, so you can choose a handle and use it as a scarf or a hat on your way.