Special Fukuoka operation of a train that usually runs in the Hitoyoshi-Kuma region in Kumamoto
As this train is currently unable to run on its regular Hisatsu Line due to the damage caused by the flooding in Kumamoto and Kagoshima in June 2020, a special train operation has been set up between Hakata and Mojiko. To create a relaxing, forest-like atmosphere, cypress and cedar harvested in Kyushu have been used for the interior of the cars, and some Kumamoto souvenirs, such as Kuma Shochu and Banpeiyu Cider, are sold on board.
Don't miss it! Check must-see area or item along your train journey!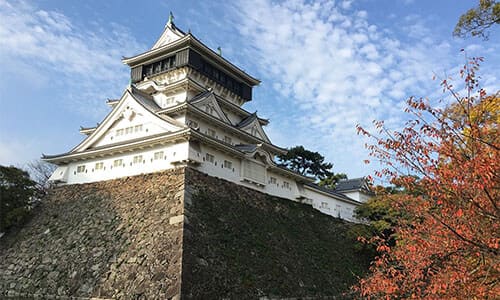 Located approximately 20 minutes' walk from Kokura Station, Kokura Castle is the pride of the locals for its beautiful appearance that features bright white walls and black roof tiles. It appears even more stunning when complemented by cherry blossoms in spring and colorful leaves in fall. There is also a gorgeous Japanese garden adjacent to the castle.
Mojiko Port, established as a gateway to Kyushu, is located in an area where a number of over 100-year-old Western-style buildings have been preserved to create a nostalgic landscape. It is a popular tourist hub, featuring such must-see Fukuoka spots as stylish shops and cafes in renovated historic buildings, restaurants that offer tasty Mojiko cuisine and magnificent views of the Kanmon Straits.
Major Station Information