Shiratani Unsuikyo Ravine is one of the World Heritage Site's popular tourist destinations. Located 600 to 1,050 meters above sea level, it is designated as a national recreational forest for its abundant yaku sugi cedar trees.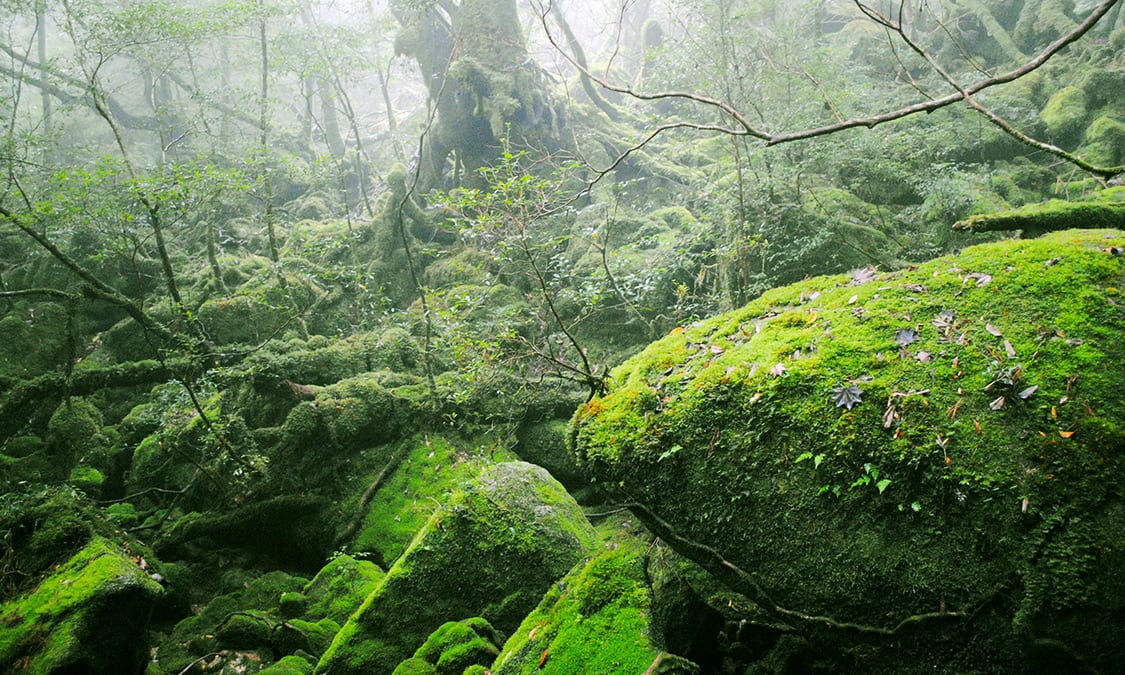 At Shiratani Unsuikyo Ravine find Yayoi Sugi Cedar Tree, moss forest, and Taiko Iwa Rock.
This area has three hiking trails: Yayoi Sugi Course, Bugyo Sugi Course, and Taiko Iwa Rock Course. Walking along any of these trails allows hikers to enjoy yaku sugi trees up close. Sites include the Yayoi Sugi Tree that dates back some 3,000 years, mountain streams of the Shiratani River, and the primeval forest.
The popular spots in this area include Taiko Iwa Rock, from which the full view of mountains on the island can be enjoyed, and the Moss Forest, which is entirely covered with green ferns and moss and is an inspiration for the anime Princess Mononoke.
Jomon Ceder Forest stands silently in the depths of the island.
The Jomon Sugi Cedar Tree stands quietly in the depth of the mountains of Yakushima Island. You can only see this tree after a long and hard hike along the steep path. It's a tough trail but once you get to see the tree, a symbol of this World Natural Heritage Site, standing in the midst of the solemn and mystic environment unique to Yakushima, you will feel that the difficult hike was all well worth it.
Location
Name
Yakushima
Website
(In Japanese) http://yakukan.jp/
Address
Yakushima Tourism Association Airport Tourist Information Center, 310-1 Koseda, Yakushima-cho, Kumage-gun, Kagoshima
Access
Approx. 30 min. flight from Kagoshima Airport to Yakushima Airport
Approx. 2 hours by high-speed ferry from Kagoshima Port
Approx. 4 hours by regular ferry from Kagoshima Port
Inquiries
TEL:0997-49-4010 (Yakushima Tourism Association)