Teppanyaki Steak House Miyakichu

Enjoy wagyu beef in Miyazaki! Savor Miyazaki Beef while on your travels at steak house "Miyachiku"
Miyazaki Beef, the epitome of Miyazaki Wagyu. It has won the Prime Minister's Prize at the National Competitive Exhibition of Wagyu three years running. Steakhouse "Miyachiku" in Shinbeppu Town, in the city of Miyazaki, is where you can enjoy Miyazaki Beef. Delicious wagyu beef, which has passed stringent criteria and received national recognition, is served in teppanyaki style.
To be classed as Miyazaki Beef, the animal must be of the Japanese Black (Kuroge) breed, born and raised in Miyazaki Prefecture, and bred from bulls of certain specific lineages. About 300 beef farmers raise their cattle from these choice bloodlines with feed that has been prepared without compromise on quality, as well as plenty of love and attention. This is what gives Miyazaki Beef its superior quality.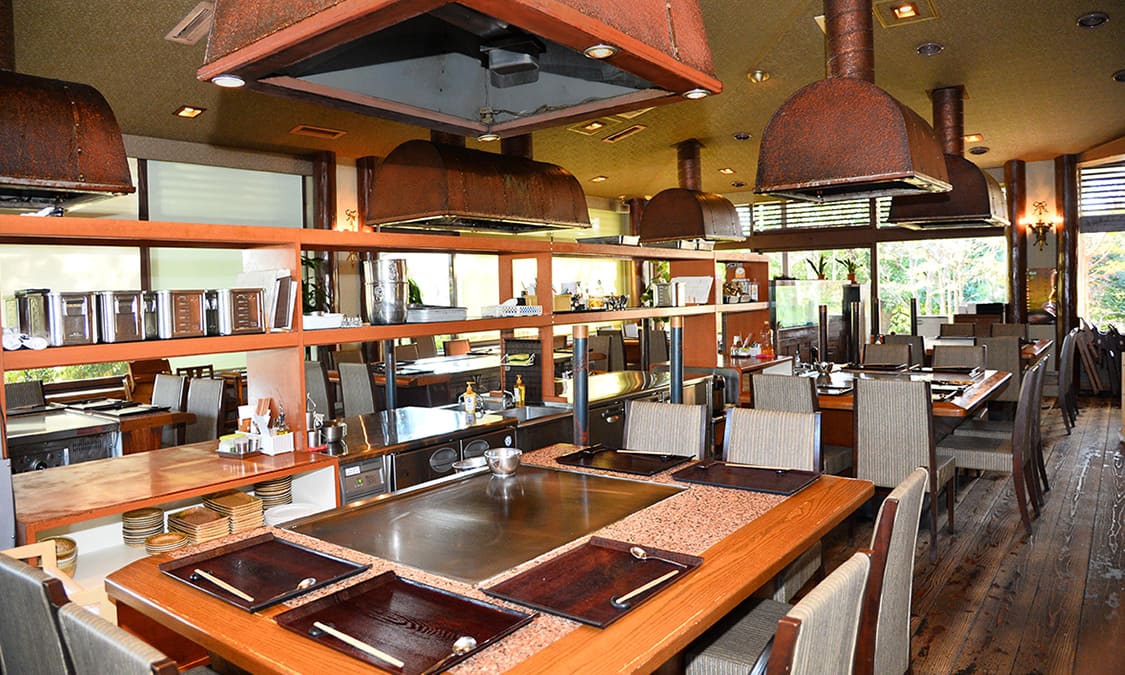 Teppanyaki Steak House Miyachiku
Culinary entertainment in a tucked-away village in Hitotsuba. In contrast to the lively scene at lunch, where patrons enjoy a casual meal at reasonable prices, at night, the restaurant takes on a chic ambiance, complete with the elegant tones of the piano. You are sure to have a wonderful, contented time with your family or that special someone.
Oyodo Riverside Miyachiku
Enjoy a sophisticated time, chatting as you gaze out at the sparkling nightscape of the riverbank from the window of a riverside hotel that overlooks the Oyodo River. Marvel at the skills of our top-class chefs who have mastered the art of gourmet food at famous restaurants. The private rooms are an excellent choice for business dinners or anniversary celebrations.
Location
Detail Information of Teppanyaki Steak House Miyachiku
Name
Teppanyaki Steak House Miyachiku
Web Sites
(In Japanese) http://rest.miyachiku.jp/
Address
1401-255 Maehama, Shinbeppu-cho, Miyazaki-shi, Miyazaki
Access
Approximately 10 minutes' drive from JR Miyazaki Station
Approximately 20 minutes' drive from Miyazaki Airport
Business Hours
Lunch: 11:00 to 15:00 (Last order: 14:00)
Dinner: 17:00 to 21:30 (Last order: 20:30)
Inquiries
TEL: 0985-28-2914
Admission
4,500 yen per person
Detail Information of Oyodo Riverside Miyachiku
Name
Oyodo Riverside Miyachiku
Web Sites
(In Japanese) http://rest.miyachiku.jp/
Address
1-1-1 Matsuyama, Miyazaki-shi, Miyazaki
Access
Approximately 5 minutes' drive from JR Miyazaki Station
Approximately 20 minutes' drive from Miyazaki Airport
Business Hours
Lunch: 11:00 to 15:00 (Last order: 14:00; Steak Course order close: 13:30)
Dinner: 17:00 to 22:00 (Last order: 21:00; Steak Course order close: 20:30)
Inquiries
TEL: 0985-62-1129
Admission
6,000 yen per person