The Kaiwomaru ship is called the "Lady of the Sea." Kaiwomaru Park spreads around the pure white ship, is a wonderful bayside area where people gather, learn, and relax. Many events are also held, providing fun for the whole family. The Kaiwomaru is decked out in full sail 10 times a year, with all sails expanded. The powerful, beautiful sight of the ship towering over the seas is befitting of the name Lady of the Sea.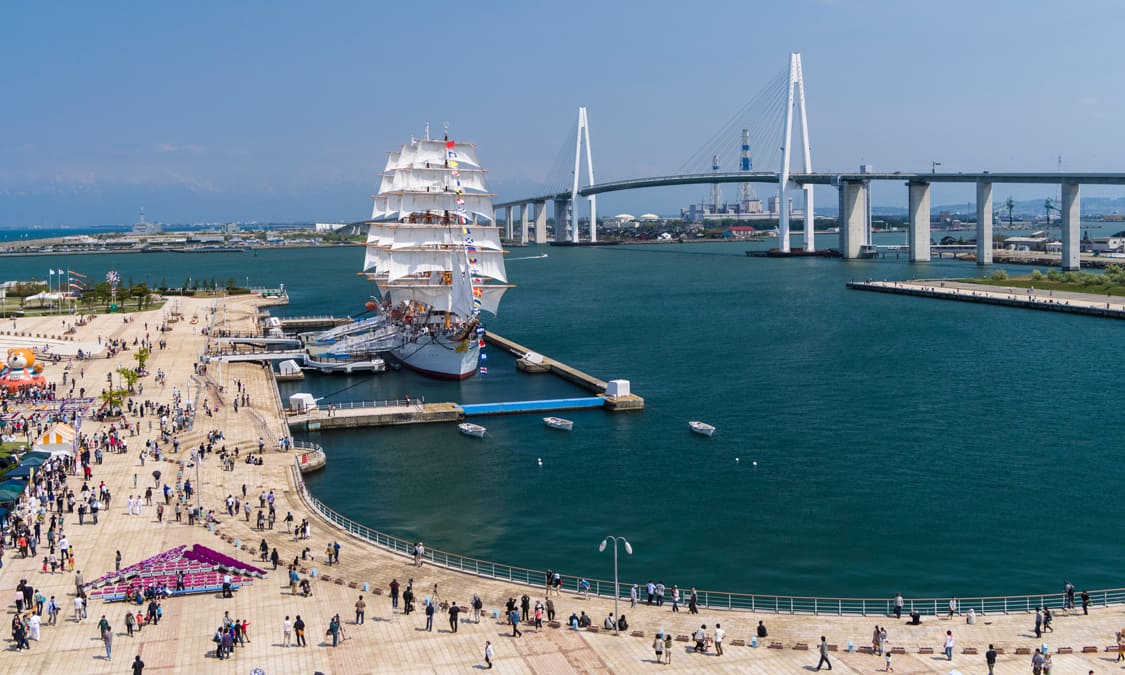 Kaiwomaru Park is a marine history museum where the sailing ship Kaiwomaru, known by the nickname "Lady of the Sea", is exhibited and opened to the public. It's full of things to do, such as viewing the inside of the ship for a peek into exactly how it was during its heyday. In addition, the ship is decked out in full sail 10 times a year, with all 29 sails expanded. Its beautiful, elegant appearance makes for a stunning spectacle befitting of the name Lady of the Sea. Right in front of the Kaiwomaru is Toyama Bay, member of the Club of the Most Beautiful Bays in the World. On days of good weather, you can see the beautiful, elegant Tateyama Mountain Range. An observation square was completed in 2018 to commemorate the "50th anniversary of the opening of the new Toyama Port", and it is proving even more popular.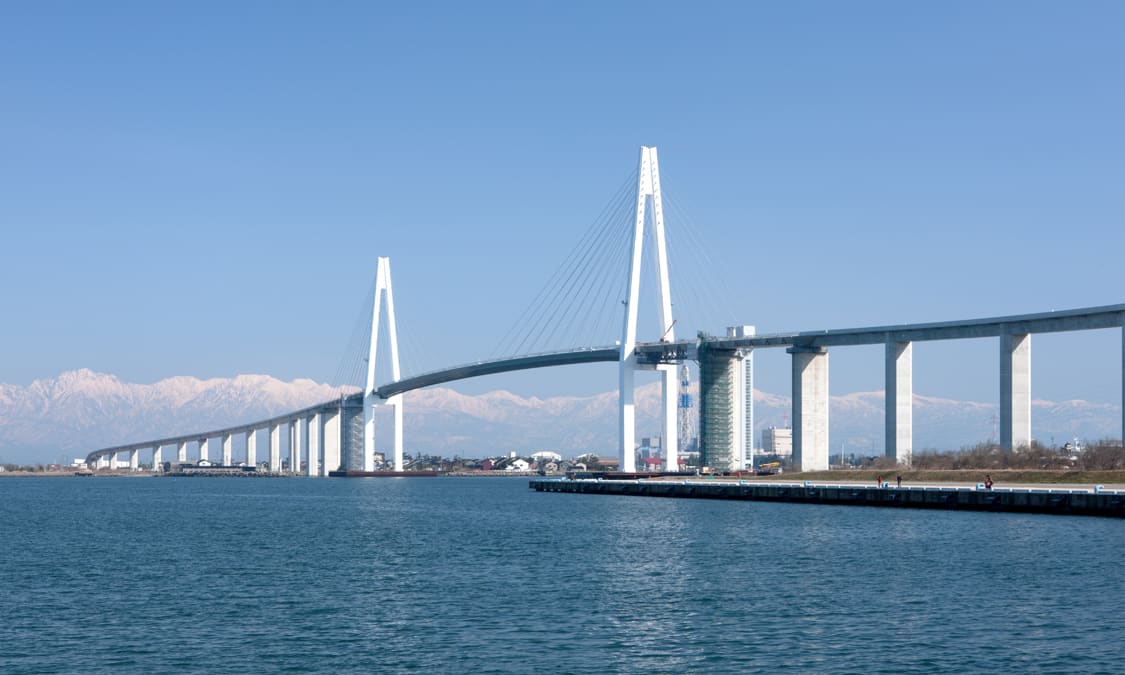 You can see the Sea of Japan from Shinminato Bridge, and on clear days you can even see as far as the Tateyama Mountain Range and the Noto Peninsula. You can also get an overhead view of the sailing ship Kaiwomaru, which is moored in Kaiwomaru Park. The total length of the bridge, including the arch portion, is 3.6 km. The height of the main tower that supports the bridge is 127 m, and the main part of the bridge that crosses above the ocean is 600 m. It is one of the best cable-stayed bridges near the Sea of Japan! Enjoy the fantastic views while on a drive. The bridge has two layers: the upper layer is a roadway for cars, and the lower is a pedestrian pathway. One recommendation is the view from the pedestrian pathway, also known as the "Promenade of the North Wind".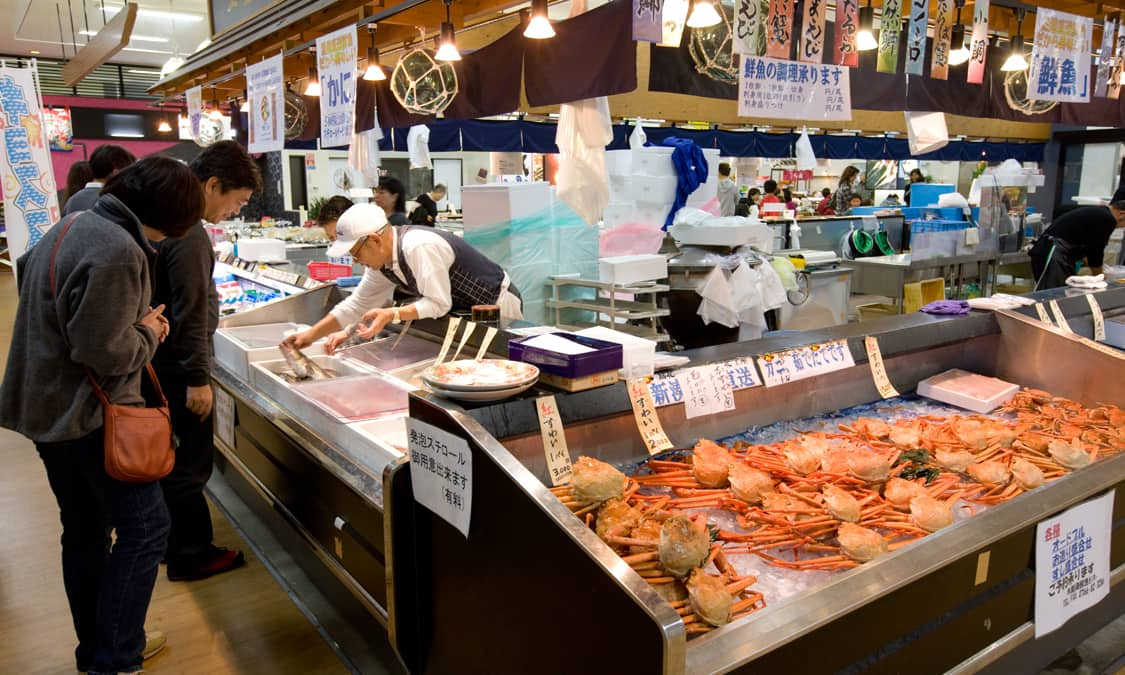 The Shinminato Kitokito Market offers freshly caught seafood from Shinminato fishing harbor. There is a diverse variety of seafood from Toyama Bay at the market, including white prawns, which are called the "jewel of Toyama Bay," red snow crab, and firefly squid. As well as this, you can try red snow crab all year round at Umiya, which opened in 2018. Inside the market, there is an array of local specialties on offer, making this the perfect place to buy a souvenir. The market is close to the fishing grounds and port, making afternoon auctions possible. Afternoon auctions at fish markets are very rare in Japan, and visitors are allowed to observe them.
Location
| | |
| --- | --- |
| Name | Kaiwomaru Park |
| Web Sites | http://www.kaiwomaru.jp/en/ |
| Address | 8 Kaio-machi, Imizu-shi, Toyama |
| Access | Take the train for approximately 40 minutes on the Manyo Line from Takaoka Station, get off at Kaiomaru Station, and walk for around 10 minutes |
| Inquiries | TEL:0766-84-4649 (Imizu City Tourism Association) |