Kurobe Gorge Torokko Train

By getting on the Torokko Train, you can enjoy a 1 hour, 20 minute journey through spectacular nature. The area is full of seasonal scenery—the fresh greenery of spring, the clear streams of summer, and the autumn foliage of fall. On the train, you travel through vast nature, passing a few bridges and tunnels on the way. This cute, little Torokko Train weaves through Japan's deepest V-shaped gorge. Get on board, relax, and get your fill of the majestic nature of Kurobe Gorge!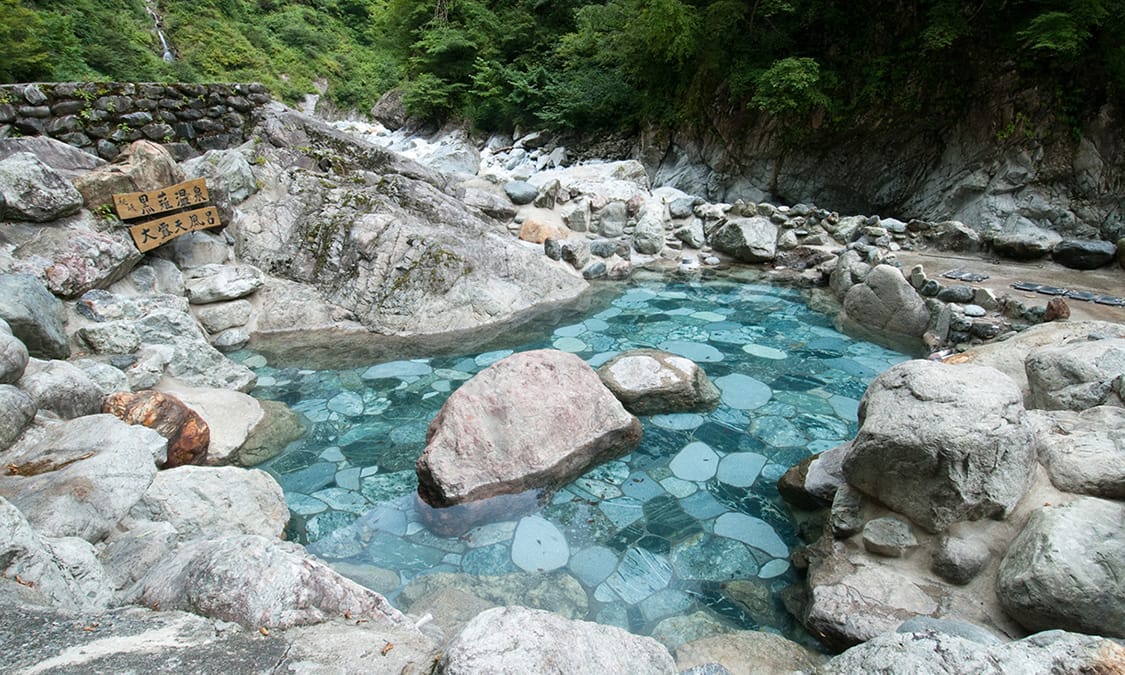 As you get to Kuronagi Station area, you enter Chubu Sangaku National Park, giving your surroundings an even more intense mountainous atmosphere. At the tremendous height of 60 meters, the Atobiki Bridge passes over the steepest gorge on the line, between Kuronagi Station and Sasadaira Station. It is said that mountain climbers used to retreat backwards after seeing the gorge's overwhelming height. This lead to the bridge's name Atobiki, which means pull backwards. This thrilling scenery is the highlight. The Kuronagi hot springs are the source of Unazuki hot springs and have the oldest open-air bath in Kuronabe gorge. The hot springs are an approximately 20-minute walk from Kuronagi Station.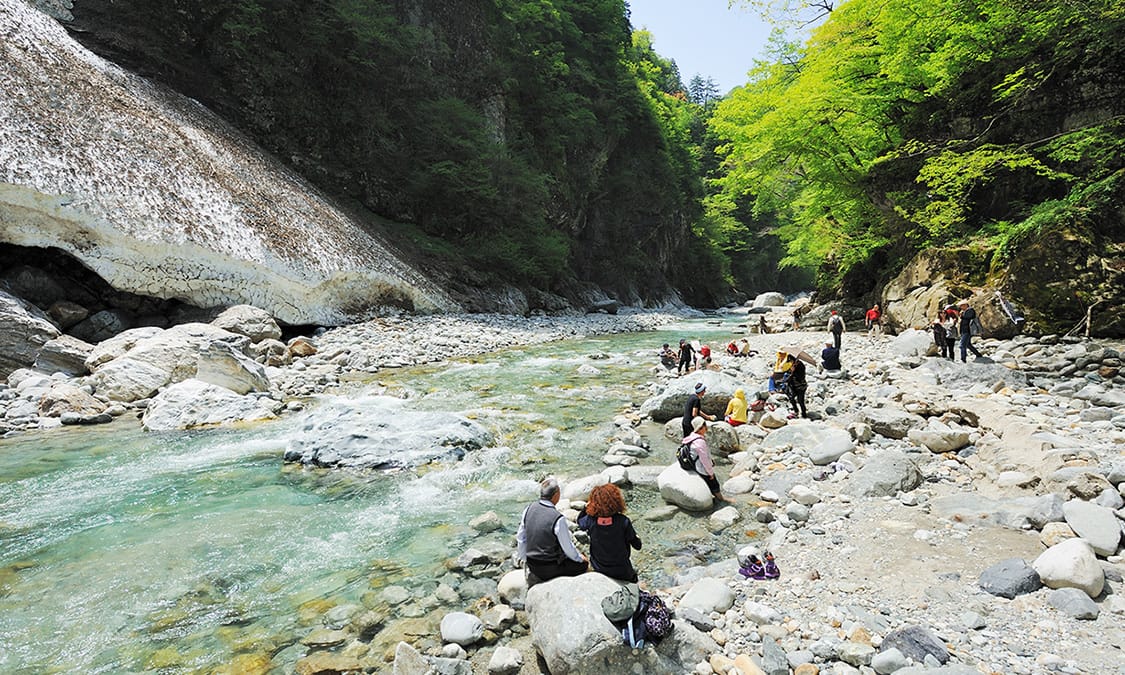 As you explore the Kanetsuri Station area, spectacular natural beauty unfolds with every step you take. At the Kurobe Mannen-Yuki Observation Point, which is 3 minutes' walk from the station, you can see snow that doesn't melt even in summer on the opposing Mount Hyakkan. This snow fell, dropped, and accumulated on the mountainside. At the Kanetsuri Riverbed, 20 minutes' walk from the station, you can enjoy digging the riverbed with a shovel and bathing in open-air baths at hot springs. You can borrow shovels from the nearby Kanetsuri Hot Springs Inn. As the Torokko Train departs from Kanetsuri Station, you can experience a "switchback," where the train reverses direction before resuming in the original direction. Switchbacks are rare in Japan.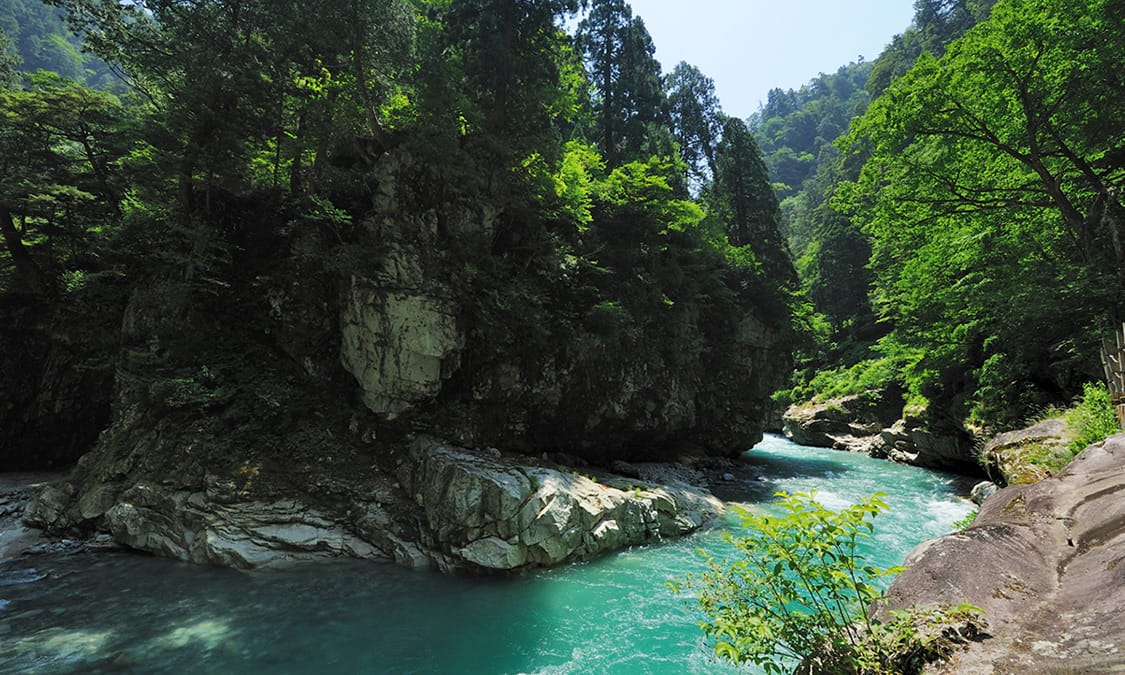 The last stop for the Torokko Train is Keyakidaira Station. There are a variety of routes to enjoy, depending on your schedule and how energetic you're feeling. It takes around 30 minutes by foot to reach "Sarutobi Gorge", a Special Place of Scenic Beauty and Special Natural Monument of Japan. The word Sarutobi means "jumping monkey." It gets this name from how monkeys jumped across the narrow river. This river is 3-4 meters wide and goes around 90-degree bends, providing for some magnificent scenery. You can enjoy touring various hot springs and trying out their open-air baths in the midst of nature, such as Babatani Hot Springs and Meiken Hot Springs. Don't miss the area's stunning scenery, such as the view from the 34-meter high Okukane Bridge, and the Hitokui Iwa, a cliff face open wide just like a mouth that's trying to devour humans!
Location
| | |
| --- | --- |
| Name | Kurobe Gorge Torokko Train |
| Web Sites | http://www.kurotetu.co.jp/en/ |
| Address | 11 Kurobe-Kyokokuguchi, Kurobe-shi, Toyama |
| Access | Unazuki Onsen Station is approximately 25 minutes from Shin-Kurobe Station on Toyama Chihou Railway. It is then around a 5 minutes' walk to Unazuki Station, Kurobe Gorge Railway. |
| Inquiries | TEL:0765-62-1011 (Sales Center, Kurobe Gorge Railway) |