Fushimi Inari Taisha is found in Fukakusa, Fushimi Ward in Kyoto City, Kyoto Prefecture. It is a highly popular shrine in Kyoto with a long history. The shrine is also open at night, allowing you to visit at any hour of the day. The shrine features thousands of torii gates, fox statues placed in various locations, an awe-inspiring main shrine building, and other highlights. Many people visit this shrine to pray for divine favors and acquire an amulet or other charms.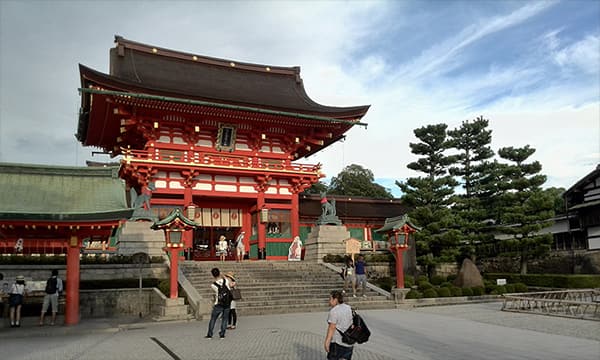 Although the shrine traces its history back to as early as 711, it grew in importance during the Edo Period (17th and 18th centuries). At this time Japan was a fairly peaceful nation with a prospering economy and the custom came about to extend the concept of "harvest" to business prosperity as well. Consequently, Inari shrines became the place for Japanese business owners and merchants to communicate their prayers for the success of their enterprises. At Fushimi Inari people started donating funds for the construction of torii gates along the paths from the main shrine's buildings to the top of Mount Inari.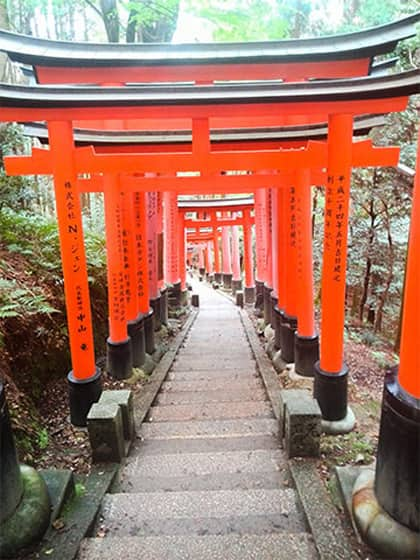 When you approach the shrine you may already feel awed, although you will have to duck away from some selfies as it is perhaps the most popular selfie-spot in Kyoto. Inari Shrine's true beauty, however, is hidden further in. Once you pass through the gate, the shrine's simplicity, spaciousness and beauty are a breathtaking relief from the crowd.
Along the side of the shrine you will easily spot the windows where shrine priests and maidens offer protection charms for all-kinds of situations, whether it is to protect you against sickness or help boost your career. I have always found it quite a sight to see children run up to the front of the shrine, grasping the ribbon attached to a bell to ring it as loudly as they can before they make their prayer.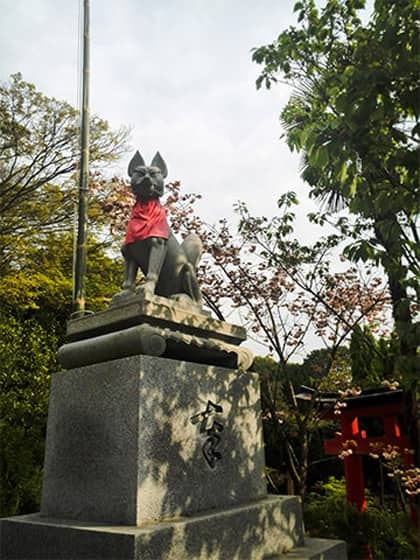 Another symbol of the shrine is the countless statues of foxes. Foxes are regarded as the messengers of Inari and the statues often hold a key in their mouths. This symbolizes the key to a rice granary, or a jewel, symbolizes the spirit of the gods. The majority of people at this point make a short round through the tunnels at the base of the mountain, which is perfectly fine if you are pressed in time. Personally though I love taking the road less travelled: a very rewarding two-hour hike to the top and around the mountain with amazing views over Kyoto. While hiking through the mountain's vast forests you truly feel as if you have left your busy daily life behind, allowing you to enjoy your natural surroundings and of course treat yourself on a delicious ice-cream during the return decent.
Location
| | |
| --- | --- |
| Name | Fushimi Inari Taisha |
| Address | 68 Fukakusa, Yabunouchicho, Fushimi-ku, Kyoto-shi, Kyoto-fu |
| Hours | Fushimi Inari Taisha is always open, and there are no closing days. |
| Price | Entrance to the shrine is free. |
| Web Sites | http://inari.jp/en/ |