Naruto Strait is located between Naruto City in Tokushima Prefecture and Awaji Island, and it is famous for its tidal whirlpools. There is a promenade above the ocean spanning across the strait that serves as a tourist attraction. It is accessible from near the Onaruto Bridge, which offers up-close views of the whirlpools. Shikoku's famed Naruto whirlpools can also be viewed from other nearby observation decks.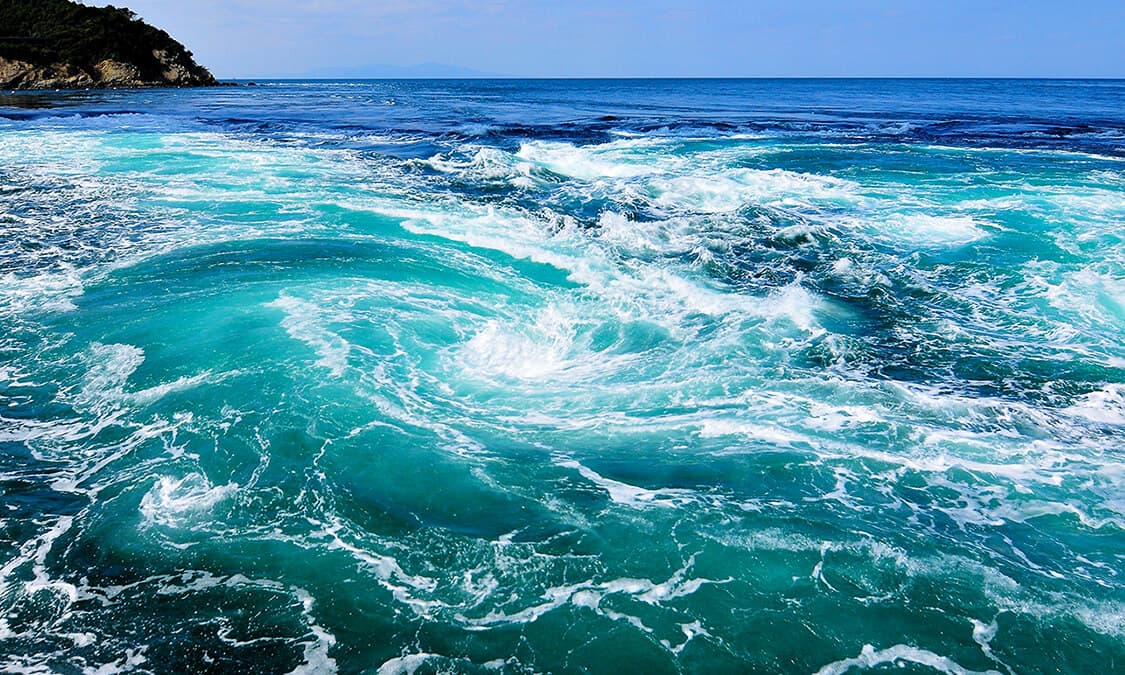 The Naruto Whirlpools are a natural phenomenon that occur as a result of the harsh tidal currents caused by the tidal variation between the Seto Inland Sea and the Kii Canal.
The whirlpools are their largest in spring and fall during spring tides, reaching 20m in diameter. It is said that these whirlpools are the largest in the world.
The tidal current in the Naruto Strait stands alongside the Strait of Messina in Italy and the Seymour Narrows of Canada as one of the world's 3 greatest tidal currents. The tidal current is said to be the fastest in Japan, with its speed reaching over 20km/h during times of spring tides.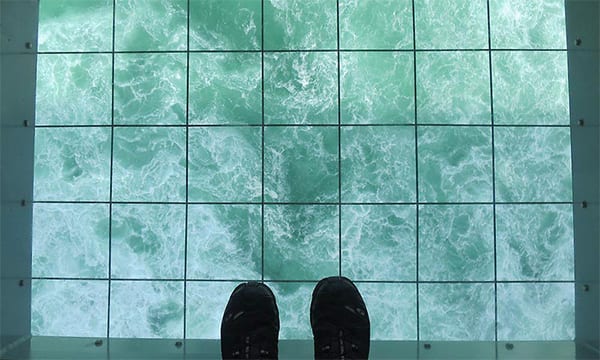 The beam of the Onaruto Bridge, which connects Shikoku to Honshu, is used as a 450m long tidal-viewing facility called Uzu no Michi. It has a promenade and a whirlpool viewing room.
You can look down at the Naruto Whirlpools from the glass window on the floor. The view from 45m above will take your breath away.
If you want to get an up-close view of the Naruto Whirlpools, you should get on a whirlpool sightseeing boat. Enjoy cruising on a boat that gets so close that you get sprayed by the whirlpools!
There is a high-speed boat that can reach the Naruto Strait in around 3 minutes and an underwater sightseeing boat that lets you see the whirlpools beneath the sea surface right up close.
The observatory is located in Naruto Park and visitors can view the whirlpools from different vantage points. Nearby attractions include the Onaruto Bridge Museum Eddy, Otsuka Museum of Art, and Ryozenji Temple, the first temple of Shikoku's 88 Temple pilgrimage sites.
Location
Name
Naruto Bridge Promenade "Uzu no Michi"
Website
https://www.uzunomichi.jp/lang_en/
Address
Naruto Koen, Naruto-cho, Naruto-shi, Tokushima
Access
Approximately 30 minutes by car from Tokushima Awaodori Airport
From JR Naruto Station, take the Naruto City Bus bound for Naruto-koen and get off at Naruto Koen. From there, walk approximately 5 minutes.
From JR Tokushima Station, take the Tokushima Bus bound for Naruto-koen and get off at Naruto Koen. From there, walk approximately 5 minutes.
Approximately 10 minutes by car from Naruto-kita IC, Kobe-Awaji-Naruto Expressway
Business Hours
Summer (March to September): 9:00 to 18:00
Golden Week and summer holidays: 8:00 to 19:00
Winter (October to February): 9:00 to 17:00
Last admission is 30 minutes before closing time
Closed
Second Monday (March, June, September, and December)
Inquiries
TEL: 088-683-6262 (Uzu no Michi)
Admission
Adult: 510 yen; Middle/high school students: 410 yen; Elementary school students: 260 yen