Mount Nokogiri Nihon-ji Temple
Visit the giant Buddha statue at Nihon-ji Temple while hiking on Mount Nokogiri
Nihon-ji Temple was established in 724 by the high priest Gyoki under the order of Emperor Shomu as one of the Kanto region's oldest Chokugansho, a temple or shrine created by order of the emperor as a place to pray for peace and security of the nation. The temple grounds lay on the southern slope of Mount Nokogiri, and contain various attractions including the largest stone Buddha statue in Japan, the Sengohyaku Rakan (1,500 small Buddha sculptures) and the thrilling lookout spot Jigoku Nozoki. In addition, the northern side of the mountain is structured with a great hiking trail.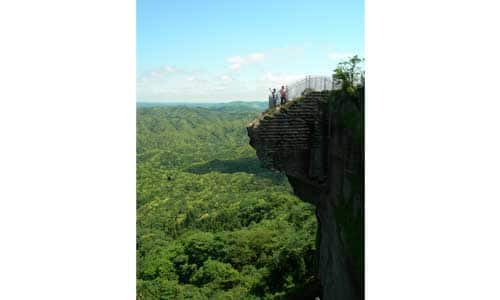 Attractions at the top of Mount Nokogiri
Mount Nokogiri, meaning "sawtooth" in Japanese, is true to its name as sharp rocks line its surface. On this mountainside lies the 33-square-meter temple grounds of Nihon-ji Temple with its various amazing viewing spots, such as the Jigoku Nozoki and Hyaku-shaku Kannon at the mountain top. The Jigoku Nozoki, or "hell lookout," offers a 360-degree panorama of the Boso Peninsula and as far out as the Miura Peninsula and Tokyo Bay on a clear day. However, to reach there you must walk out onto the tip of a vertical cliff which gives a thrilling feeling of looking down at hell. The Hyaku-shaku Kannon is a 30-meter-tall relief of the Buddhist goddess of mercy, which was carved on the remains of a stone quarry over a period of six years. The Kannon is revered as the protector of marine, air, and land transportation.
Sengohyaku Rakan (1,500 small Buddha sculptures)
On the temple pathway in the middle of Mount Nokogiri, there is the Sengohyaku Rakan, where 1,553 stone Buddha sculptures rest in a cave on the rock surface. Each one unique in visage, the statues were created as a lifelong work by master artisan Ono Jingoro and his 27 apprentices over 21 years from 1779.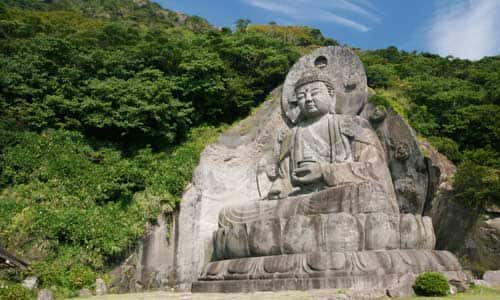 Largest Buddha Statue in Japan
Rebuilt in 1969, the massive Buddha statue is carved from a monolith and stands 31.05 meters tall, making it the country's largest Magaibutsu, or Buddhist statue carved on the rock. The formal name is Yakushi Ruriko Nyorai, commonly known as the Buddha to heal the people from diseases, and holds a medicine pot in the left hand. It is said that the original statue was a 27-meter-tall sculpture carved over three years in 1783 by Ono Jingoro and his 27 apprentices.
Location
Name
Mount Nokogiri Nihon-ji Temple
Website
(In Japanese) http://www.nihonji.jp/
Address
Nokogiriyama, Kyonan-machi, Awa-gun, Chiba
Access
Approximately 30 minutes' walk from Hota Station on the JR Uchibo Line
Take the ropeway from Hamakanaya Station on the JR Uchibo Line
Approximately 5 minutes' drive from the Kyonan-Hota IC on the Futtsu-Tateyama Road
Approximately 5 minutes' drive from the Futtsu-Kanayama IC on the Futtsu-Tateyama Road
Business Hours
8:00 to 17:00
Closed
Open all year round
Inquiries
TEL: 0470-55-1103 (Mount Nokogiri Nihon-ji Temple)
Admission
Adults: 600 yen; Children: 400 yen