"Tastes of JAPAN by ANA" is a regional vitalization project that collaborates with the different prefectures in Japan to present the Land of the Rising Sun in all of its diverse glory.
Visit the god of cooking at Takabe Shrine in Minamiboso, Chiba Prefecture
Takabe Shrine is a rare shrine dedicated to Iwakamutsukari-no-Mikoto (also known as Takabe-no-Kami), the god of cooking. Many members of the culinary industry as well as brewing companies for miso (fermented soybean paste) and soy sauce come to worship at the shrine. In May, October, and November of every year, the Hocho-shiki (kitchen knife ceremony) is held, reenacting the style of an imperial court ritual of the Heian Period (794-1185).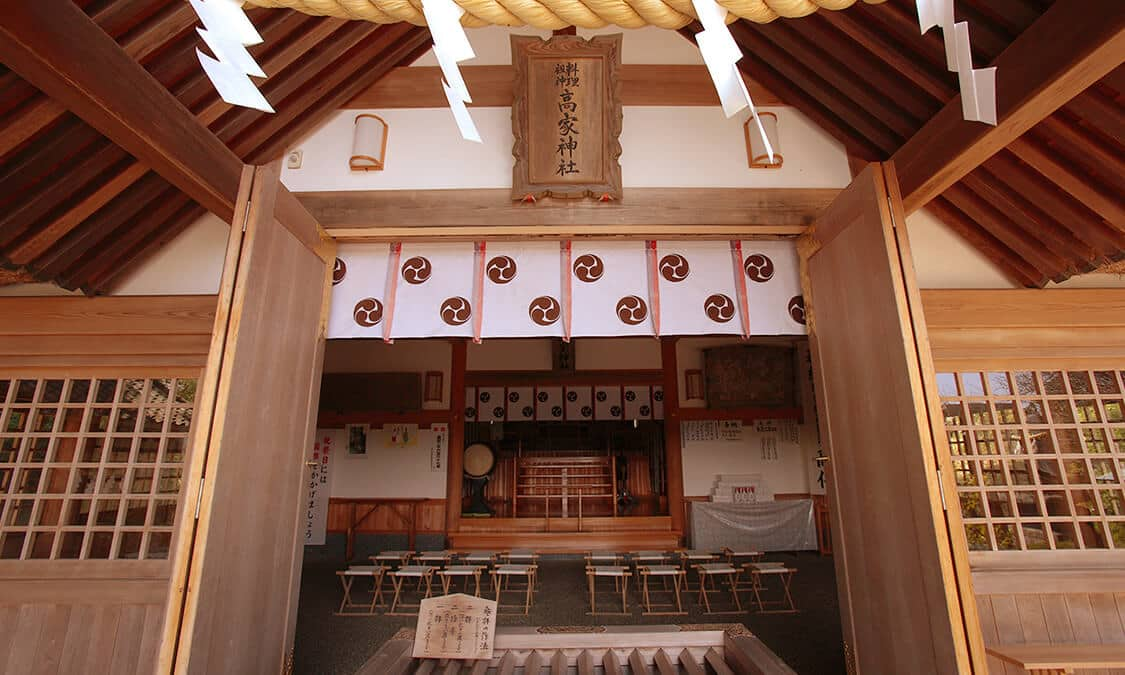 Iwakamutsukari-no-Mikoto, the god of cooking
Beyond the elegant, thatched-roof worship hall are the inner worship hall, prayer recital hall, and main hall, where Iwakamutsukari-no-Mikoto, the god of cooking, is enshrined. The deity has a long-standing history and is even mentioned in "Nihon Shoki," one of the oldest chronicles of Japanese history which were completed in 720. Legend has it that around 1,800 years ago, when the emperor visited the area, Iwakamutsukari-no-Mikoto prepared and offered him a dish of white clams. As the emperor was very impressed with the delicious cuisine, the successive descendants of Iwakamutsukari-no-Mikoto took on the role of Kashiwade (imperial court chef), making him the god of cooking.
Hocho-shiki, a 1,000-year-old kitchen knife ceremony
The Hocho-shiki is an imperial court ritual that has been held since the early Heian period. At Takabe Shrine, the ceremony is held in a solemn atmosphere while dressed in historical attire. Holding a ceremonial knife in the right hand and a mana chopstick in the left, food is prepared without ever being directly touched through graceful, unwasted motion, and expert skills. Every movement and cutting techniques have celebratory or optative meanings. The ceremony tells of the history and spirit of Japanese cuisine to the present day and is held on the premises of Takabe Shrine every year on May 17, October 17, and November 23.
Bring any culinary-related wish to Takabe Shrine
As a rare structure to enshrine a cooking deity, numerous members of the culinary industry as well as brewing companies for miso and soy sauce come from all over Japan to worship at Takabe Shrine. Any wish relating to cooking is welcome, starting with a prayer to become a good cook. Visitors can also purchase Takabe, the limited-edition, brewed soy sauce that is manufactured and offered to Takabe-no-Kami, who is also the guardian god of condiments.
Location
Name
Takabe Shrine
Website
http://www.tokyo-day-trip.jp/spots/spots-370
Address
164 Minamiasai, Chikura-cho, Minamiboso-shi, Chiba
Access
Approximately 30 minutes' drive from the Tomiura IC on the Futtsu-Tateyama Road
From Chikura Station on the JR Uchibo Line, take the Tateyama Nitto Bus bound for Shirahama and get off at Takabe Shrine Entrance bus stop, then walk approximately 10 minutes
Business Hours
8:00 to 17:00
Inquiries
TEL: 0470-44-5625