Park Golf Course in Hasunuma Seaside Park

Enjoy park golf by the sea
Chiba Prefectural Hasunuma Seaside Park, located at the center of Kujukuri Beach in Chiba Prefecture, houses a 36-hole park golf course recognized by the Nippon Park Golf Association. Park golf is a new type of golf that can be enjoyed by players of all ages, only requiring a large ball and one club and with short courses. The course in Hasunuma Seaside Park is authentic with bunkers and ponds, while it can be enjoyed by beginners as well.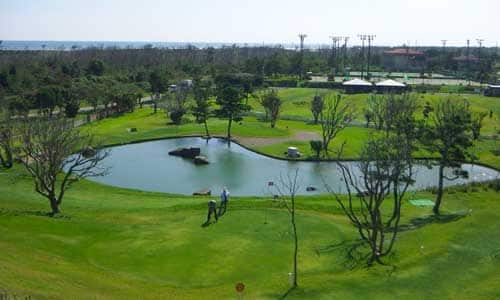 Enjoy playing in a spacious course full of nature
The 36-hole course takes about 2.5 hours to complete, each varied and rich in natural surroundings. These include the Nogiku Course with continuous long holes; the Kikyo Course, where you can get a full view of Kujukuri Beach from the observation deck after the outward four; the spacious holes in the Sunflower Course; and the Yamayuri Course with various tricky holes. Shoes and equipment are available for rental (charges apply), so you can come to enjoy the park golf course without hauling any clubs.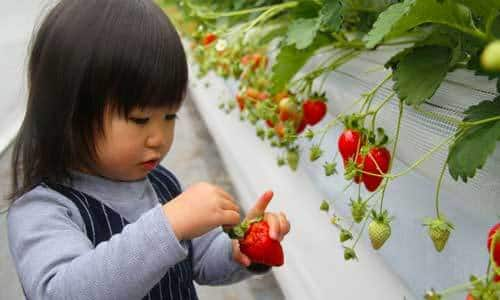 Strawberry picking from winter to spring
The area is dotted with about 30 strawberry farms open to tourists. Strawberry picking season starts from December to around the Golden Week holidays in May every year. Each farm grows strawberries of many varieties, including the large-sized CHI-BA+BERRY developed in Chiba Prefecture, so you can enjoy tasting and comparing them all. Since many of the farms are certified Eco-Farmers, which ensures minimum use of pesticides, you can feel safe in taking mouthfuls of the fully ripened strawberries just as they are.
Have fun at the pool and beach and playing park golf in the summer!
Next to the golf course is the Hasunuma Water Garden, one of Chiba Prefecture's largest pools, with 16 different pools including the Toddler Kids Area and the thrilling Splash Shaker. The garden is adjacent to Tonoshita Beach, so you can go to both the beach and pool during the open beach season. In the summer, you can enjoy park golf as well. For overnight stays, the Hasunuma Garden Hotel Marino located in the park is highly recommended.
Location
Name
Park Golf Course in Hasunuma Seaside Park
Website
(In Japanese) http://golf.hasunuma.co.jp/
Address
203 Hasunumaho, Sanmu-shi, Chiba
Access
Approximately 15 minutes' drive from the Matsuo Yokoshiba IC on the Ken-o Expressway
Business Hours
8:00 to 16:00
Closed
Open all year round (May close due to weather conditions.)
Inquiries
TEL: 0475-78-3555
Admission
Adults
One day: 1,500 yen; Half day: 1,000 yen
Elementary and junior high school students
One day: 900 yen; Half day: 600 yen