Beautiful "Shima Blue" lake and hot spring for beautiful skin
Shima Onsen is a hot spring resort in the northwestern part of Gunma Prefecture, surrounded by rich nature and with a traditional onsen atmosphere. It is said to be named after the legend of a sacred hot spring that cures 40,000 ("Yonman," which can also be read as "Shima" when written in Chinese characters) diseases, and as the name suggests, the waters have healed many people. Many unique experiences await, such as amazing views, the quaint townscape and a variety of activities. Lake Okushima, known for its vivid blue color called "Shima Blue," is a must-see.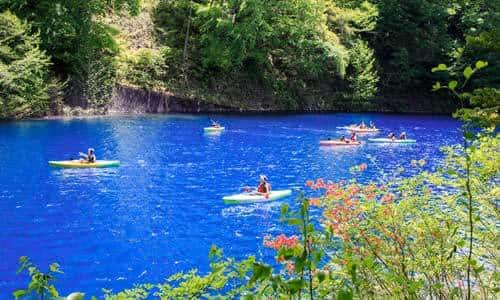 Canoeing in Lake Okushima
Enjoy the stunningly beautiful contrast of the blue lake surface, which changes color by the season and weather, and the fresh greenery and fall leaves. You can even venture out on the Shima Blue water and enjoy the superb view floating on a canoe. The lake perimeter is about four kilometers, a good distance for canoe beginners as well. Observe the clear blue water and the fallen leaves floating in the water right up close, and relax as you listen to the splashing sounds of paddles and chirping birds.
The main street of Shima Onsen, Ochiai Dori is a shopping area where you can enjoy the nostalgic atmosphere of the Showa era (1926-1989). Explore around and look at the old-fashioned signboards and buildings. If you get tired, take a snack break with delicious sweets or onsen manju (hot spring bean-jam buns). Another place of nostalgia is the game arcade, where you can play Smart Ball, a Japanese ball game similar to pinball, which attracts fans from all over the country.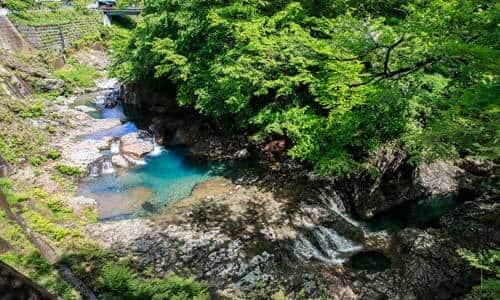 Oketsu are a series of huge holes at the bottom of the Shima River. These round holes were made from eroding bedrocks over a long period of time, in which water flowed into cracks and hollows in the riverbeds, and stones and sands circulated in a spiral. There are eight Oketsu holes in varying sizes in the Shima River that range from several tens of centimeters to three meters in diameter. Known as a massive sculpture created by nature, Oketsu have been designated as a natural monument of Gunma Prefecture.
Location
Name
Shima Onsen
Website
https://www.visitgunma.jp/en/sightseeing/detail.php?sightseeing_id=37
Address
4379 Shima, Nakanojo-machi, Agatsuma-gun, Gunma
Access
From Nakanojo Station on the JR Agatsuma Line, take the Kan-etsu Transportation Bus Shima Onsen Line for approximatey 40 minutes
Business Hours
8:30 to 17:15 (Shima Onsen Association)
Shortened hours during year-end and New Year's holidays
Closed
Open all year round
Inquiries
TEL: 0279-64-2321 (Shima Onsen Association)