JAXA Tsukuba Space Center

"Tastes of JAPAN by ANA" is a regional vitalization project that collaborates with the different prefectures in Japan to present the Land of the Rising Sun in all of its diverse glory.
Experience being an astronaut at the science city of Tsukuba, home of JAXA Tsukuba Space Center, Japan's center of space development
Tsukuba Science City is Japan's largest science city with over 20,000 scientists. Here, the Japan Aerospace Exploration Agency (JAXA) has a cutting-edge technology facility which is at the center of Japan's space development. The facility is also a great spot for visitors to discover the latest space test equipment, exhibits, and space foods to feel like a real astronaut.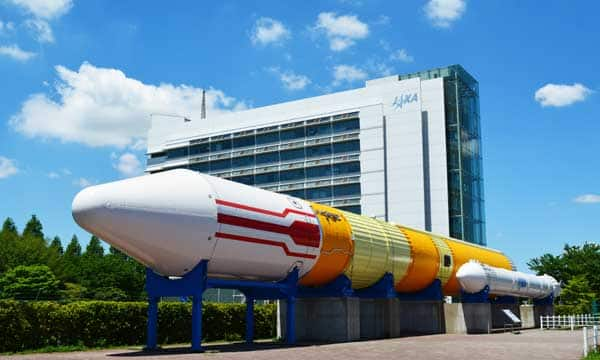 A real 50-meter rocket welcomes you
At the Rocket Square located right at the entrance of the main gate of the Tsukuba Space Center, visitors are welcomed by the real H-II Launch Vehicle. It is a genuine rocket that was used in the actual development trial and is a perfect spot to take a photo. This impressive welcome will surely excite not only space fans but also both adults and children. Keep going further to the Space Dome, and let the journey begin.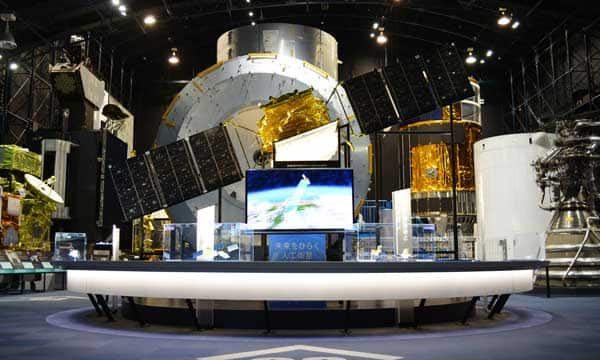 Observe JAXA's space expeditions in the Space Dome
In the Space Dome, JAXA's progress and efforts that have continued to lead Japan's space development, as well as information on space developments currently conducted by JAXA are displayed in an easy-to-understand manner. There is also a range of exhibits such as a beautiful one-millionth scale model of the Earth, a full-scale model of the asteroid explorer Hayabusa 2 and various artificial satellites developed in the past, sure to excite both children and adults alike. The adjacent Planet Cube introduces the latest topics and news as well as holds various special events.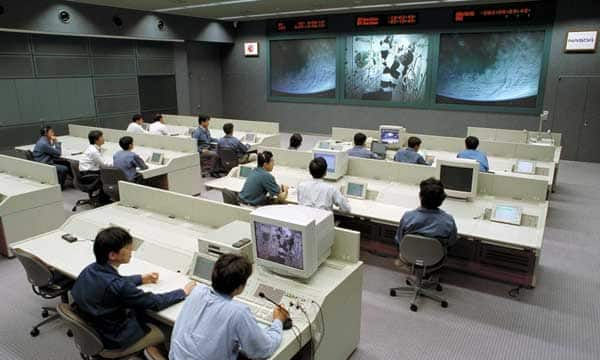 Visitors can participate in a guided tour of astronaut basic training, the operation and control room of the space station Kibo and a video introduction to the Tsukuba Space Center (fees apply). Participants can also enter the actual machine astronauts use in training, actual control rooms in operation and full-scale inboard laboratory. In addition, you can listen to the booming noise of the launch of the space shuttle that was recorded at the rocket range in Tanegashima, and experience the rumbling launching sound of the rocket with your own ears and body.
Location
Name
JAXA Tsukuba Space Center
Web Sites
https://english.ibarakiguide.jp/kanko-spot/jaxa
Address
2-1-1 Sengen, Tsukuba-shi, Ibaraki
Access
Approximately 25 minutes' bus ride from Arakawaoki Station on the JR Joban Line
Approximately 10 minutes' bus ride from Tsukuba Station on the Tsukuba Express Line
Approximately 10 minutes' drive from the Sakura Tsuchiura IC on the Joban Expressway
Approximately 10 minutes' drive from the Tsukuba Chuo IC on the Ken-O Expressway
Approximately 65 minutes' bus ride from Yaesu South Exit of Tokyo Station
Business Hours
Space Dome: 9:30 to 17:00 *1
Guided Tours: Held 4 times a day starting at 10:00, 11:30, 13:30 and 15:00 *2
*1 No reservations required.
*2 Advance reservations required. Duration of approximately 70 minutes. Please see the website for details.
Closed
Mondays (irregular), facility maintenance days, year-end and New Year's holidays (December 29 to January 3)
Please see the website for details.
Inquiries
TEL: 029-868-2023
Admission
Adults (18 years old and above excluding high school students): 500 yen; High school students and under or 17 years old and under: free; Persons with disability certificate *3 and one attending person: free; Teachers leading an official school trip *4 for high school students or under: free
*3 Disability certificate (physical, rehabilitation, mental or atomic bomb) must be presented at reception.
*4 Valid ID must be presented at reception.