A destination for faith and leisure for commoners of Edo period
It used to be believed that Mount Oyama, a 1,252-meter-high beautiful mountain rich in nature, history, and culture, would be able to bring on the rains so it attracted a large number of believers. With this worship, the Oyama Pilgrimage became a popular religious activity as well as a leisure activity for many during the Edo period (1603-1868). One of the highlights of the mountain is an amazing panoramic view from Afuri Shrine, which is featured in The Michelin Green Guide Japan as a two-star tourist spot.
Mount Oyama, a museum-like destination where you can experience the religious culture of the Edo period
During the Edo period, the pilgrimage to Oyama was one of the few chances for commoners to escape the routine of their daily life because they were prohibited from going on leisure trips. So they fully appreciated this rare opportunity and made this religious event more of a fun sightseeing trip. This was depicted in some ukiyo-e paintings, one of which named "Oyama-mairi" (Oyama Pilgrimage) was designated as a Japan Heritage. Along the paths to the mountain, there are still monuments as signposts for the old Oyama Road. When you near Oyama-dera Temple and Afuri Shrine, you will be surrounded by an atmosphere of olden days, which may make you feel that you have time-traveled for a moment. If you want to experience this "pilgrimage" as the people of the time did, try out mouth-watering tofu dishes and buy locally made spinning tops as souvenirs for a real historical and cultural experience.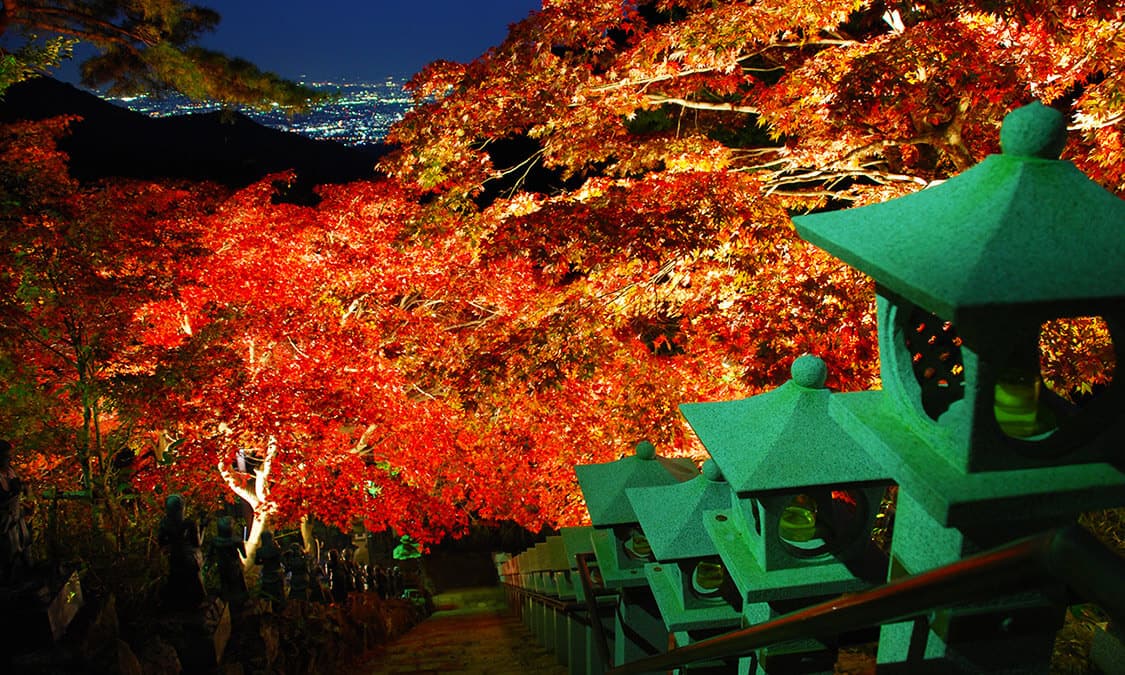 Aburi-san Oyama-dera Temple, known for its beautiful autumn colors
Mount Oyama changes its vista all year round, showcasing beautiful and interesting features according to the season. In fall, especially, when you walk up the Onna-zaka hill from the Koma-sando approach lined with many traditional cafes, you will be welcomed by amazing colorful leaves hanging over the long stone steps that lead to the main hall of the temple. During this season, the cable car runs at night to allow visitors, even those who are not confident in hiking at night, to enjoy mystical, illuminated autumnal colors in this area. Another attraction here is a spectacular panoramic view from Afuri Shrine, which is featured in The Michelin Green Guide Japan as a two-star tourist spot. Winter is the best season to visit as the air is clearer.
In Isehara City, there are a number of temples with interesting historical and cultural backgrounds, one of which is Hojo-bo (Hinata Yakushi) known as one of the three greatest Yakushi deity temples in Japan. This temple includes a number of National Important Cultural Properties, such as Buddha statues and the main hall, whose major renovation was completed in 2016, approximately 270 years after the previous one. Its beautiful thatched roof is a must-see.
Location
| | |
| --- | --- |
| Name | Mount Oyama |
| Web Sites | (In Japanese) http://www.city.isehara.kanagawa.jp/bunkazai/ |
| Address | Oyama, Isehara-shi, Kanagawa |
| Access | Approximately 30 minutes' bus ride from Isehara Station on the Odakyu Railway Odawara Line |
| Inquiries | TEL: 0463-94-4729 (Commerce, Industry and Tourism Division, Isehara City Hall) |