Historical buildings and seasonal beauty exist in harmony in an expansive Japanese garden
Sankeien is a Japanese-style garden that was created by Sankei Hara (1868-1939), a businessman who was engaged in the production and trading of raw silk that laid the foundation for the development of Yokohama in Kanagawa Prefecture. The 175,000-square-meter site is dotted with 17 valuable historical buildings, including 10 important cultural properties relocated from around Japan such as Kyoto and Kamakura, creating stunning scenery from season to season that harmonizes with nature.
Important Cultural Property: Rinshunkaku
Sankeien consists of two gardens: the Outer Garden that was opened to the public in 1906 and the Inner Garden that Sankei Hara enjoyed as his private garden. The vast openness of the Outer Garden, where you can gaze at seasonal blossoms and trees against the hilltop three-story pagoda relocated from the former Tomyo-ji Temple of Kyoto, contrasts with the exquisite scenery of the Inner Garden characterized by historical structures. In particular, Rinshunkaku said to have been built as a villa of the Kishu Tokugawa clan in the early Edo period around the mid-17th century, is a valuable architecture that represents Sankeien together with the three-story pagoda.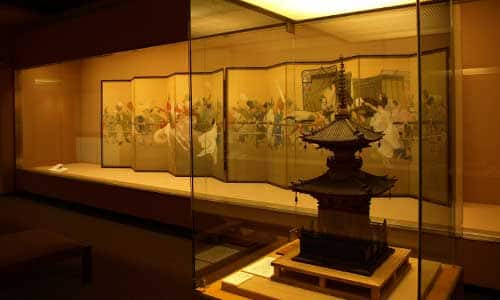 Along with engaging in silk reeling and raw silk trade, Sankei Hara used the wealth obtained through these businesses to greatly contribute to the protection and cultivation of Japanese culture and art by constructing and opening Sankeien, collecting antiquities and supporting young artists. Sankei Memorial was founded to exhibit his achievements and related materials and artworks, designed by architect Hiroshi Ohe (1913-1989) and built in 1989. The facility includes a museum shop and a tea ceremony room, Bototei, where you can experience an authentic tea ceremony casually sitting on chairs at tables.

Important Cultural Property: Former Yanohara Family Residence
The gassho-zukuri (thatched roof house) building, relocated from Hida Shirakawago in Gifu Prefecture, is said to have been built in the late Edo period in the early 19th century. Although it is a farmhouse, the building is equipped with a lavish guest space including a Shikidai-genkan (step in the entranceway) and traditional Shoin-zukuri style reception room, and with Katomado windows which are often used in Buddhist temples, showing the high formality of the Yanohara family, one of the three richest families of Hida. It is among the largest gassho-zukuri houses in existence today. In addition to displays of everyday household items used in the Hida region, fire is lit in the irori (a fireplace in the middle of the living room floor) every day, as the blackened pillars and smell of smoke remind us of ancient times.
Location
| | |
| --- | --- |
| Name | Sankeien Garden |
| Website | https://www.sankeien.or.jp/en-about/index.html |
| Address | 58-1 Honmokusannotani, Naka-ku, Yokohama-shi, Kanagawa |
| Access | From JR Negishi Station, take the bus for approximately 10 minutes and get off at Honmoku bus stop, then walk for approximately 10 minutes |
| Business Hours | 9:00 to 17:00 (Last admission: 30 minutes before closing time) |
| Closed | December 29 to 31 |
| Inquiries | TEL: 045-621-0634 |
| Admission | Adults (high school students and over): 700 yen; Children (elementary and junior high school students): 200 yen |