Nakaoyama Pottery Village

Nakaoyama Pottery Village in Hasami, with its nostalgic back alleyways
Hasami is known as a pottery town, and the area of Nakaoyama has a particularly high concentration of potteries. The village features many nostalgic scenes of yesteryear, including one of the world's largest climbing kilns, which made mass production of ceramics possible in the Edo Period (1603 - 1868), brick chimneystacks, and back alleyways. Experience first-hand the history of this pottery village as you tour its potteries and explore its alleyways.
Every year, the town comes to life with the Cherry Blossom Festival in April and the Autumn Porcelain Tour in late October. The potteries open their doors to the public, walking rallies are held, and potteries sell their wares directly to the public. This kind of festival, in which makers and users can enjoy interacting with each other, is unique to production regions.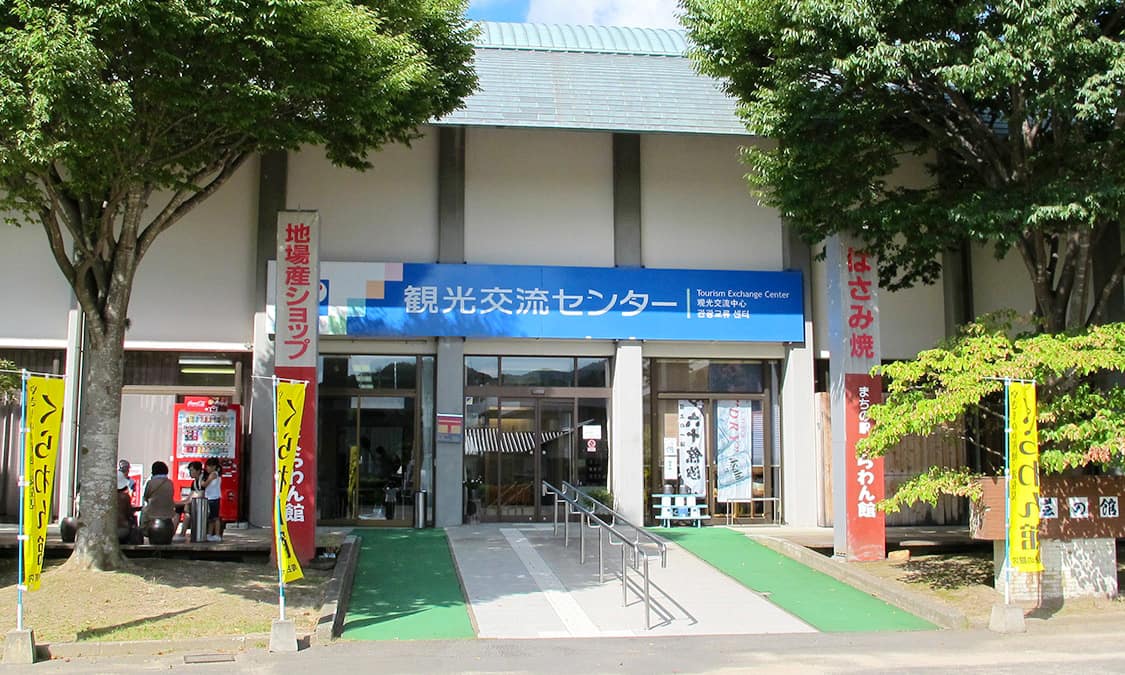 Hasami Hall of Ceramics, a tourism center with a museum of Hasami ware and a shop
Hasami Hall of Ceramics, located in a corner of Yakimono Park, features exhibits on the 400-year history and traditions of Hasami ware and the skills of its masters, as well as displays contemporary products. The 1st floor offers painting and pottery-wheel experiences, as well as shopping. The museum on the 2nd floor features a wide range of exhibits, including historical artifacts of traditional Hasami ware such as Kurawanka bowls and Kompra porcelain bottles, displays outlining the Hasami ware production processes, and works created by certified traditional artisans.
The realistic facial expressions and talk of the porcelain-painting robot, as well as the ability to purchase pieces that take one's fancy at rock-bottom prices, make this a popular destination for tourists. Every year during the Golden Week string of public holidays in late April/early May,the Hasami Porcelain Festival is held in the adjacent Yakimono Park, attracting large numbers of visitors.
World's Kiln Plaza, an open-air museum with replicas of 12 pottery kilns from around the world
World's Kiln Plaza, located on a hill in Hasami Yakimono Park, features replicas of 12 rare kilns from around the world. The oldest of these, the "open kiln", is situated at the top of the hill. Kilns from East Asia, including China, the Korean peninsula, and Japan, are placed along the eastern slope, and Middle Eastern and European kilns, including one from Britain, are placed on the southern slope, ranging from the oldest to newest as you descend the hill. Visitors to Yakimono Park can see and learn about the history and techniques of the world's kilns. Firings using the kilns during special events also attracts many tourists. Along with the Hall of Ceramics next door, Yakimono Park is one of Hasami's premier tourist destinations.
Location
Name
Nakaoyama Pottery Village
Web Sites
(In Japanese) https://www.nagasaki-tabinet.com/guide/60335/
Address
157 Nakaogo, Hasami-cho, Higashisonogi-gun, Nagasaki
Access
10 min. by car from Hasami-Arita Interchange
20 min. by car from Ureshino Interchange
25 min. by car from JR Kawatana Station
Inquiries
TEL:0956-85-2273 (Nakaoyama Exchange Center)