Chichibu Geo Gravity Park

"Tastes of JAPAN by ANA" is a regional vitalization project that collaborates with the different prefectures in Japan to present the Land of the Rising Sun in all of its diverse glory.
Enjoy the thrill and amazing views over the canyon
Chichibu Geo Gravity Park is one of the area's newest and most exciting spots, with a host of thrilling activities on the suspended bridge over the Arakawa River canyon. Embark on a fun-filled adventure in the great outdoors of Chichibu.
Canyon Walk is a gripping walk across a 54-meter-high bridge suspended only with four wires. Safety is guaranteed with a dedicated harness so you are connected to the wire at all times, and the bridge is structured adhering to maximum safety standards with minimal design. While the views from the bridge are amazing, those with fear of heights may want to steer clear, since the activity involves walking across a 100-meter-long bridge that has large gaps and sways both vertically and horizontally.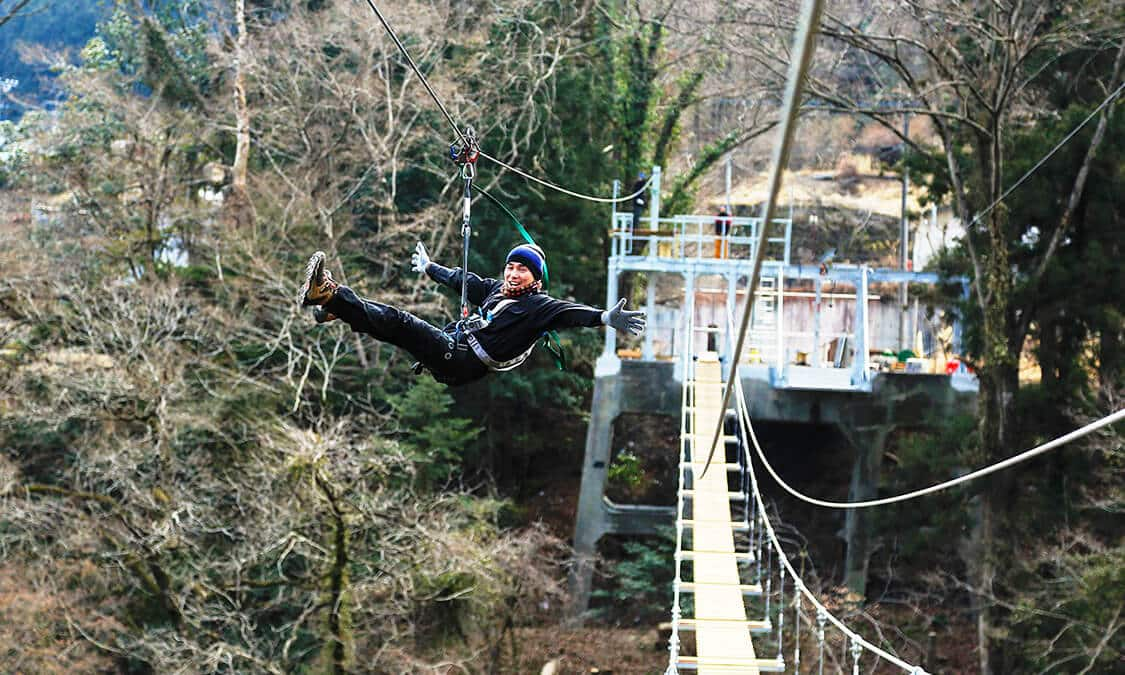 Fly through the air on a zipline across the scenic canyon of the Arakawa River. Enjoy the speed and exhilaration as well as the great natural environment, maybe even flying alongside Black Kite birds as they soar on the canyon air stream. Once you take off, there is no way to stop, and the ride will be finished so fast you won't even have time to be scared.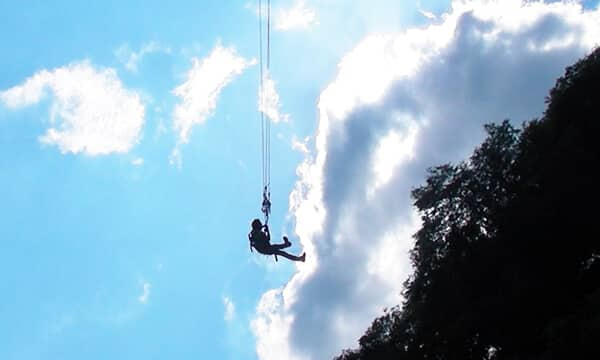 A newcomer activity in Japan and recommended for advanced users, the Canyon Swing involves a 57-meter vertical drop and swinging from there, considered to be a variation of bungee jumping. The giant swing at Chichibu Geo Gravity Park zooms through approximately 155 meters at extreme speed, and can even be ridden in tandem. Will the 155-meter ride be terror or pleasure? You will need to experience it to find out.
Location
| | |
| --- | --- |
| Name | Chichibu Geo Gravity Park |
| Web Sites | https://gravitypark.jp/ |
| Address | Arakawa-Niegawa, Chichibu-shi, Saitama |
| Access | Approximately 10 minutes' walk from Mitsumineguchi Station on the Chichibu Railway |
| Business Hours | 10:00 to 17:00 (Last admission: 16:00) |
| Closed | Open every day during the summer. Please see the website for details. |
| Inquiries | TEL: 050-5305-6176 |
| Admission | Differs depending on activity |