Pray for good relationships at a historical shrine which dates back 1,500 years
Located in the city of Kawagoe in Saitama Prefecture, Kawagoe Hikawa Shrine is known to bring good luck in relationships (enmusubi) and happiness in the family. Believed to have been established around 1,500 years ago, it enshrines two couples of husband and wife deities, as well as Oonamuchinomikoto, another god of relationships from the famous Izumo Taisha Shrine.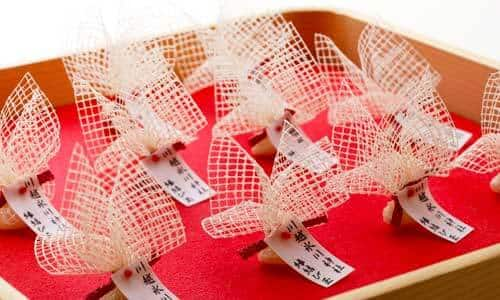 Enmusubi-dama talisman for bringing luck in relationships
An old legend of Kawagoe Hikawa Shrine says that if you take home round pebble from the shrine and treasure it, you would be blessed with a good match. Each day, the Enmusubi-dama talisman is created by a Miko (shrine maiden), who cleanses herself, picks up each pebble in front of the main shrine building, wraps them in linen nets and offers them to the gods. These talismans are gifted to visitors free of charge every morning from 8 a.m., limited to 20 talismans per day. If the Enmusubi-dama helps to bring you a special someone, come back to the shrine together to return the Enmusubi-dama, and you will receive another very special talisman.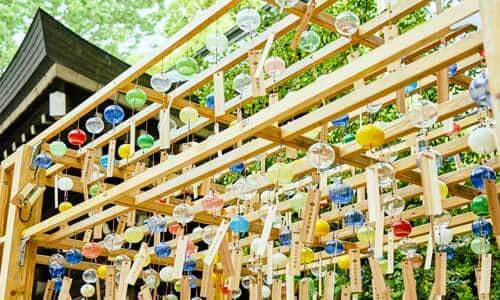 Summer festival of enmusubi wind chimes
Japanese summer wind chimes, called fuurin, have been believed to carry people's thoughts in the wind with sound. During the summer, Kawagoe Hikawa Shrine is filled with the cooling chimes of over 2,000 colorful Edo-style fuurin hung all around the shrine grounds. The chorus of tinkles is said to be the sound of numerous wishes being carried away by the wind. The summer tradition of Kawagoe is quite photogenic, displaying translucent beauty during the day and mystical glimmers at nighttime.
After an exciting festival, take a break at the Musubi Café
Located on the first floor of the Hikawa Kaikan building next to the shrine, Musubi Café is a stylish cafe designed with a white wooden interior that offers various menus in the "good matchmaking" theme. Choose from around 10 cakes, including seasonal sweets and those made from Kawagoe-produced sweet potatoes and matcha green tea, as well as light meals with creative, auspicious names. In addition, you can purchase unique souvenirs such as pottery ware made by local artists and other goods pertaining to creating relationships.
Location
Name
Kawagoe Hikawa Shrine
Website
https://www.pref.saitama.lg.jp/chokotabi-saitama/eng/spot/sp69.html
Address
2-11-3 Miyashita-machi, Kawagoe-shi, Saitama
Access
From Kawagoe Station, take the Tobu Bus in the direction of Saitama Medical University/Ageo Station West Exit/Hirakata/Kawagoe Sports Park, get off at the Kawagoe Hikawa Shrine bus stop, then walk approximately 1 minute
From Kawagoe Sation, take the Tobu Bus in the direction of Shinmeicho-shako/Josai High School, get off at Kita-machi bus stop, then walk approximately 5 minutes
From Kawagoe Station, take the Koedo Kawagoe Loop Bus, get off at Kawagoe Hikawa Shrine bus stop, then walk approximately 1 minute
Business Hours
8:00 to 18:00
Kito ritual registration hours: 9:00 to 17:00
Closed
None
Inquiries
TEL: 049-224-0589