"Connecting everyone's smiles with soy sauce" in a factory tour and soy sauce brewery restaurant
Kinbue Soy Sauce Park, near Kawagoe, Saitama Prefecture, is a soy sauce-themed interactive facility opened by Fueki Syoyu Brewing Co., Ltd, a long-established soy sauce manufacturer since 1789. Visitors of all ages can enjoy the four experiences of "eat," "learn," "buy" and "play" through Japan's traditional condiment.
Eat: Soy Sauce Brewery Restaurant
Take a step inside the Soy Sauce Brewery Restaurant, and become surrounded by the tasty fragrance of soy sauce. Try the specialty menu: homemade udon noodles with brewery-fresh soy sauce with a side of soy sauce malt, which comes with four dipping sauces of dark soy sauce, low-sodium soy sauce, red pepper soy sauce, and refermented raw soy sauce. For dessert, savor the exquisite combination of sweet and salty with dishes flavored using sweet soy sauce.
Learn: Kinbue Soy Sauce School
Enjoy learning about the production of soy sauce and fermentation through observing soybeans, wheat and koji molds, and checking the aroma of unrefined soy sauce. Using original textbooks, "students" can learn about soy sauce in the subjects of social studies, language, art, science, and home economics. (Conducted three times a day. Same-day registration welcome. Free of charge.)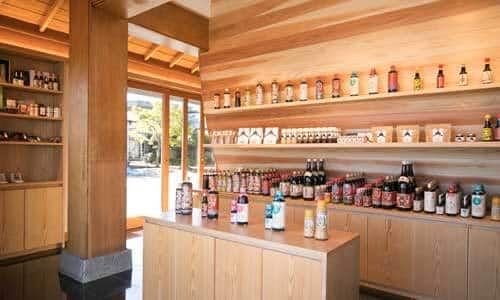 Buy: Kinbue Direct Sales Store
Kinbue Soy Sauce Park's direct sale store offers an array of new and limited products only available here, such as salad dressings, edible soy sauce koji mold, kits for cooking flavored rice and hand towels, in addition to the traditional soy sauce prepared in wooden barrels served at the restaurant and dashi soup stock. Also, there are sweets including soy sauce raisin sandwich cookies and soy sauce jelly. The novel, sweet yet salty taste is sure to be addictive and also make great souvenirs.
Location
Name
Kinbue Soy Sauce Park
Website
https://kinbue.jp/en
Address
660 Igusa, Kawajima-machi, Hiki-gun, Saitama
Access
Approximately 5 minutes' drive from the Kawajima IC or Sakado IC on the Ken-o Expressway
Business Hours
Shop: 10:00 to 17:00
Soy Sauce Brewery Restaurant: 11:30 to 17:00 (Closes when noodles are sold out)
Closed
Non-regular closing dates
Inquiries
TEL: 049-297-0041