Enjoy Japanese wisteria and a light-up at Ashikaga City's Ashikaga Flower Park
At the Ashikaga Flower Park in Ashikaga city, Tochigi Prefecture, is famous for the light up of Japanese wisteria flowers, and the "Garden of light flowers", which was selected one of Japan's best three illuminations. The night light up in a fantastic atmosphere is really amazing. Especially in the garden filled with flowers that bloom in all seasons, the "Miraculous Wisteria" that has seen over 150 springs is reminiscent of the "soul tree" in James Cameron's "Avatar" and was chosen by CNN as one of the "Top Ten Dream Tourist Destinations in the World (2014)".
The entire garden is illuminated in the "Garden of light flowers". It is certified as a Japanese night view heritage "Kanto Three Major Illuminations". Enjoy the flower, nature, and seasonal feeling themed illumination.
The symbolic tree "Miraculous Great Wisteria" is a story expressed with illuminations that bloom like a light lavender colored flower storm.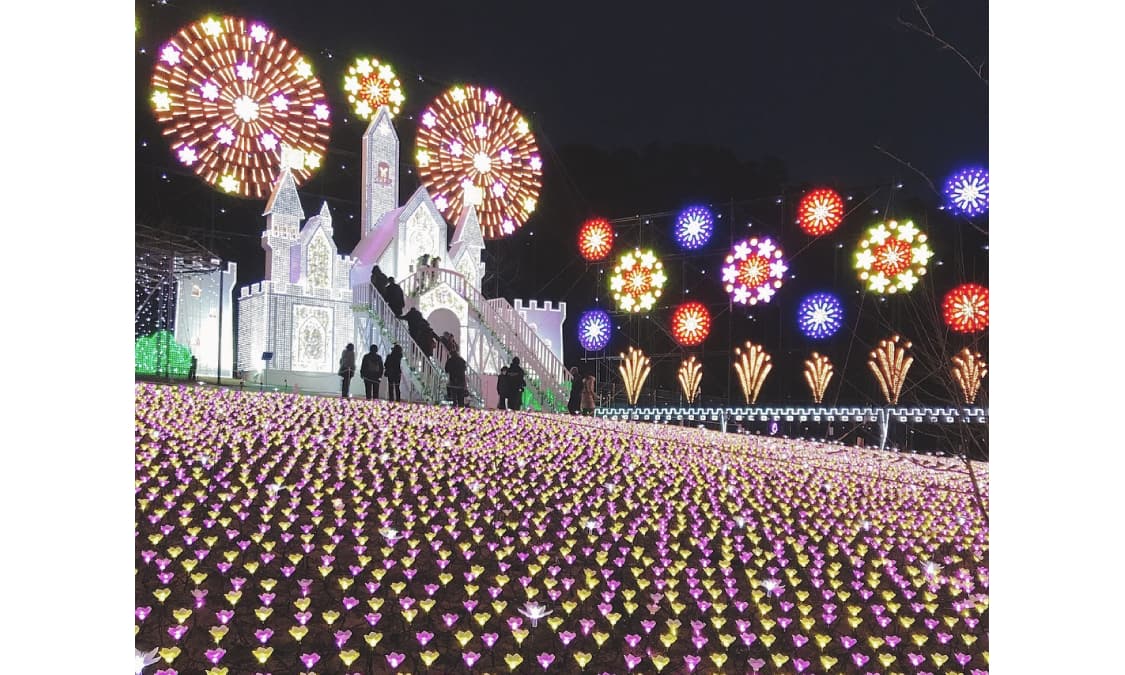 The Flower Castle is designed based on a vast flower garden and white tone is a beautiful sight along with music and flower fireworks in the background.
Not only can it be viewed from far away, but you can enter the Castle decorated with many flowers. Experience an intoxicating and magical place.
Wisteria is said to be an ancient Japanese flower tree, and the representative original Noda Wisteria's colored flowers of Light Red Wisteria, Purple Wisteria, Naga Wisteria, Yae Wisteria, White Wisteria and Kibana Wisteria bloom in order, so various colored wisteria flowers can be enjoyed for more than one month.
The 600 tatami three-sided wisteria trellis, an extremely rare Yae Wisteria trellis, garden tailored wisteria, a wisteria flower tunnel (White Wisteria, Kibana Wisteria) that continues more than 80m long, and a screen tailoring, night wisteria creating a watercolor effect in the pond, all create breathtakingly beautiful sites that are out of this world.
Location
Name
Ashikaga Flower Park
Web Sites
https://www.ashikaga.co.jp/english/
Address
607 Hasama-cho, Ashikaga-shi, Tochigi
Access
About 1 minutes' walk from Ashikaga Flower Park Station on the JR Ryomo Line.
Details are here
http://www.ashikaga.co.jp/english/access.html
Business Hours
Scheduled Holidays: 3rd Wednesday and Thursday in February, and December 31st. Opening hours vary according to the season.
"Flower Fantasy: Garden of light flowers" is from late October until early February.
Inquiries
TEL:0284-91-4939
Admission
May vary according to flower conditions