Mobility Theme Park featuring international circuits and nature activities
Widely known as the site of world-class races, Twin Ring Motegi is a theme park featuring motorsports as well as various outdoor activities taking advantage of the expansive natural environment. In addition to activities such as the three-dimensional labyrinth, obstacle courses, and zip line, visitors can stay at the hotel or even go glamping!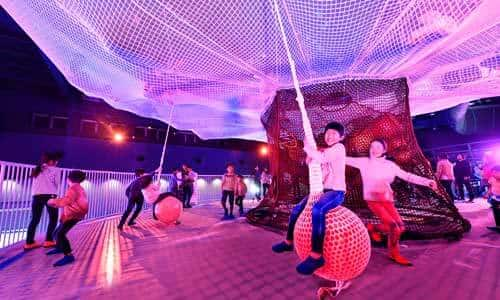 Giant Net Forest SUMIKA, the largest indoor net obstacle course in Japan
In a spacious facility strung with nets, various habitats of forest creatures are recreated using colorful lighting and intriguing sounds. Experience the beauty of the ever-changing forest from morning to night, throughout the year from spring to summer, fall and winter, imagining as if the forest creations are there with you. The nature-themed net obstacle course is the largest in Japan at approximately 1,000 square meters, where visitors of all ages can run around and play.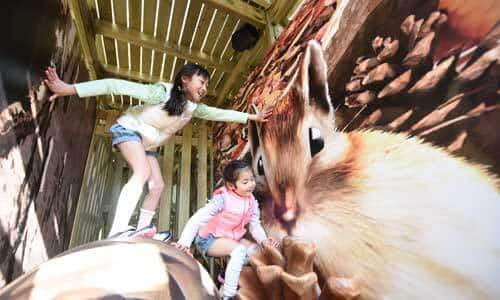 Forest Labyrinth ITADAKI takes you on a journey through the forest ecosystem
Experience and learn about the dynamic pyramid of the forest ecosystem in a five-story, three-dimensional maze. Explore the huge labyrinth tackling various traps and obstacles while climbing the stairs among the giant creations of animals, plants, and insects. As you go higher, you will be nearing the top tier of the forest ecosystem and conquering the ITADAKI ("top" in Japanese).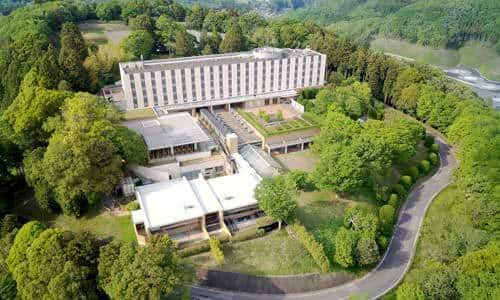 Hotel Twin Ring is directly operated by the mobility theme park Twin Ring Motegi, the site for a range of motorsports events including several world championships. After a day at the race or playing at the theme park, relax in style at the hotel on a hilltop overlooking the vast racing course.
Location
Name
Twin Ring Motegi
Website
https://www.twinring.jp/english/
Address
120-1 Hiyama, Motegi-machi, Haga-gun, Tochigi
Access
Approximately 20 minutes by bus (or approximately 20 minutes by taxi) from Motegi Station on the Mooka Railway
Approximately 90 minutes by bus (or approximately 60 minutes by taxi) from JR Utsunomiya Station
Approximately 90 minutes by bus (or approximately 60 minutes by taxi) from Mito Station on the JR Joban Line
Approximately 50 minutes' drive from the Mooka IC on the Kita Kanto Expressway
Approximately 40 minutes' drive from the Mito IC on the Joban Expressway
Business Hours
9:30 to 17:00 (Varies depending on season and day of the week)
Closed
None
Closed for facility maintenance on certain days in June and January. Closed Tuesdays and Wednesdays from December to February.
Inquiries
TEL: 0285-64-0001
Admission
Adults (junior high school students and over): 1,200 yen; Children (elementary school students): 600 yen; Toddlers (age 3 to preschool): 300 yen