Rafting on the Nikko Kinugawa River (NAOC)
Fully enjoy outdoor activities amid the abundant nature of Nikko Kinugawa
Located in Tochigi Prefecture, Nikko Kinugawa is renowned as one of Japan's premier hot spring resort areas. It is also steeped in abundant nature. In summer, you can go rafting to fully experience the rapids and breathtaking beauty of the canyons of the upper Kinugawa River or try canyoning for exciting dives into waterfall basins. In winter, Nikko Kinugawa offers an ample choice of activities that include snowshoeing for exploring in the powder snow of the low mountains deep within Nikko National Park. Entertaining and engaging guides will lead you while taking every safety measure.
Canyoning is an activity that involves journeying down a canyon following the flow of a river while savoring the surrounding nature. Originating in France, canyoning is a sport in which participants wear wetsuits and have fun inside canyons. This sport has enjoyed long-time popularity in Europe. Participants slide down natural water sliders crafted by the powers of water, diving into and swimming in giant natural pools or sometimes using the techniques of stream climbing and shower climbing to reach their goal. This river sport allows people to immerse themselves in nature while experiencing a myriad of thrills.
This 1-Day Adventure Tour offers rafting and canyoning for a half-day each to let you embrace the outdoors for the entire day. Canyoning enables participants to jump, climb, swim, slide and have fun in canyons with crystal-clear water, and rafting provides a wild and thrilling adventure of riding a boat over white waves. Both sports are highly popular and offer shrill enjoyment. During the lunch break, relax and unwind in a hammock and take a quick nap.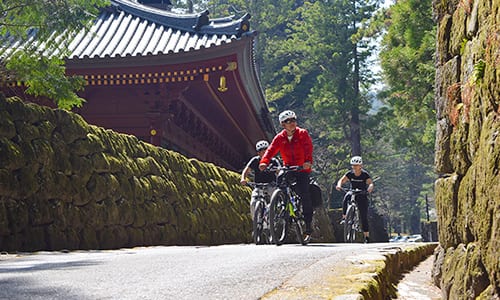 This cycling tour runs through little-known parts of Nikko not mentioned in guidebooks and features off-road and on-road courses that allow riders to feel and indulge in the changing seasons. The tour passes through the town of Nikko bustling with people as well as World Heritage sites. Then, as riders energetically pedal along an off-road course along the riverbed of the Daiyagawa River, an ancient road lined with cedar trees over 300 years old comes into view. The true pleasures of this tour are parking the bikes and stopping at a clear stream, lying down in a field and gazing at the sky and taking photos.
Location
Name
Rafting on the Nikko Kinugawa River (NAOC)
Website
(In Japanese) http://www.naoc-jp.com/
Address
871-2 Kinugawa Onsen Taki, Nikko-shi, Tochigi
Access
Approximately 40 minutes' drive from the Imaichi IC on the Nikko Utsunomiya Toll Road
Approximately 10 minutes' drive from Kinugawa-Onsen Station on the Tobu Kinugawa Line
Pick-up is available from the station. Reservations are required.
Free parking is available (around 50 spaces).
Business Hours
8:00 to 17:00
Closed
Irregular
Inquiries
TEL: 0288-70-1181