Enjoy Japanese sweet confections at Ginza's established shops
Ginza Chuo-dori Street may be most famous as Japan's premier shopping area with large-scale department stores and luxury brand boutiques, but did you know that it is also renowned for its sweet confections? Amid the international crowd of visitors, new shops are constantly opening, while many long-time establishments strive to this day to maintain their traditional flavors. Here, we introduce the finest confectionery shops of Ginza Chuo-dori, the birthplace of many of Japan's best-known sweets.
Birthplace of ice cream soda: Shiseido Parlour
Founded in 1902 as part of Shiseido Pharmacy in the Ginza Hacchome area, Shiseido Parlour became Japan's first soda fountain, offering soda water and ice cream, which was still a rarity at the time. Here was the birthplace of the "ice cream soda," still a popular menu representative of Shiseido Parlour to this day. Back in the day, the shop aimed to be as authentic as possible, importing everything from the machines to syrups and straws from the United States. Today, the authenticity is maintained in the flavor by making the ice cream based on the original recipe, and the classic lemon and orange sodas are fragranced by simmering the fruit peels.
Birthplace of Anmitsu: Ginza Wakamatsu
Ginza Wakamatsu on Ginza Chuo-dori Street is the birthplace of "Anmitsu," a traditional Japanese sweet dish. In 1930, when sweets were still limited, second-generation shopkeeper Hanjiro, who served Shiruko (sweet red bean soup) at the time, came up with the dish in response to requests for an even sweeter dessert by Kabuki and Takarazuka stage actors who were regulars at the shop. The red bean paste in the Anmitsu is made with generous amounts of sugar and steamed in a short period of time for a smooth and palatable texture. The ingredients are also selected with care, such as red beans from Tokachi (Hokkaido), red peas from Furano (Hokkaido), Kanten (agar) from Miyake Island (Tokyo), and brown sugar for the Kuromitsu syrup from Amami Oshima Island (Kagoshima). The dedication in pursuing the best taste is still alive at Ginza Wakamatsu today.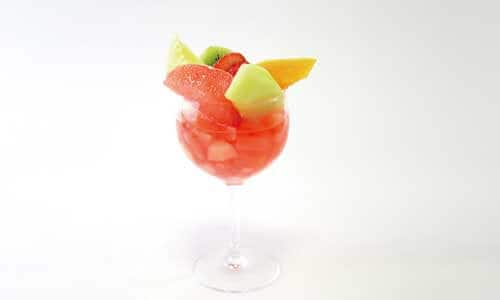 Birthplace of fruit punch: Ginza Sembikiya
Ginza Sembikiya, a long-established fruit shop near Ginza Chuo-dori Street, is the birthplace of Japan's first "fruit punch." In 1923, second-generation shop owner Yoshimasa Saito got his inspiration from the fruit punch cocktail, but actually flipped the idea to change the drink into a dish, with more fruit and less liquor. This became a big hit, helping to attract customers even during the winter when they would have usually been scarce. Ginza Sembikiya's fruit punch, made with seasonal fruits and red wine-based syrup, preserves the original delicious flavor to this day.
Location
Name
Ginza Chuo-dori Street
Website
https://www.centraltokyo-tourism.com/en/areas/ginza
Address
Areas around 3-6 Ginza, Chuo-ku, Tokyo
Access
Approximately 3 minutes' walk from Ginza Station (Tokyo Metro Ginza Line, Marunouchi Line, Hibiya Line)
Business Hours
9:00 to 21:00 (Tokyo Chuo City Tourist Information Center)
Closed
Open all year round *1
*1 Except when the entire building is closed (Tokyo Chuo City Tourist Information Center)
Inquiries
TEL: 03-6262-6481 (Tokyo Chuo City Tourist Information Center)