Isawa Onsen in Fuefuki, Japan's number one producer of peaches and grapes
Of the many hot spring resorts in Yamanashi Prefecture, Isawa Onsen is one of the largest with a plentiful supply of hot spring water offering numerous health benefits that attract visitors from all over Japan. The alkaline simple hot spring is said to improve neuralgia, bruises, and sensitivity to cold. It is gentle to the skin, so families of all ages can relax and enjoy a bath. In the spring, the Sakura Onsen Street lined with around 160 cherry blossom trees becomes flushed with pink, brightening the hot spring resort.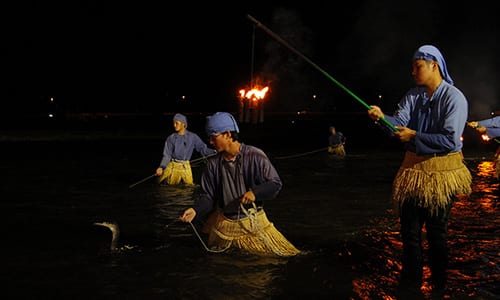 Isawa cormorant fishing in Fuefuki River
Cormorant fishing, or ukai, is a traditional Japanese fishing method using trained cormorants to catch fish. Cormorant fishing in Isawa is held during the summer from July to August. Using a rare method called Kachiu with a history of 800 years, the cormorant fisher controls one cormorant while walking in the river, rather than riding on a boat as in typical cormorant fishing. Another reason for Isawa's popularity is that out of 12 cormorant fishing grounds in Japan it is the only one where visitors can experience the traditional technique. After fishing, fireworks light the sky to further enhance the mood of the summer night.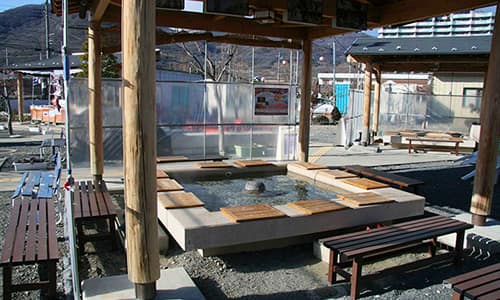 Isawa Onsen Footbath Square
A 10-minute walk from Isawa-Onsen Station, Isawa Onsen Footbath Square is located in the downtown area of the hot spring resort. Here, you can casually enjoy the three types of footbaths for 200 yen: healing hot spring, spiritual awakening hot spring and rejuvenation hot spring. (Please note only rejuvenation hot spring is available on weekdays.) The facilities are barrier-free and there is also a footbath accessible for wheelchair users to soak their feet in while sitting on a wheelchair (free for wheelchair users). Seasonal snacks and drinks are also available, making it a perfect spot to take a relaxing break while sightseeing.
Wine server at Isawa-Onsen Station
Yamanashi Prefecture is renowned as the wine kingdom of Japan, and numerous wineries are located around Isawa Onsen. The tourist information center of Isawa-Onsen Station has a wine server area where you can taste wines made from 16 representative grape varieties of Fuefuki City. Prices start from 200 yen per glass. Pick up a glass at the counter, choose your wine from a wide lineup and simply press a button to pour yourself a delicious glass of red, white or rosé. Find your favorite flavor from among the many bottles!
Location
Name
Isawa Onsen
Website
https://www.yamanashi-kankou.jp/foreign/english/english020.html
Address
Kawanakajima, Isawa-cho, Fuefuki-shi, Yamanashi
Access
Direct access from Isawa-Onsen Station on the JR Chuo Main Line
Approximately 10 minutes' drive from the Fuefuki Yatsushiro Smart IC on the Chuo Expressway
Approximately 15 minutes' drive from the Ichinomiya-Misaka IC on the Chuo Expressway
Inquiries
TEL: 055-261-2829 (Fuefuki City Tourism Industry Association)