Initiatives in all Non-Aircraft Flight Operations
ANA Group's Initiatives to Reduce CO2 Emissions
Reducing Energy Consumption
The ANA Group is working toward reducing our energy consumption at all Group facilities based on the Act on the Rational Use of Energy, using energy management standards developed within the Group. ANA, ANA Catering Service Co. Ltd., and ANA Foods Co., Ltd. – all Specified Business Operators under the Act on the Rational Use of Energy – achieved more than a 1% reduction in energy consumption per year, and received the Excellence in Energy Efficiency Award (S Class)* certification by the Ministry of Trade, Economy and Industry for the fourth consecutive year since this the Act on the Rational Use of Energy was established.
In addition to strengthening energy-saving measures at each business site, we are also introducing hybrid vehicles (HVs), electric vehicles (EVs), fuel cell vehicles (FCVs) such as airport vehicles, and energy-saving equipment one facility at a time.
Utilization of renewable energy
The ANA Group is promoting the use of renewable energy.
The ANA Group's General Training Center ANA Blue Base (ABB), ANA Tonomachi Business Center, and ANA Telemart's Nagasaki Branch Call Center all use solar power by installing solar panels. We are also promoting the use of renewable energy throughout the ANA Group, including our own facilities in Osaka and Kyushu.
ANA Group Energy Conservation Awards
ANA Group has set a goal of zero CO2 emissions by fiscal 2050 in areas other than aircraft operations and is working to reduce energy consumption at Group owned facilities and leased properties.
As part of these efforts, we recognize the efforts of business sites that have achieved greater reduction amounts or reduction rates than in the previous fiscal year with Energy Conservation Awards based on their actual energy use.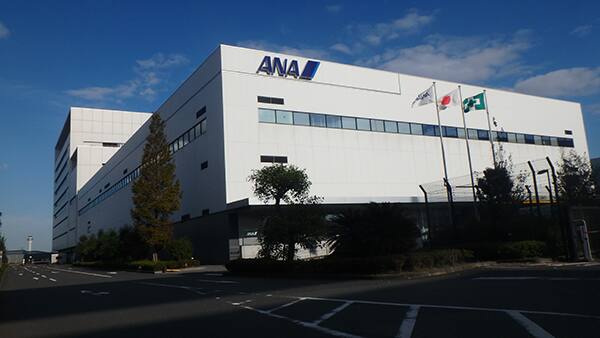 The following are activities of the business sites that received the Energy Conservation Awards.
Resource Recycling 3R Activities
The ANA Group is promoting the 3R initiatives to reduce, reuse, and recycle when using materials, which are mainly plastic and paper.
Reducing the use of plastic
We are working to reduce the amount of plastic we use, such as changing all disposable plastic products used in airport lounges and on board flights to environmentally friendly materials such as paper and bioplastics.
In addition, ANA will become the first Japanese airline to introduce meal trays made from biodegradable materials. Composed of bagasse - the waste fiber created from pressing sugarcane - these biodegradable trays will further reduce ANA's carbon footprint. This makes it possible to reduce the annual amount of disposable plastic used in in-flight goods by about 30%.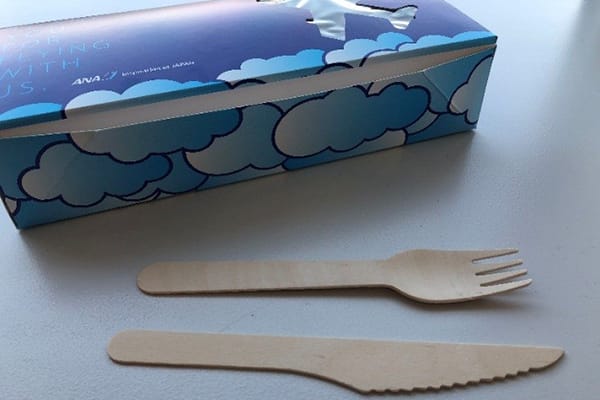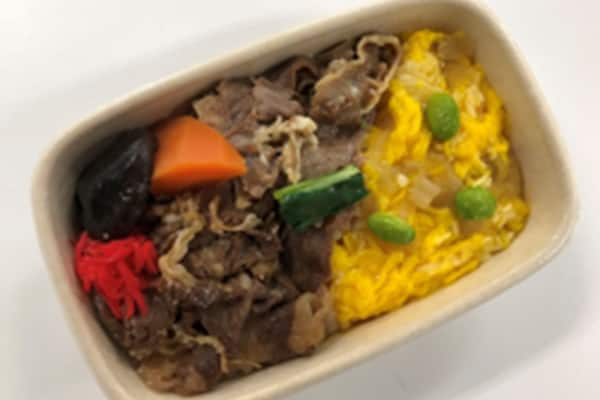 Reducing the use of paper
We are working to reduce paper consumption by shifting from printed materials such as timetables and in-flight magazines to providing them online.
In addition, we are digitizing paper manuals and documents required for operations in all positions, which includes pilots and cabin attendants.
Details
Reduce
Cabin

Use of environmentally-friendly materials for muddlers, cutlery and straws
Digitizing timetables to eliminate printed materials
Digitizing in-flight magazines and cargo waybill
Replacing headrest covers with reusable materials

Maintenance

Reducing detergent use (use ultra-high-pressure water for cleaning engine parts)

Others

Determining appropriate quantities of travel brochures
Digitizing printed manuals
Reuse
Cabin

Introducing in-flight service items made from recycled plastic (beverage cups, salad bowls, etc. for international flights)

Airport Facilities

Reuse of packing materials

Company Facilities

Use of leftover onboard water and kitchen wastewater (reuse of water)
Reuse of office equipment (desks, etc.) as determined by each facility
Recycle
Cabin

Closed-loop recycling of magazines

Cargo

Recycling of waterproof and dustproof vinyl sheets for cargo
Recycling of packing materials

Airport Facilities

Recycling of packing materials
Collection and recycling of baggage tags
Reducing Food loss and Food waste
ANA CaterinFg Service Co., Ltd., a food manufacturing company, and ANA Foods Co., Ltd., a food sales company, are working toward improving the recycling rate of food materials generated during food processing in accordance with the Food Recycling Law. At the same time, to help reduce food waste on board flights, we are monitoring the waste rate on domestic and international flights and are reviewing the number of in-flight meals. For First and Business Class service on international flights, we enhanced our in-flight meal reservation services to avoid the inability to meet in-flight meal requests. At the same time, we are eliminating excess in-flight meals, improving customer satisfaction, and reducing food waste.
Throughout the product life cycle -- procuring cooking, providing, and disposing of food -- the ANA Group is working to reduce food waste such as in-flight meals by 50% as a target for fiscal 2050.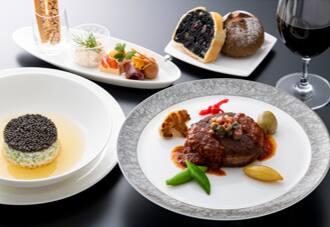 Environmental Regulations and Compliance
What is ISO14001?
ISO14001 is a specification established to minimize the environmental impact of a company's product manufacturing, services, and other business activities. Organizations and companies that have acquired ISO 14001 are recognized internationally as being environmentally conscious.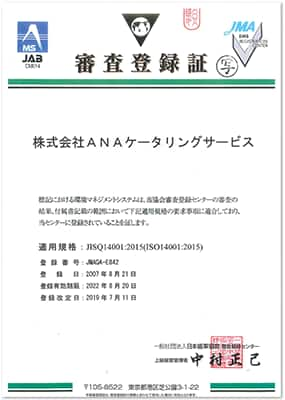 The Container and Packaging Recycling Law
The Containers and Packaging Recycling Law is under the jurisdiction of the Ministry of Environment; Ministry of Economy, Trade and Industry; Ministry of Finance; Ministry of Health, Labor and Welfare, and Ministry of Agriculture, Forestry and Fisheries.
This is a law to reduce waste by effectively using containers and packaging waste as resources. The role of consumers is to separate and discharge. The role of municipalities is to separate and collect, and the role of businesses is to recycle. In addition, the recycling business has been entrusted to the Japan Containers and Packaging Recycling Association.
Food Recycling Low
This is a law concerning the promotion of recycling of food recycling resources.
In order to reduce "food waste (unused resources) such as material waste, unsold food, and leftover food" from the food manufacturing process and promote recycling, we obliged producers and sellers to reduce and recycle food waste. law.
This law was enacted in 2000 and is under the jurisdiction of the Ministry of Agriculture, Forestry and Fisheries and the Ministry of the Environment.
In order to comprehensively and systematically promote the recycling of food recycling resources, the Ministry of Agriculture, Forestry and Fisheries and the Ministry of the Environment have set targets for the amount to be implemented by industry (food manufacturing industry, food retail industry, food wholesale industry, restaurant industry). ANA Group complies with Food Recycling Low.