Respect the Human Rights of Migrant Workers in Japan
Since 2017, with the cooperation of local contractors, we have been engaged an independent third-party agency to help us assess working conditions for non-Japanese nationals employed as ground handling and catering staff at airports. This survey included direct interviews with workers and inspections of living arrangements. In 2020, we began to identify employment conditions for foreign workers in group companies and major partner companies, leveraging the Global Supply Chain Worker Data Management System in the process (92 companies). As a result, we confirmed the employment of technical interns at 7 companies. In the future, we will conduct a questionnaire survey of the technical interns themselves to identify issues and take corrective measures.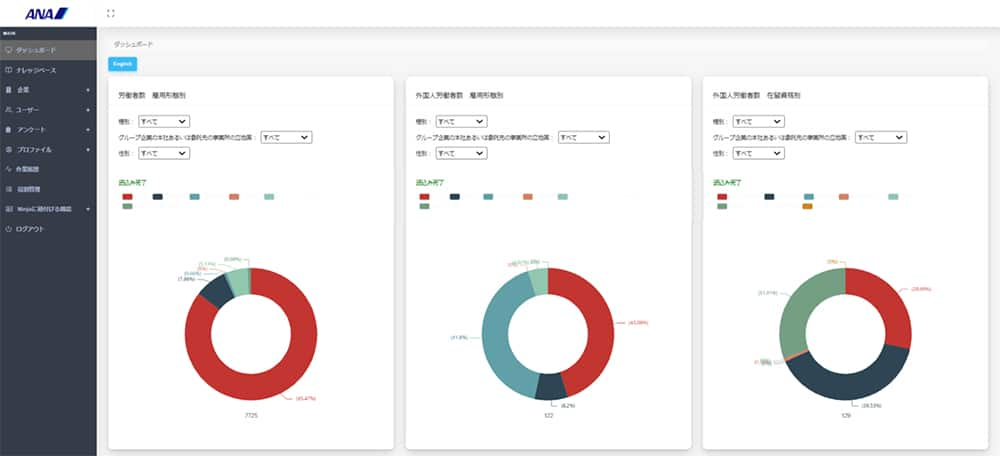 Strengthen Supply Chain Management of In-flight Meals
In 2017, the ANA Group became the first Japanese company to join the Bluenumber Initiative*. The ANA Group is committed to establishing a transparent food supply chain structure for in-flight meals by registering information about its producers and vendors on the Bluenumber platform.

Bluenumber Initiative
Bluenumber Initiative is a global program from the Bluenumber Foundation for establishing food supply chain platforms.
Preventing Human Trafficking via Air Transportation
In April 2018, we invited representatives from the United States NPO Airline Ambassadors International* to Japan to present a workshop based on their human trafficking prevention training program for airlines. We also launched an e-learning course for all Group employees in December 2018. Further, in April 2019, we began concrete operations to prevent human trafficking. Specifically, employees report any suspected cases of human trafficking discovered in-flight. We will strengthen measures to prevent our services from being used to commit human rights violations.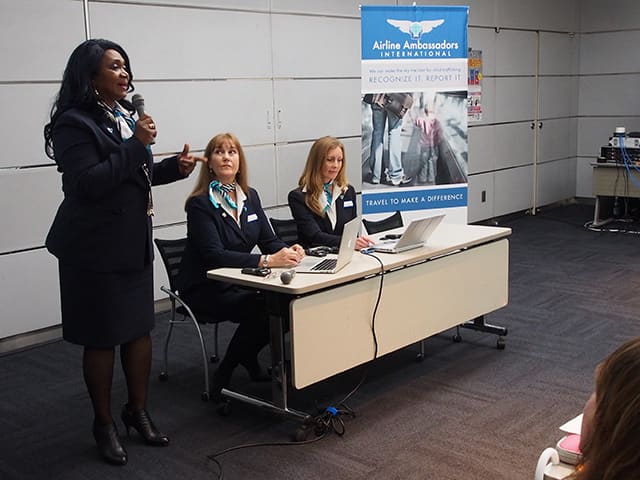 Airline Ambassadors International
Initially a network of airline employees, Airline Ambassadors International has become an NPO working to prevent human trafficking.
Eradicate Corruption
We emphasize preventive measures in regions considered relatively high-risk among the countries served by the ANA Group.
Following Southeast Asia in 2018, we held seminars on competition and anti-bribery laws in China in 2019 for ANA Group employees and employees on overseas assignments.
Examples of Responses to Other Human Rights Issues
Information security
Personal information that our customers entrust with us is a valuable asset in the ANA Group's businesses without which we cannot provide our services, and we exercise utmost care in the handling of such information. Various in-house systems have been introduced to enhance information security, including self-inspection of compliance to information security rules across all ANA Group companies, knowledge sharing among all executives and employees of the group companies on the latest cases, onsite visits and interviews by a team of experts to identify and address issues from a third-party perspective, and establishment of the "information security desk" within respective group companies with their accumulated skills and technical knowledge on information security. We will do our best to ensure appropriate management and use of personal information.
Human rights of children
The impact assessment in 2019 identified new issues, such as human rights of children. Based on these results, we held an in-house seminar in December 2020 with the cooperation of Save the Children Japan*, a public interest incorporated association, to better understand the potential risks for the ANA Group in regard to human rights of children.
The reduction in the number of flights from the effect of COVID-19 had given rise to unused in-flight meals. Through Save the Children Japan, the ANA Group donated rice crackers, apple juice, etc. to children from single-parent households in May 2020. To keep children's spirits up while they had to stay out of school due to COVID-19, the ANA Group also donated some 20,000 chocolates to municipalities in the environs of Narita Airport.
Save the Children Japan
Established in 1919, Save the Children, an international NGO, has been supporting children for over a century. Save the Children Japan was established in 1986 as a member of Save the Children. In partnership with governments and local communities in and outside of Japan, Save the Children Japan works to protect children's rights.
Training our Staff
Training our Staff in Human Rights In FY2019, we continued to provide human rights education in face-to-face training programs for new employees and new managers. We have also been organizing an annual e-learning program since 2015 for all employees of the ANA Group companies to deepen their understanding on human rights. For three months starting in January 2019, we conducted an e-learning program titled, "Leaving No One Behind!" open to all 40,000-plus employees of the ANA Group. The ratio of employees attending this program was 92.4%.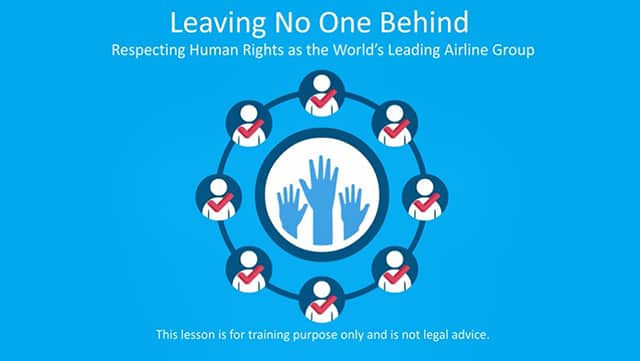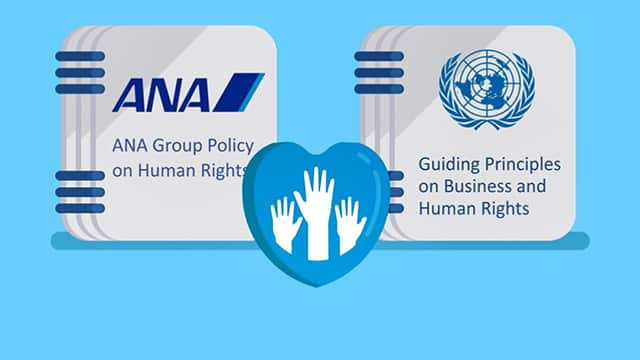 Proprietary materials of ANA Group's in-house education.
Do not copy or distribute without permission.