The fantastic beauty of the kamakura float in the darkness of night during this winter festival in Akita Prefecture
The Kamakura Festival held in Yokote City, Akita Prefecture, is a 450-year-long tradition, showcasing the beauty of winter in Japan's snow country. The 15th of January, according to the lunar calendar, is the end of the New Year holiday, and the Shinto Water Deity is enshrined in the snow huts (kamakura). Children get in the kamakura and serve guests amazake (sweet rice wine) and mochi (chewy rice cake). The beauty of the kamakura floating in the darkness is fantastic.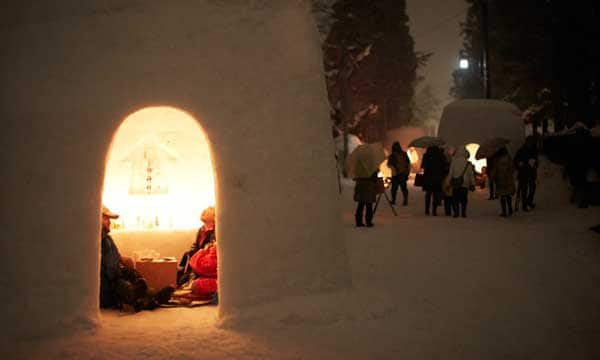 Yokote Kamakura Festival, held on February 15 and 16 every year
Kamakura, snow huts illuminated by orange lighting, dot the snowy field. Inside, children wearing traditional coats will tell you, "Haitte tanse (please come in)." When you enter the kamakura, you first give offerings to the altar where the Shinto Water Deity is enshrined. Children will treat you with amazake and yakimochi (toasted rice cake). You can spend time with children while warming your hands over a hibachi brazier, a moment right out of the pages of an old story. People begin making the kamakura in late January. In early February, you can observe the kamakura-making process.
Location
Name
Yokote Kamakura Festival
Web Sites
https://www.yokotekamakura.com/01_event/04_winter/pdf/kamakura_inbound.pdf
Address
8 Chuo-machi, Yokote-shi, Akita
Access
Approximately 10 minutes' walk from JR Yokote Station
Approximately 10 minutes' drive from Yokote IC
Inquiries
TEL: 0182-33-7111(Yokote City Tourism Association)
Period of the Event
February 15 and 16 every year
18:00 to 21:00
Location of the Event
The event is held at Yokote City Hall Honchoshamae Doro Park, Yokote Park and other locations.