Naritasan Shinsho-ji Temple
©NARITASAN SHINSHOJI TEMPLE
Put your hands together in prayer in front of the temple buildings and wish for good luck at this famous power spot
Located near Narita International Airport, the gateway into Japan, Naritasan Shinsho-ji Temple has a rich history of over 1,000 years and is endearingly referred to as "Narita-no-Ofudo-sama" for the Fudomyoo deity enshrined in the temple. In addition to visiting the sacred temple buildings, visitors can also experience the Goma Prayer, a special prayer offered to Fudomyoo in the Goma Fire Ritual, as well as shakyo, the meditative tracing of sutras. The temple is widely known as a power spot to bring good luck with various historic buildings and towers on the premises, including five buildings designated as Important Cultural Properties by the government.
©NARITASAN SHINSHOJI TEMPLE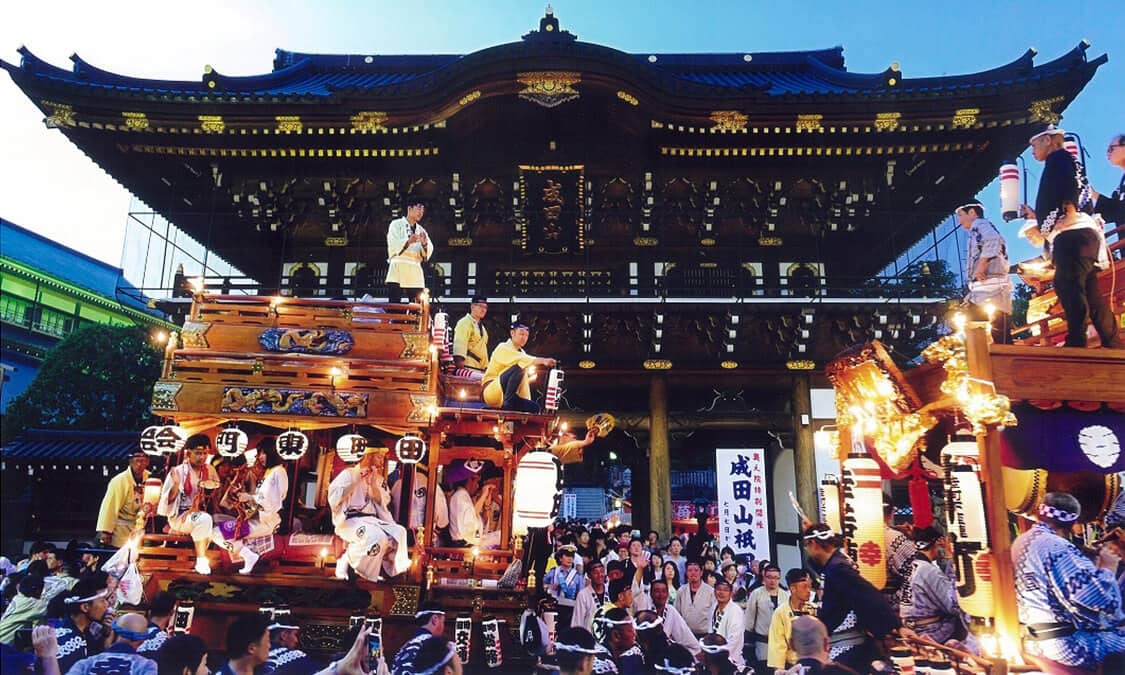 Signaling the coming of summer, the Narita Gion Festival is one of the biggest events for the temple that attracts around 450,000 spectators every year. Throughout its three-day period, a mikoshi portable shrine and 10 floats adorned with intricate engravings and decorations parade along the front approach to Naritasan and the surrounding areas.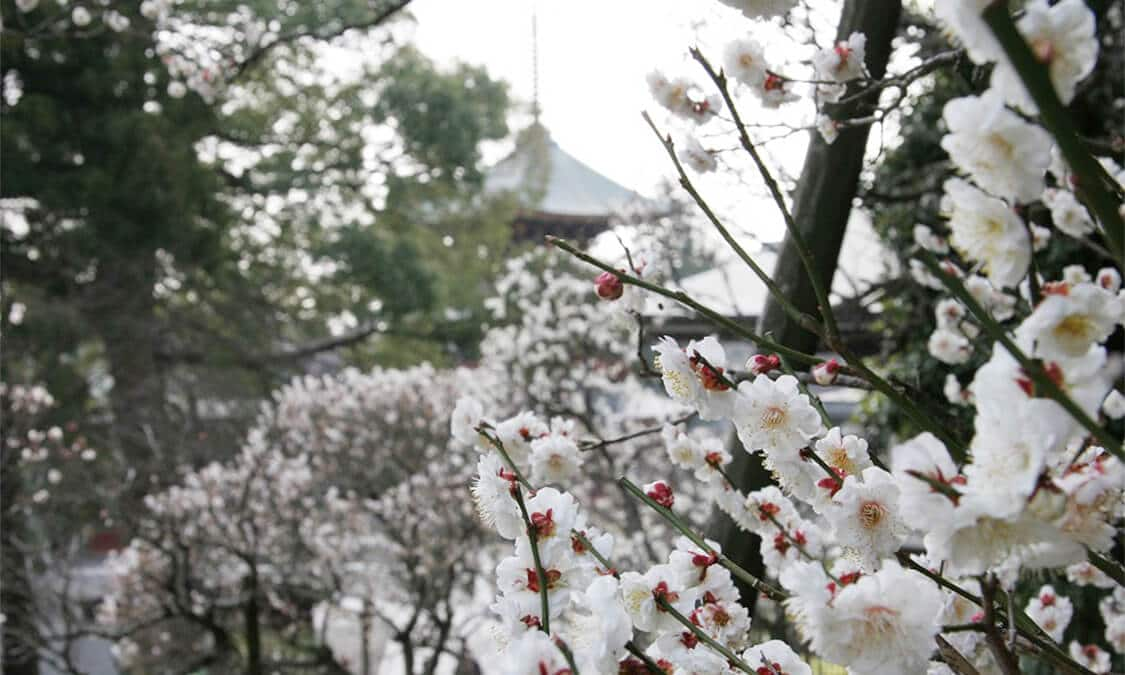 ©NARITASAN SHINSHOJI TEMPLE
Spreading beyond the Great Main Hall, Naritasan Park is a place where people can relax and enjoy the various faces of the four seasons such as the plum and cherry blossoms of spring, followed by fresh summer greenery, fall foliage, and carpets of snow. During February to March, the park becomes filled with the scent of red and white plums as around 500 plum trees come into bloom. In the fall, the leaves of maple, oak and gingko trees turn their colors in concert and create stunning scenery as the foliage is beautifully reflected on the pond.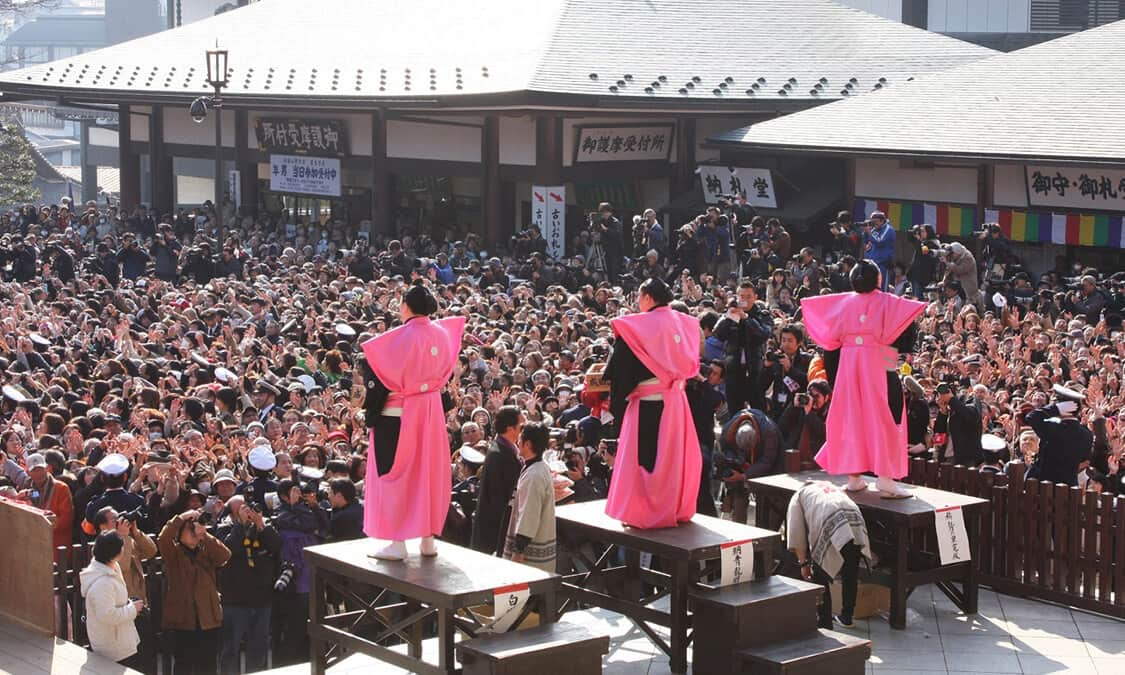 Setsubun is a traditional observance marking the day before the beginning of spring in Japan. The Setsubun-e ceremony is held on this day annually at Naritasan as a prayer of world peace, affluence for all, abundant crops and bad luck turning good, as well as recovery from the Great East Japan Earthquake. The ceremony features the traditional soybean throwing ritual to ward off evil and is also famous for inviting top sumo wrestlers and celebrities to participate in the ritual. While the traditional chant to go with the bean throw is "Oni wa soto, fuku wa uchi (demons out, good luck in)," the chant at Naritasan's Setsubun-e is only the latter half, "Fuku wa uchi." This is because, in front of the enshrined deity Fudomyoo, even demons have a change of heart from his abundant compassion.
Location
| | |
| --- | --- |
| Name | Naritasan Shinsho-ji Temple |
| Web Sites | https://www.naritasan.or.jp/english/ |
| Address | 1 Narita, Narita-shi, Chiba |
| Access | 10 minutes' walk from Keisei Line Keisei Narita Station or JR Line Narita Station |
| Business Hours | 8:00 to 16:00 |
| Closed | Open all year round |
| Inquiries | TEL: 0476-22-2111 |
| Admission | Free (Entrance fees charged for Reikokan and Calligraphy Museum) |