Change to Security Check Cut-off Time at Haneda Airport (Japan Domestic Flights)
Thank you very much for your continued and loyal support of ANA.
In a bid to improve our on-time departure rate, the cut-off time for going through security for Japan domestic flights at Haneda Airport will be changed from 15 to 20 minutes before departure for flights from December 1, 2018.
For Japan domestic departures from airports aside from Haneda, please ensure that you pass through security at least 15 minutes before the departure time of the flight, the same as before.
During busy periods such as the year-end/New Year holidays, please go through security and get to the boarding gate in good time. See Use of Japan Domestic Airports during Busy Periods for further details.
We thank you for your kind understanding and cooperation in this matter.
Applicable Airports
Before Change
(up to November 30, 2018)
After Change
(from December 1, 2018)
Haneda Airport (Japan domestic flights)
15 minutes before the departure time
20 minutes before the departure time
Other Airports
15 minutes before the departure time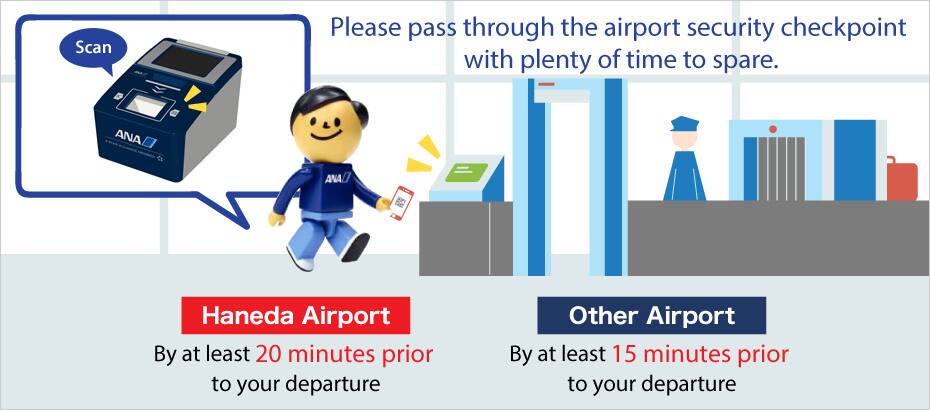 At ANA, we are moving forward with our comprehensive inspection of safety, quality, and services to strengthen functions at Haneda and Narita airports as we head toward 2020 and beyond, a period where we expect a greater number of passengers.
We have introduced a range of initiatives, including self-service baggage drop machines (ANA Baggage Drop) to reduce waiting times and measures to alleviate congestion at airport security.
We hope you can make use of the following services for a smoother airport experience.
* ANA Baggage Drop is available at Haneda, New Chitose and Fukuoka airports (as of August 2018).
Going forward, we will be continuing with a variety of efforts to maintain and improve our on-time departure rate.
Updated on October 24, 2018
All Nippon Airways Co., Ltd.