Use of Japan Domestic Airports and Cabins during Busy Periods [Japan Domestic Flights]
Information

Airports may be very crowded during long public holidays in Japan such as the year-end/New Year period, Golden Week, and the Bon Festival. Security checks have also been enhanced (to include outerwear, shoe, and pat-down screening) and may therefore take longer than usual. Please arrive at the airport with adequate time to spare.

Nearby roads may be very congested and parking facilities may operate at full capacity during the period above. Use of public transportation is recommended. When travelling to the airport by car, please check the availability status of the parking facilities at the relevant airport.

We kindly ask you to observe the following baggage-related points to help us ensure on-time departures.
We kindly request that passengers confirm the following times by which each of the pre-boarding procedures should be completed.
* You may not be able to board your flight if you do not observe the cut-off times shown under security, boarding gate, and departure time.
* Please see Airport Information to confirm the required time for each procedure at the airport.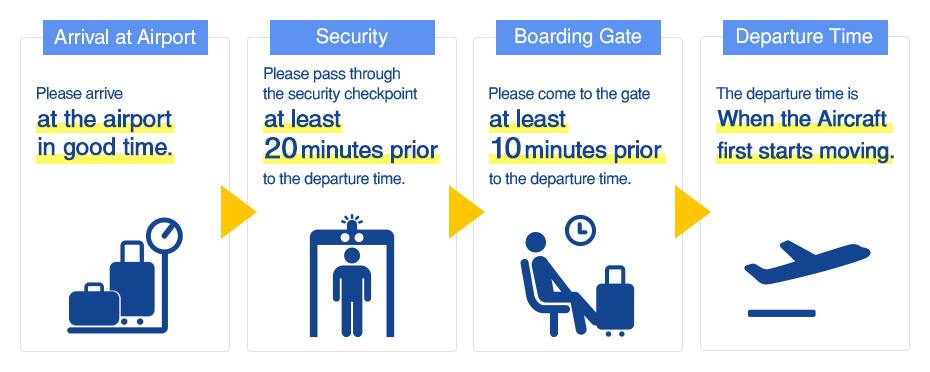 Process below is necessary after you board.

Thank you for your kind cooperation.
Information for a smooth boarding experience
Here you will find information about airports in Japan.
Boarding procedures at the airport
Baggage which cannot be carried on board aircraft must be checked in at a baggage check-in counter in the departure lobby.
During periods that are expected to be especially busy such as the summer holidays, the year-end/New Year holiday period and Golden Week, please check in your baggage at your earliest convenience.
Unsealed paper bags and souvenir bags that are checked in may be sealed with gum tape to prevent their contents from spilling out. We kindly ask that customers take the necessary precautions to ensure the contents of their checked baggage do not spill out.
When collecting baggage at the arrival airport, customers are advised to check the number on the baggage tag against the number on the baggage claim tag they received at the baggage drop-off counter. There may be many pieces of baggage which look similar, including wheeled suitcases and bags containing souvenirs. We therefore ask that customers take care to ensure that they do not pick up the wrong piece(s) of baggage.
To avoid delaying due to carry-on baggage, make use of storage as below. Thank you for your cooperation.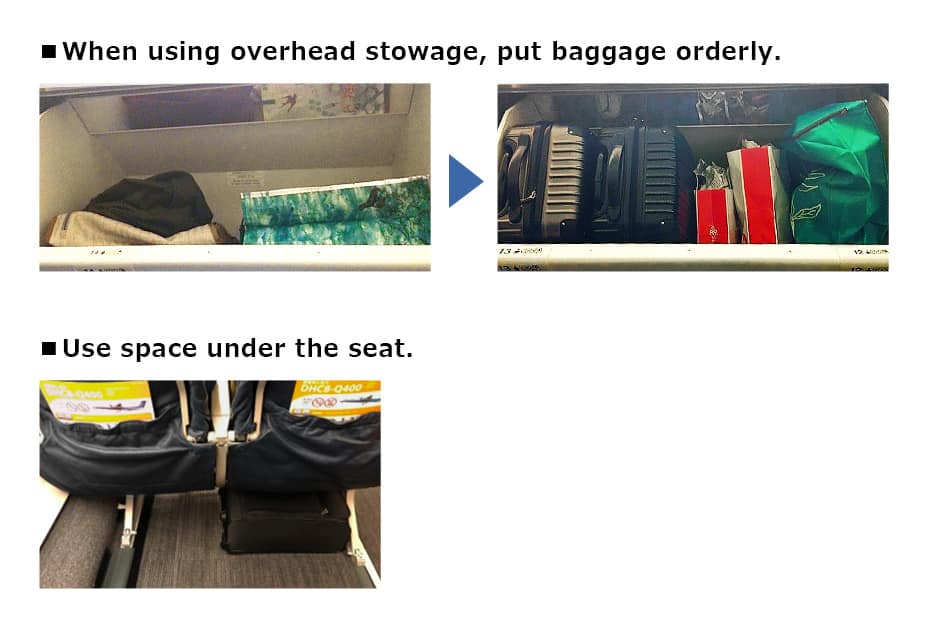 Passengers who need special assistance
We offer support to passengers who need special assistance during their air travel.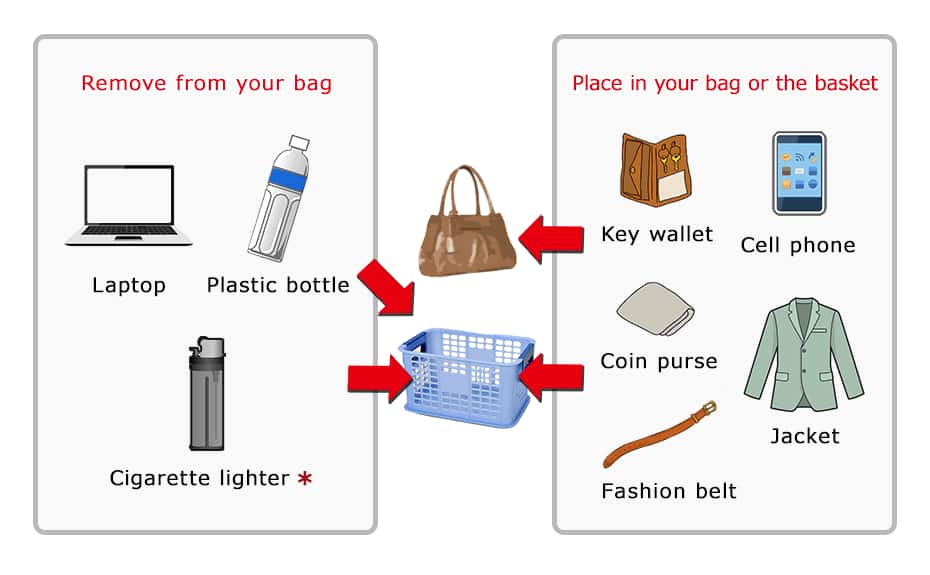 According to the instruction by the Ministry of Land, Infrastructure, Transport and Tourism, airport security has been tightened and security checks increased, with the passengers now subject to shoe checks, etc.
There may be long lines at the security checkpoint and it may take some time to go through the security check. Pass the security checkpoint early and proceed to the boarding gate.
*The tips below will allow you to pass smoothly through the security checkpoint.

*After the security checkpoint, put your cigarette lighter in your pocket or otherwise carry it on your person. One person is allowed to bring one cigarette lighter on board the aircraft.
(Lighters containing oil tanks, cigar lighters and pre-mixed burner lighters (turbo lighters, jet lighters, lighters producing a blue flame etc.) cannot be carried on board or checked in.)

Aerosols may or may not be carried on or checked in depending on their type.

Please be aware that dangerous goods such as fireworks, gas canisters for camping use, portable oil-filled body warmers, and lighter fuels (gas and oil) may not be included in either a carry-on baggage or checked baggage.For more detailed information concerning dangerous articles, please see "Baggage that requires special attention".

Charging devices with built-in/mounted lithium ion batteries used to charge cell phones may cause a fire, and so these devices cannot be included with checked baggage.Just like you do for spare batteries, protect the terminals of your charger and carry it with you into the aircraft.See General Electronic Devices with Built-in or Attached Lithium Batteries for details.