Countless lanterns sway like golden rice stalks as the sound of ohayashi music echoes
A summer tradition to pray for a bountiful harvest, the Kanto Festival has been held since about 270 years ago and is one of the three major festivals in the Tohoku region. Performers called Sashite parade the streets while forcefully holding up Kanto poles, which are long bamboo poles with 46 hanging lanterns and weighing 50 kilograms altogether. Around 260 Kanto poles are held up by the Sashites by their palms, foreheads, shoulders and lower backs with amazing skills. The stunning festival is designated as a national important intangible cultural property.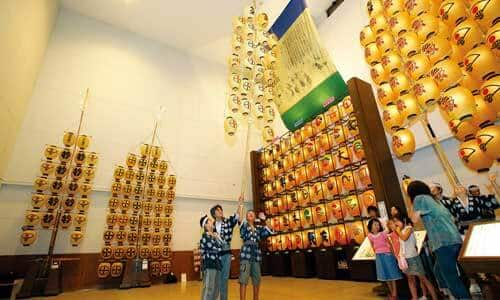 Akita City Folk Performing Arts Heritage Center (Neburi Nagashi Kan)
Experience holding up a real Kanto pole at this hands-on museum. The museum displays various materials related to Akita's folk events including the Kanto Festival, Tsuchizaki Shinmeisha Shrine Float Festival and Miyoshi Bonden Festival of Taiheizan Miyoshi Shrine. There is also a demonstration by expert Sashites of the Kanto Association on Saturdays, Sundays and pubic holidays (13:30 to 14:10) from April to October.
Location
Name
Akita Kanto Festival
Website
http://www.kantou.gr.jp/english/index.htm
Address
Kanto Odori Street in Akita-shi, Akita
Access
Approximately 15 minutes' walk from JR Akita Station
Period of the Event
Kanto Festival: August 3 to 6 every year
Business Hours
Akita City Folk Performing Arts Heritage Center: 9:00 to 16:30
Closed
Akita City Folk Performing Arts Heritage Center: December 29 to January 3
Inquiries
TEL: 018-888-5602 (Akita Kanto Executive Committee)
Admission
Akita City Folk Performing Arts Heritage Center
General admission: 100 yen; High school students and under: Free