Kurikoma Sanso and Mount Kurikoma

A famous hot spring for viewing fresh greenery and colorful autumn foliage in the foothills of Mount Kurikoma
Kurikoma Sanso is a hot spring villa located on the Sukawa Plateau, in the foothills of Mount Kurikoma, a renowned peak in the Tohoku region. The view from the large bath with an altitude of 1,100 meters is truly spectacular. Immerse yourself in the milky white hot spring bath and feel the cool breeze over the mountains on your cheeks.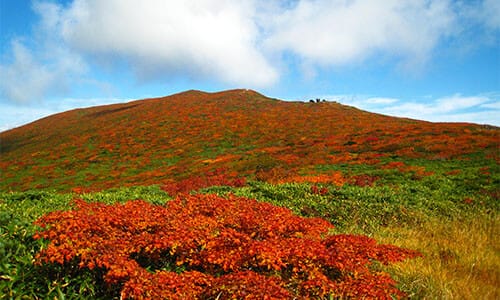 A conical volcano standing at a height of 1,626 meters, Mount Kurikoma is the central feature of Kurikoma Quasi-National Park that stretches over the three prefectures of Akita, Iwate and Miyagi. Take in gorgeous landscapes of a volcano lake, valleys and a primeval beech forest. It is also famous as a mountain of flowers where 150 varieties of high mountain plants such as Miyama rindo (Gentiana nipponica) grow in clusters. The mountain boasts some of the most spectacular autumn foliage; the view from the mountaintop is particularly magnificent. There are nine courses for climbing the mountain that can be enjoyed by beginners and experienced climbers alike.
The large open-air bath located at an altitude of 1,100 meters offers a panoramic view of the magnificent nature of the Sukawa Plateau that stretches at the foot of Mount Kurikoma. The hot spring bath is known for its milky white waters that gush out in abundance. The spectacular views of nature seen from the outdoor bath will surely be unforgettable: the Magusadake volcano on the left side; the primeval beech forest of Yacho-no-Mori Nature Park on the right; the Iwakagami wetland below; and Mount Chokai known as Dewa Fuji (Mount Fuji of the Dewa region) at the front where ridges of mountains and forests intersect. At night, you can enjoy bathing under the star-filled sky.
Location
| | |
| --- | --- |
| Name | Kurikoma Sanso and Mount Kurikoma |
| Website | https://stayakita.com/things-to-do/things-to-do-379 |
| Address | Nigoyama National Forest, Tsubakikawa, Higashinaruse-mura, Ogachi-gun, Akita |
| Access | Approximately 70 minutes' drive from Jumonji Station on the JR Ou Main Line |
| Inquiries | TEL: 0182-47-3402 (Higashinaruse Village Planning Division) |